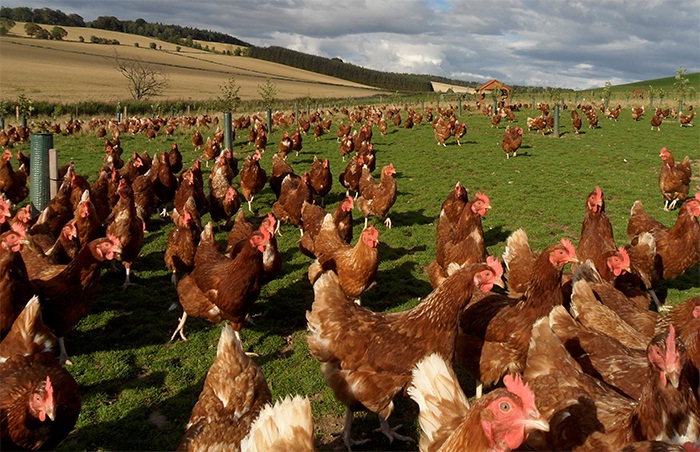 Poultry producers must have access to a sustainable source of protein as the price of feed increases said Dr Michael Lee at the NFU Cymru Annual Poultry conference.
"Feed costs are a key element to the profitability of a poultry unit."
"The price of wheat a soya has rocketed and we need to reach a point where poultry producers can have access to a sustainable source of protein."
Research into alternative protein sources for all ruminants and aquaculture, is underway at IBERS.
Last year IBERS started a couple of projects looking at the nutritional value and improving yields of lupin, pea and bean crops in collaboration with industry and other research partners. The main aim of the projects is to give farmers more control on the sourcing of protein by providing alternative home-grown solutions.
Clare Morgan, NFU Cymru Poultry Board chair said: "The common theme from the Conference was that feed price is eroding profits."
"We know that the wheat yield and quality were badly affected by last year's extremely wet season and the poultry sector is now suffering."
The latest NFU survey on poultry cost of production shows a considerable rise in feed costs across all the categories of poultry production.
Feed costs for both cage eggs and free range eggs have risen by £60/t compared with January 2012, while broiler producers also reported an increase of £50/t in feed cost.
"We should not lose sight of the fact that the feed price is not just high in the UK, it is a global situation" Morgan said.
"In the long term, the research taking place will help the sector but in the short term, it is vital that producers monitor their costs closely and ensure there are effective marketing campaigns and clear labelling for our products."
Completing the line-up of speakers were John Reed, Chair of the British Poultry Council, Elwyn Griffiths, Technical and Financial Director, Oakland Farm Eggs and Chris Dickinson, NFU Poultry Adviser.
Clare added, "I am most grateful to all of the speakers who attended and to Wynnstay Group plc for sponsoring the event."
Comments
No comments posted yet. Be the first to post a comment