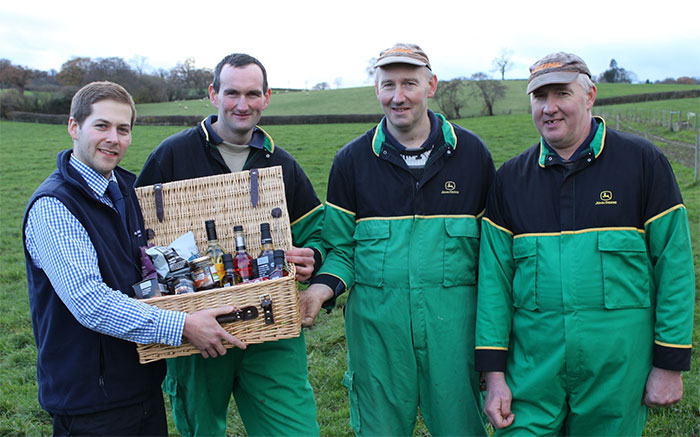 The Co-operative's Tom Webb presenting a hamper to Neil, Alan and David Pryce.
A farming family from Powys is celebrating after being crowned champions at a national milk quality awards for the second year running.
David, Alan and Neil Pryce, of Coed Mawr Farm, Llansantffraid, near Welshpool, beat off competition from 19 other farms to scoop the top accolade at the annual Muller Wiseman Milk Group Quality Awards.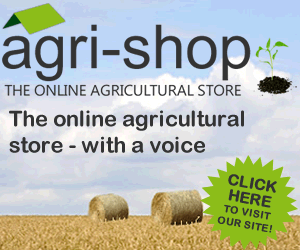 The three brothers, who are members of The Co-operative Dairy Group, were among 20 finalist farms nominated out of 1,200, which qualified for the awards. They were judged on milk quality performance over the year, including scores for bactoscan, somatic cell counts and butterfat levels, as well as carbon footprint scores.
The herds scores for somatic cell counts and bactoscan were both incredibly low achieving 12 month rolling averages of 68 and 7 respectively, whilst carbon emissions were well below the national average at 1011 grams of carbon equivalent per litre of milk produced.
Coed Mawr, a 250 acre family-run farm with a herd of 90 cows, produced 607,221 litres of milk last year, which was sold to Muller Wiseman Dairies via The Co-operative Dairy Group contract. It is among more than 90 Co-operative Dairy Group producers based in the North Wales, Welsh Borders and Chester area.
Out of the top 20 farms nominated, a total of eight were Co-operative Dairy Group producers, who supply The Co-operative Food through Muller Wiseman. The other Co-operative Dairy Group farms nominated were JD Hague, F Barton, Dillington Farms Ltd, DJ & VM Norman, Robert Inglis, JJ & GE Eastham, and H&M Jones.
The awards are divided into two categories based on production volumes to take into account the scale of the production systems used on the farms. Farms only qualify for the award if they have a Johnes monitoring scheme in operation.
Thomas Webb, Agricultural Development Manager for The Co-operative Food, presented a hamper to the Pryce brothers, who also received a crystal trophy as part of their prize. He said: "It's a tremendous achievement to see the Pryce brothers being crowned the overall winners for the second year running. It shows their dedication to maintaining exemplary standards on their farm.
"Across The Co-operative Dairy Group we aim to encourage the highest standards of dairy farming, so it is inspiring to see so many of our producers being recognised for their hard work and dedication to producing top quality milk."
Muller Wiseman Dairies has an agreement with The Co-operative Group to supply its own-brand milk. Around 220 British dairy farmers are members of The Co-operative Dairy Group, which aims to improve animal welfare, promote best practice in dairy farming and to protect wildlife and the environment. This is mainly facilitated by regular practical workshops and meetings that are held three times a year across the country to develop sustainable and profitable farming practices.
During 2013 The Co-operative also launched Farming Groups in the Beef, Lamb, Chicken and Pork sectors. These additional groups include approximately 630 British farmers that supply The Co-operative with British meat and will also aim to work to the ethos and objectives of The Co-operative Dairy Group.
Comments
No comments posted yet. Be the first to post a comment