Prince of Wales backs Herdwick breed with visit to auction
Prince of Wales backs Herdwick breed with visit to auction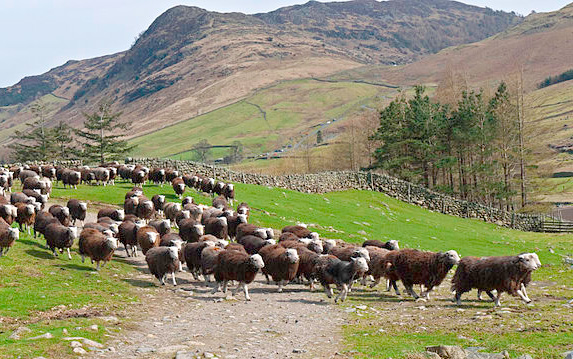 The Prince of Wales will attend an auction of prime Herdwick ewes and lamb at the Rural Auction Centre in Cumbria, today.

The visit will highlight the importance of the Herdwick breed, an iconic product of the lakes and celebrates the unveiling of a new Herdwick brand—that will enable farmers to market Herdwick meat more widely and command a better price for their produce.

The Herdwick project, funded by The Prince's Countryside Fund, aims to address low farming incomes of hill farmers and find new and more profitable routes to market for Cumbrian farmers.

Mary Houston, Taste Cumbria Manager, said; "The Herdwick project works to raise the profile of Herdwick meat, encourage trade links and highlight the value of our upland farms. Herdwick farming is key to preserving the landscape and character of The Lakes, from preserving the distinctive dry stone walls to managed grazing. It's heart-breaking that many upland famers earn as little as £6,000 or less, which is less than half the minimum wage."

"Positioning Herdwick meat as a premium seasonal product, celebrating the rich and wonderful gamey flavour, is key to ensuring a premium is passed onto the farmer. By marketing this special meat to high end chefs, upmarket butchers and retailers, we can help farmers command a better price for their sheep."

Hill Farmer and Chairman of The Farmer Network and Herdwick Sheep Breeder's Association, Will Rawling said; "Farmers need to take responsibility to market their produce more effectively and work together to collectively command a better price for the breed. There is a host of chefs, independent retailers and consumers interested in tasting our great produce, and they demand food with provenance. There is no meat that has a better provenance than the Lakeland Herdwick, and we intend to make the most of that."

Dawn Howard, Director of The Prince's Countryside Fund added; "Life in hill farming can be tough. It requires stamina, dedication, long hours and a love of what you are doing. Herdwick farming is integral to the Cumbrian landscape and we're pleased to be able to help build awareness of this product and support those at the core of Herdwick farming. With thousands of farmers leaving the industry each year, initiatives such as Taste Cumbria's Herdwick project are essential."

At the auction a new brand was launched, designed by Spencer Hannah, owner of the Herdy Company that makes giftware inspired by the iconic sheep. Hannah worked to create the brand free of charge as a gift to the farmers who work tirelessly to protect and preserve the distinctive character of the lakes.

Download


No comments posted yet. Be the first to post a comment