Rea Valley tractors opens doors for annual Open Day
Rea Valley tractors opens doors for annual Open Day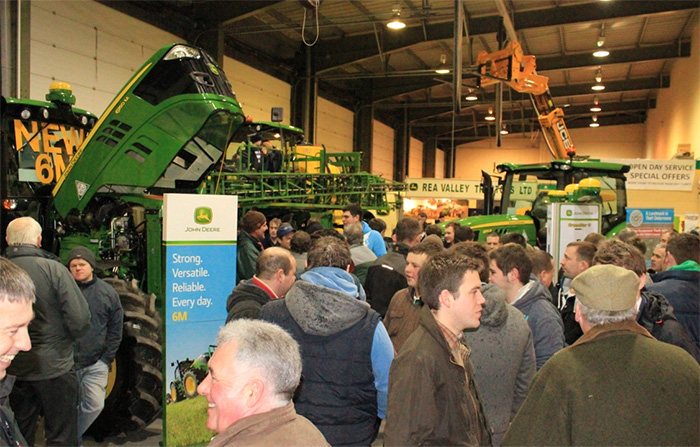 John Deere and JCB Agricultural machinery dealers Rea Valley Tractors (RVT) are opening their doors on Tuesday 4th February for their annual Open Day to be held at their Seven Acres site in Sundorne, Shrewsbury.
Key to this year's event will be a precision farming hub, specifically linked to
John Deere
sprayers with in-house and manufacturer experts on hand to answer all your technical queries and demonstrate the capabilities of the industry leading
John Deere
Green Star Guidance systems. Visitors will have the chance to benefit from a special limited time offer on
John Deere
Mobile RTK systems to include the first year's license free of charge. The event has also been registered with NRoSO with visitors to the Precision Farming Hub being able to claim two points.
From
John Deere
RVT will be showcasing the full range of tractors from 40-400hp, including the new 6115MC. Launched in 2013 the
John Deere
6MC Series are related to the 6RC Series. Both of them concentrate the qualities and capabilities of bigger tractors into a more compact and manoeuvrable format.
They can be specified with either 2WD or 4WD, and any of the three available PWX engines. Choose between either PowrQuad Plus 30K or PowrQuad Plus 40K transmissions with both provide smoother, quicker and more comfortable shifting, and are exceptionally easy to use.
6MC tractors are GreenStar ready, with ISOBUS capabilities to enhance your productivity. Pressure Compensated (PC) hydraulics are standard, with the option of upgrading to a maximum flow rate of 80 l/min.
A new S690i Combine on tracks with a 35ft premium flow header will be on display at the event with unique features including its variable stream rotors, ergonomic premium cab and powerful and performance enhancing intelligent solutions.
On display will be the 7080 Series self-propelled forage harvesters. Also introduced in 2013, these machines feature John Deere's new KernelStar multi-crop kernel processor which has contoured intermeshing discs that provide almost three times the effective processing width compared to previous systems. The result is significantly improved kernel processing, with visible improvements to forage quality in a wide range of crop conditions and a significant reduction of over-length crop particle
Amongst our other suppliers Vaderstad's latest Tempo 8 Row maize drill with be available to view. This highly innovative drill is designed for precision, speed and a high capacity. The hydraulic folding and the narrow transport width ensures easy transport between the fields.
Other manufacturers also present will include Amazone, McConnel, Joskin, Bailey trailers, Gregoire Besson, Lynx, Quicke, Strimech, RECO, Exocet, Morris Oils, Draper and
John Deere
Horticultural products.
In the shop, visitors will benefit from discounts on a range of Powered Garden Equipment from Stihl including chainsaws and strimmers, as well as a selection of workwear, tools and everyday farm sundries.
The workshop will be open for visitors to view the impressive set up at Shrewsbury and chance to meet our team of highly skilled technicians.
Download


No comments posted yet. Be the first to post a comment