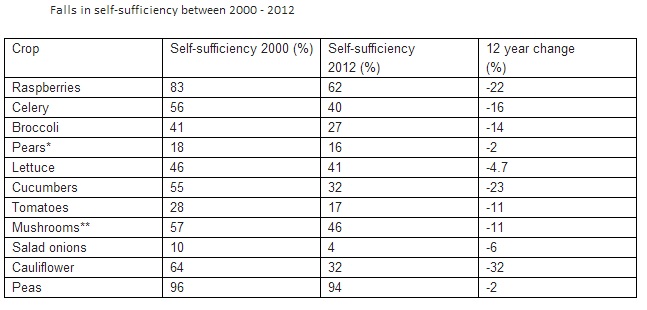 Retailers must work with growers to ensure consumers have better access to British fruit and vegetables, the NFU said today as it issued a fresh call for industry to sign up to its Fruit and Veg Pledge.
The call comes after new figures for 2012 show that fruit and veg self-sufficiency has fallen to 56 per cent, partly blamed on a combination of poor weather affecting production in 2012 and the knock-on impact this had in reducing the volume of fruit, vegetables and potatoes planted last year.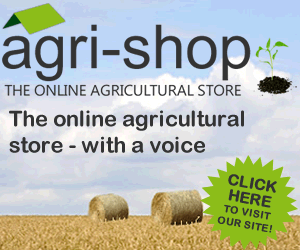 NFU acting horticulture and potatoes board chairman Guy Poskitt said: "Retailers responded very positively to the industry's requests to relax product specifications last year, which helped to put more British produce on supermarket shelves, and growers all over the country are extremely grateful to their customers for adopting such a flexible and supportive stance.
"If we can build on this goodwill then there is much to gain - we can manage fluctuations in supply and demand, mitigate production challenges, and – most crucially – find fairer ways of sharing the risks associated with growing fresh produce. However, there is a lot at stake. It's time that retailers offered long-term contracts, committed to crop programmes and offered greater price certainty to their growers so they can have the confidence to invest. This will help to secure the long-term future of the horticulture sector and deliver what our customers tell us they want, which is more British fruit and veg."
English Apples and Pears Ltd Chief Executive Adrian Barlow said: "Working in partnership with growers, joint planning and ensuring adequate profitability are essential for the success of the top-fruit industry and its ability to satisfying future consumer demand. What's more, these are the fundamental principles behind the NFU's Catalyst for Change report.
"Last season is a good example of seeing these principles put into practice with retailers giving great support to growers of apples and pears by relaxing specifications to take account of weather blemishing. This increased the marketable crop available and helped to offset the effect of lower yields on grower returns. Most supermarkets have developed long-term plans with their English suppliers of apples and pears and they are very aware of the ever-increasing demand from consumers for British product and the need for growers to be profitable in order to finance higher production."
British Growers Association Chief Executive James Hallet said: "Such a significant trade deficit (£4.6bn) for fresh produce, presents a huge opportunity for British growers to displace imports, particularly in vegetable and salad crops. However this growth challenge will only be taken up by businesses if the prospect of profitable production is there. Consumers consistently indicate that they are willing to purchase British produce and growers will meet that demand if the balance of risk versus reward is fair."
Tomato Growers Association Chairman Nigel Bartle said: "Catalyst for Change is a celebration of the potential that exists in our supply chain, but also paints a stark picture of the challenges we face. One year on from the report launch tomato self-sufficiency remains below 20 per cent - that means less than one in five tomatoes we eat in Britain is actually grown here.
"We know home grown tomatoes are the best, not just because they British, but because of how we grow them. To keep enjoying more of them, we need to ensure that growers are supported and encouraged to grow and expand their businesses. We want to see more production, not less, with fair reward for all."
Comments
No comments posted yet. Be the first to post a comment