03-10-2008 12:48 PM
| News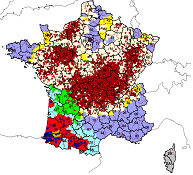 25th August 2008 - Maps showing cases of Bluetongue serotype 8 (denoted by dark red dots) in France
The message 'Don't wait. Vaccinate' is becoming more imperative than ever in light of the latest news regarding the dramatic spread of the disease throughout the French farming community. In spring 2007, as with the current situation in the UK, France was exposed to only a few isolated cases of Bluetongue serotype 8. Since then, the numbers have rapidly increased and at the time of going to press, latest reported cases were as high as 15,107.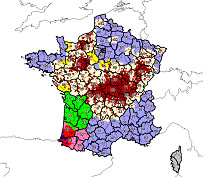 31st July 2008 - Maps showing cases of Bluetongue serotype 8 (denoted by dark red dots) in France
Maps showing cases of Bluetongue serotype 8 (denoted by dark red dots) in France, courtesy of Groupemenent de Défense Sanitaire du Cher.
"We should all sit up and take note of the French experience and take immediate action to prevent the UK farming industry suffering the same fate" advises Brian Rice, Veterinary Manager for Merial Animal Health Ltd. "Only a relatively small proportion of animals were vaccinated against BTV8 at the beginning of the summer. By having such a high volume of unprotected animals, it is clear to see how this disease has taken hold and spread throughout the livestock. It is now up to UK farmers to take control and prevent this happening in the UK by protecting their stock through vaccination.
To date, approximately 30 infected animals have been imported to the UK from areas of the continent. These imported animals were tested positive for the virus on arrival in Devon, North Wales, Somerset, County Durham, East Sussex, Dorset, Worcestershire and Hertfordshire. Now that the whole of England and Wales is within the protection zone, there are no restrictions on animal movements within this greater European Bluetongue 8 protection zone. This free trade in animals from areas where Bluetongue 8 is known to be circulating emphasizes the importance of vaccinating in England & Wales because animals imported from these areas may be carrying the virus. Although known infected animals are quarantined, they clearly have the potential to pass the virus on to previously 'clean' midges. Current mild weather this autumn is ideal for the biting midges that spread the Bluetongue virus.
"Drawing from the French experience, it is not just a case of deciding to vaccinate, timing is equally important. Says Mr Rice, "as with all vaccines, it takes time to reach full immunity following vaccination. With BTVPUR AlSap 8 it takes 21 days after completion of vaccination for cattle & sheep to achieve full immunity."
Bluetongue can cause severe, debilitating illness in ruminants such as sheep and cattle. The animal welfare considerations alone are distressing, but farmers also face associated costs including: disposing of mortalities, stock replacement, reduced fertility and other potential production losses due to the disease itself, veterinary costs and time to nurse sick animals.
"Vaccination is currently the only reliable insurance tool farmers have to protect against Bluetongue"
Comments
No comments posted yet. Be the first to post a comment