Sainsbury s Farming Award for Best Carbon Footprint won by Trevor Sellers
Sainsbury's Farming Award for Best Carbon Footprint won by Trevor Sellers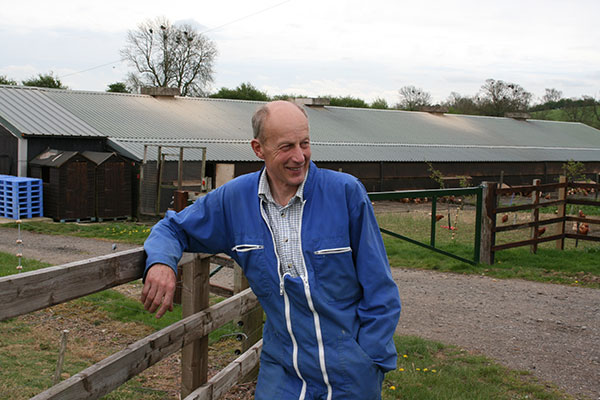 Free range egg producer Trevor Sellers has been recognised for the environmentally friendly way in which he runs his egg business.
Trevor, who is based at Belton in Rutland, Oakham, was presented with the accolade in the Sainsbury's Farming Awards, which are presented annually by the supermarket group. Trevor supplies
eggs
to Sainsbury's through his contract with Noble Foods.
His award was presented after his production unit was judged in comparison with all other egg producers supplying Sainsbury's supermarkets. He was judged to have the best carbon footprint of anyone in Sainsbury's egg supply chain. He is described as "an excellent producer' by AB Sustain, a division of AB Agri that has worked with Sainsbury's on the supermarket group's carbon footprint initiative.
Claire Heath, carbon solutions manager with AB Sustain, said, "The key to his success has been consistently achieving one of best FCR rates in the group and maintaining egg production again within the top five per cent of the group." She said that energy use on Trevor's unit seemed to remain well under control without compromising performance and she said that he achieved the highest environmental scorecard score - a measure of best farming practice on farm. This was reflected in his "outstanding performance," she said. "Overall, for Trevor, it is a case of attention to detail and really being in tune with his birds' needs and the facilities he has to deliver this from. An excellent producer."
Trevor, himself, said he was pleased to have won the award. "I suppose it shows that attention to detail pays off. That is probably not as easy on bigger units," said Trevor, who runs the business as a small family operation with his wife. He has 17,000 birds, producing Woodland
eggs
for Sainsbury's through Noble. He sits on the supermarket's egg development group as a Noble nominee. He is also a member of the council of the British Free Range Egg Producers' Association (BFREPA), representing free range producers in the East Anglia region.
"It is nice to win something like this and have your efforts recognised," said Trevor. "I suppose you get out what you put in."
The Sainsbury's Farming Awards were presented in December as part of the group's annual farming conference. A spokeswoman said that the conference brought together more than 600 suppliers and farmers from the company's development and grower groups to celebrate a year of achievement, share knowledge and inspire innovation. "We also announced our investment in 13 innovative projects through grant funding. Ranging from improvements in UK pear yields to reducing the
water
footprint of UK herbs, this is in addition to the £1.2 million awarded last year to help shape the future of British farming," she said. An extended agricultural graduate scheme and a new scholarship programme were also outlined by the company during the conference.
Trevor Sellers plays an active role in the supermarket's egg development group, providing Sainbury's with frontline feedback about the current state of free range egg production. The egg development group consists of more than 145 UK producers. They include members producing Woodland free range eggs,
barn
eggs
and organic eggs. Trevor has been a member of the group for four years and, according to AB Sustain, he continues to perform in the top five per cent in terms of carbon footprint.
The Sainsbury's carbon footprint initiative began in 2006 when the company worked together with AB Sustain to launch the scheme initially amongst 320 dairy farmers. Sainsbury's and AB Sustain say the initiative was an industry-leading programme when it was launched. At that time, they say, carbon emissions and those derived from livestock production were under considerable and mounting pressure. Meat was deemed bad for the environment, as stated by the Lord Stearn Review, and there was a need to capture real on-farm data to provide true facts, said Claire Heath. She said that the initiative was also intended to deliver something useful to the farms involved. She said that carbon foot printing could provide potential improvements in production efficiency and, therefore, farm profitability.
AB Sustain says that the work with the dairy group proved successful. The reports generated and data collected as a result of the initiative showed improvements to production efficiency. "Some saved thousands, others hundreds," said Claire, who said that the initiative was subsequently rolled out across all other protein sectors, including eggs, broilers, pork, beef, lamb and cheese producers. The initiative has been active within Sainsbury's egg development group for three years. This year - 2014 - will be the fourth year in operation in the egg sector.
Claire Heath said that data was now collected from as many as 2,500 UK farms annually by trained assessors. This data is captured, held, analysed and reported by AB Sustain. Its main aim, it says, is to identify key drivers for production efficiency improvements within each sector.
Download


No comments posted yet. Be the first to post a comment