Sainsbury s reject retender rumours
Sainsbury's reject retender rumours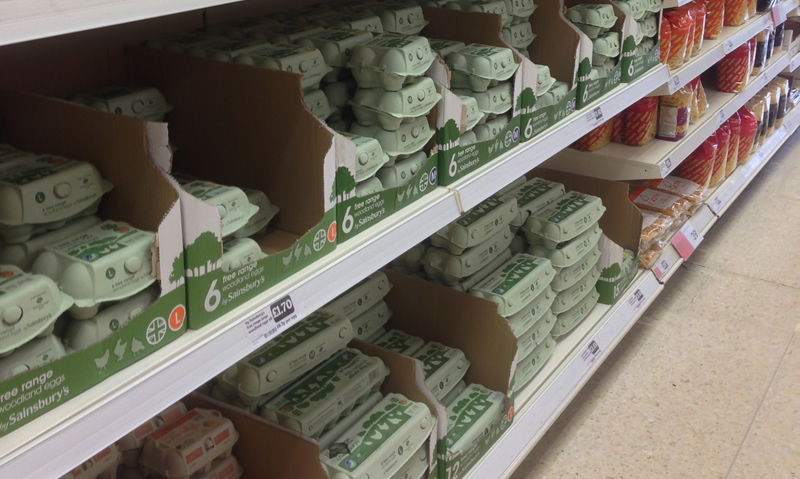 Rumours that the supermarket group Sainsbury's was preparing to re-tender part of a shell egg contract lost by Noble Foods are not true, according to Ranger sources.
Ever since it emerged last year that Sainsbury's had switched a large contract from Noble - the United Kingdom's largest packing company - to the Lincolnshire firm L.J. Fairburn and Son, whispers have been growing that Fairburn's would struggle to secure enough egg to fulfil the contract. More recently those whispers developed into rumours that the supermarket group had become so concerned about possible lack of egg that it had decided to re-tender at least part of the contract, which was due to begin this month.
But sources close to the supply chain told the Ranger that the rumours were "absolute rubbish." We understand that Sainsbury's is aware of the rumours that have been circulating, but the supermarket has been pressing ahead with plans to begin sourcing egg from Fairburn's in March. Fairburn's, itself, has said that all its plans have been put in place and that it would definitely be fulfilling the contract.
"We have been working extremely hard to make sure that everything is in place for this contract," said Sarah-Louise Fairburn. "The family is very happy to be supplying Sainsbury's. We have no idea where these rumours started about us not having enough
eggs
but there is absolutely no truth in them."
Fairburn's was Noble's biggest contracted egg supplier before deciding to go solo after nearly 40 years as a contracted producer. The family invested one million pounds in a new packing centre, launched two new brands and it has increased its own egg production, as well as seeking new contract producers. It has added 32,000 birds to its free range production and is adding an extra 64,000 birds, which will take total free range bird numbers to nearly 268,000. The company is also increasing cage production.
The firm has made an immediate impact on the egg market and has also caught the eye of leading business watchers. Fairburn's was recently named in a London Stock Exchange (LSE) report that identifies some of the fastest growing and most dynamic small and medium sized enterprises (SMEs) in the country. Fairburn's has appeared in '1000 Companies to Inspire Britain,' a report for the LSE that examines in detail the opportunities and challenges facing SMEs and looks at the sectors and trends that will shape the future of the UK economy.
Sainsbury's, itself, will not discuss the contract but sources who are familiar with the supply chain told the Ranger that all due diligence had been carried out, as it was when any new contract was awarded. The supermarket was satisfied that Fairburn's had the
eggs
to enable it to fulfil the contract.
Download

No comments posted yet. Be the first to post a comment
Display name

Please enter your name

Email
(optional)
Comment

Please enter your comment

Post Comment


Your comment submitted successfully.Please wait for admin approval.

Some error on your process.Please try one more time.