Severe disease pressure sees more emphasis on fungicides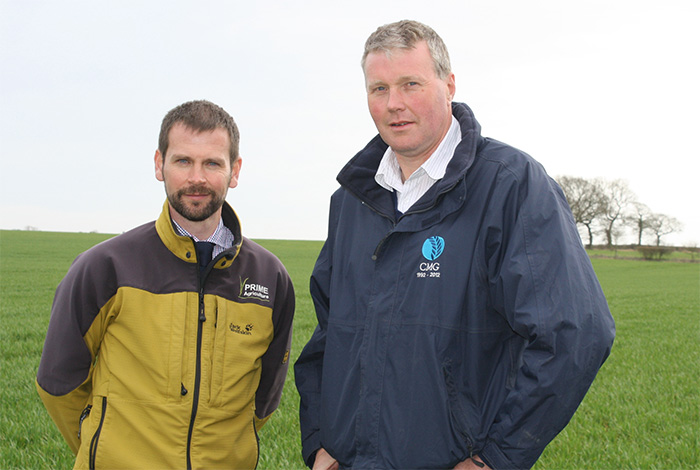 Independent agronomist Bill Barr of Prime Agriculture says that the high levels of yellow rust and septoria infecting wheat crops will mean that early fungicide sprays will need to be more robust than usual.

For one of Mr Barr's clients, farm manager Giles Benson of Turney's Farming in Quinton, Northamptonshire, this has meant that a T minus 1 spray (T-1), has already been applied on his rust susceptible wheat varieties.

"Robigus, Viscount and Solstice received the early fungicide treatment but the more resistant varieties such as Crusoe did not warrant it and will get their first spray at growth stage 30, T0."

"The T-1 applied at the end of February consisted of a reduced rate of triazole and is really just used to dampen down the rust early", he says.

For those crops that did not get the T-1 spray, the T0 will be a standard low dose triazole plus chlorothalonil spray with or without a mildewicide. Where an early spray was planned but has not been applied, a strobilurin will be added into the triazole plus chlorothalonil mix to boost rust control.

Mr Benson sees the T-1 approach as one of risk management. "It buys time and takes the pressure off the T0 spray. Cost wise it does not add too much more onto the overall programme at around the £5/ha mark so it's well worth it for the peace of mind."

For Mr Barr the T1 spray is still not defined as he prefers to wait and see how the crops and season progress. "We now have much more chemistry choice at T1; as well as the standard triazoles there are the SDHI's to consider and we still have the option of strobilurins."

"This year Mr Barr will up his spend at T1 to reflect the early threat from disease. "The T1 is protecting the upper leaves, and I don't want to be chasing disease all season, so its critical to get it right and it needs an appropriate spend, I would be looking at around the £30 to 40/ha mark."

Mr Barr adds that this higher cost earlier in the programme reflects a shift in emphasis between the T1 and T2 sprays to a more balanced spend; traditionally the T2 flag leaf spray has been the main emphasis of the fungicide spray programme reflected in the total spend at T2 in relation to the remainder of the programme at around 50%.

For the last five years Mr Barr has used Tracker + chlorothalonil at T1 with very good results as the boscalid plus epoxiconazole mix is very effective on septoria and rusts, and importantly at this timing, boscalid remains the most effective active on eyespot.

Mr Barr will consider the newer SDHI chemistry at T1 on disease susceptible or fungicide responsive varieties, however he will use newer SDHI's across the board at T2, where there is a better yield response.

Nick Myers, Head of Crop Production at ProCam UK Ltd, will consider using an SDHI at T1 this year as disease pressure is potentially very high. "It is important to 'frontload' the fungicide programme to minimise the risk from rusts and septoria from the outset. Adexar plus a multi-site inhibitor will be an option where disease pressure is particularly high."

"Crops generally have good yield potential this year and will justify the investment in the best fungicide technology."

Mr Myers also sees a place for strobilurins at T1, particularly this spring where plants have been waterlogged." Whilst the potential of crops above the ground looks good, some roots could be suffering from prolonged waterlogging and in later sown crops that may be struggling, strobs can have a good effect at T1 in both promoting and retaining green leaf area."

"It's important not to underestimate the physiological benefits of strobs in times of stress, and they are certainly proven to add persistence to triazoles for rust control."

BASF cereal fungicide manager Jonathan Ball adds that recent HGCA trials show the value of pyraclostrobin (as in Comet 200) to rust control hence the company's recommendation for the addition of 0.4l/ha of Comet 200 to 1l/ha of Tracker and CTL in high rust threat situations at T1, and if necessary at T2 to 1.25l/ha Adexar + CTL to further boost rust control.

Download


No comments posted yet. Be the first to post a comment
Display name

Please enter your name

Email
(optional)
Comment

Please enter your comment

Post Comment


Your comment submitted successfully.Please wait for admin approval.

Some error on your process.Please try one more time.
Trending Now
Viewed
Discussed