Sheep and cattle perishing in freeze
Sheep and cattle perishing in freeze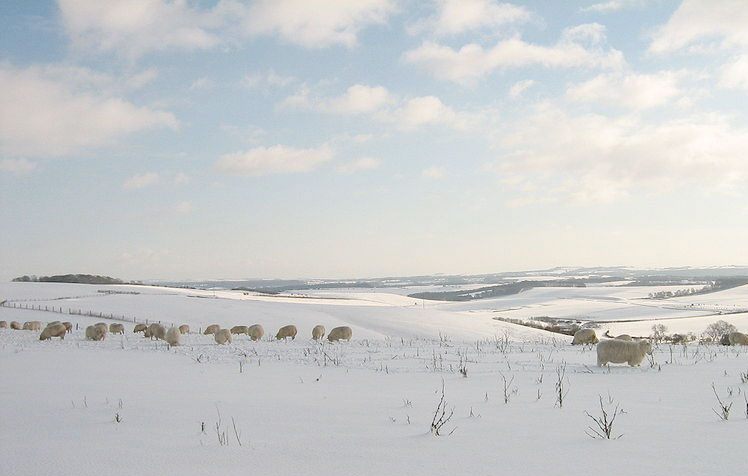 Unseasonable snow and icy conditions are causing thousands of sheep and cattle to perish along with added fears of disruptions in feed and
fuel
deliveries.
The weather conditions have put an 'extraordinary strain' on the industry as farmers' sheep are currently going through the lambing season.
"These are unusual conditions and are totally out of character for the time of year. Farmers are resilient and are working around the clock to look after the welfare of their animals" said NFU Vice President Adam Quinney.
"Sheep are adapted to living outside but it is unusual to be lambing in this weather and we do expect to see some losses in areas hardest hit. I've talked to families where everyone is out all day and night just trying to get feed out there.
"The work that's going on is incredible and farmers are just exhausted, but they are continuing to work hard to ensure that as much that can be done is being done in these unprecedented circumstances."
The daily collection of milk has also been badly affected with several farmers having to pour away overflowing tanks. Losses of power in badly hit areas is also adding strain on businesses.
Feed delivery problems will be eased by the Department of Transport announcement that it has agreed to the temporary relaxation of the enforcement of EU drivers' hours and working time rules for those involved in the distribution of animal feed. This temporary relaxation applied from yesterday (Sunday 24 March) and will run until Saturday 30 March.
Andrew McCornick, who farms in Dumfries, Scotland said: "We are well through our annual lambing so the snow couldn't have hit at a worse time.
"We have managed to dig our way around most of the fields with ewes and lambs in them. We managed to get feed to those that we have found and we have been digging many of them out of the snow.
"The drifting snow is so bad that there are still many vulnerable sheep that we are still battling to get to and we know that we are likely to face losses when the snow has cleared.
"We have sufficient hay, silage and concentrates to last until the middle of the week by which time clearing the farm road will be a priority as we will need animal feeding by this time. To compound problems, snow has fallen off a roof and burst the
fuel
line to the house and drained all the heating oil. We will also need to get this repaired and then get a
fuel
lorry in."
"We do have power - unlike some other farmers - and we are able to continue to calve our cows indoors. However, I know of some that are calving cows outside as well as lambing, so they will be in a hellish place. There is a feeling of hopelessness but you just have to put your head down and carry on with what, on a lot of farms, is a salvage operation."
Emergency engineers are continuing to work flat out across Kintyre, Arran and Islay to get power to homes and businesses affected by the weekend's severe weather Deputy First Minister Nicola Sturgeon said today.
Power has now been restored to all properties in Dumfries and Galloway and Scottish and Southern Energy (SSE) have said they are confident of having power restored to all customers in Arran, Kintyre and Islay by the end of Thursday providing no further significant damage to the network is found. There were around 2,700 customers off power this afternoon and that is expected to drop below 2,000 overnight.
Sturgeon visited Campbeltown and the surrounding area to meet with affected residents and see first-hand the on-going efforts to get power back on and to clear the huge amounts of drifting snow that closed roads and isolated communities across the peninsula.
SSE have around 400 engineers working across the affected areas in partnership with local authority staff, emergency services and local volunteers.
Another Scottish Government Resilience (SGoRR) meeting took place this afternoon, chaired by Transport Minister Keith Brown, to liaise with all key partners and help co-ordinate the response, the eighth meeting of the emergency response team since Friday.
Cabinet Secretary for Rural Affairs Richard Lochhead also chaired a teleconference with the farming industry to co-ordinate efforts to safeguard livestock.
In recognition of the impact of the severe weather the Cabinet Secretary for Finance, Employment and Sustainable Growth John Swinney has, in discussion with Argyll and Bute and Dumfries and Galloway Councils, triggered the Bellwin Scheme.
Sturgeon said" "The people of Kintyre have had a really tough time in recent days and many are still struggling without power. However, the sense of community spirit that I encountered from everyone I spoke to was extremely impressive. It is also clear that all the different agencies have worked very well together. I was also pleased to get a report from SSE, and witness first hand as I traveled down the peninsula, the number of engineers at work.
"More and more people are now having power restored which is a tribute to the hard work of everyone involved - and the focus is on getting everyone back to normal as quickly as possible. Everyone involved from the volunteers to the gritters and snow ploughs, the NHS, local authority, SSE staff, local shops and businesses and the community in general deserve a huge vote of thanks."
Lochhead said: "These are very difficult times for some of Scotland's farmers and we are keen to do all we can to support them. The main issues for farmers in affected areas have been lack of power in lambing sheds, difficulty tracing livestock and difficulty getting feed to livestock – the drifts are simply too deep to allow tractor or quad bike access.
Download

No comments posted yet. Be the first to post a comment
Display name

Please enter your name

Email
(optional)
Comment

Please enter your comment

Post Comment


Your comment submitted successfully.Please wait for admin approval.

Some error on your process.Please try one more time.