Small scale badger cull risks spreading TB further scientists warn
Small-scale badger cull risks spreading TB further, scientists warn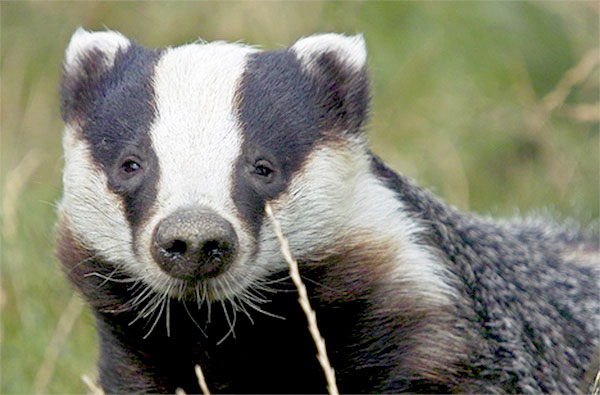 A pilot scheme to selectively cull badgers that test positive for tuberculosis risks spreading the disease further, according to scientists.

The scheme, which is to be piloted in Northern Ireland, will aim to vaccinate healthy badgers and cull infected ones as part of efforts to reduce the disease in cattle.

The PNAS paper looks at the impact of changes in badger behaviour that result from culling-induced perturbation. Surviving badgers are more likely to spread out into surrounding areas, and badgers from areas surrounding culling zones are more likely to move in to fill the 'gaps' created by culling. This increases the chances of contact between badgers from different social groups, and risks spreading infection more widely to previously uninfected badgers.

There is already good evidence to show that the proportion of infected badgers in an area increases following a cull, and this in turn potentially increases the risk of infection spreading from badgers to cattle.

This effect may occur even when the proportion of badgers killed is very low, or when attempts are made to select and kill only infected badgers, as with the 'Test-Vaccinate/Remove' or TVR pilot programme scheduled for Northern Ireland later this year. Illegal badger culling, which is feared to have increased under the cloak of government-controlled culls, is likewise expected to increase cattle TB risk.

By contrast, the research confirmed that cage trapping and vaccinating has value because while badger vaccination programmes may not eliminate infection from badger populations in the short term, they are likely to reduce the prevalence of infection in badgers without resulting in perturbation.

But the research, contained in the PNAS Proceedings of the National Academy of Sciences, has likely dented hopes of those looking to find alternative methods to large-scale cullings which have been widely criticised by charities.

TB control efforts still entail slaughtering many thousands of cattle annually, costing British farmers and taxpayers millions.

Researchers from the Zoological Society of London (ZSL), Imperial College London and the University of Sheffield each contributed to the findings.

Prof. Rosie Woodroffe, Senior Research Fellow at ZSL said: "TVR sounds appealing because only infected badgers are killed. Unfortunately our findings suggest that the planned TVR pilot could alter badger behaviour in ways which risk exacerbating the bovine TB problem, rather than controlling it. This is one reason why ZSL is exploring alternative options to reduce transmission between badgers and cattle."

Transmission from wild badgers impedes control of cattle TB, but nonselective badger culls confer limited benefits because culling changes badger behavior in ways that increase disease spread.

A new plan to cull only test-positive badgers, and vaccinate test-negative badgers, termed test–vaccinate/remove (TVR), is probably more publicly acceptable, and might be more effective if culling small numbers of badgers prompts no behavioral change.

Unfortunately, this study shows that small-scale culling (such as TVR) changes badgers' behavior in ways that risk increasing TB transmission among badgers and exacerbating cattle TB incidence rather than reducing it.

Stuart Morris, Brecon and Radnor NFU Cymru County Chairman said: "The future of beef herds in particular is extremely fragile as farmers worry for their livelihoods if they suffer a TB breakdown."

Earlier this year, farmers expressed their disappointment over Environment Secretary Owen Paterson's plans to abandon a roll-out of the badger cull programme.

CLA President Henry Robinson said: "Mr Paterson made it clear pilot culls' roll-out has not been abandoned. Instead, the culls are being improved before being rolled out in other areas.

"The CLA will continue to work with the Government to ensure the aims of Defra's newly released bTB eradication strategy are met, including culling in all the affected areas, and that this takes place as soon as possible."

Dr Jon Bielby, research fellow at ZSL, said: "Our research is the first to look at the effects of removing small numbers of badgers from social groups.

"The results reinforce the need to fully understand the consequences of methods to control the spread of bovine TB before we embark on them. Otherwise we risk complicating what is already a very complex issue.

Mark Jones, executive director of Humane Society International UK, said: "This new research confirms what we and countless experts have been saying for years, that killing badgers is not an effective way of controlling TB in cattle, and could indeed make things worse not better for farmers. This is another huge blow to DEFRA's plans to slaughter England's badgers this summer and demonstrates yet again that the Government's badger cull policy simply isn't supported by the science and must be abandoned. It's time now for farmers to recognise that leaving badgers alone whilst they get their own farming industry practices in order, is the best thing they can do to stem the tide of cattle TB infection. So we urge farmers to make a fresh start and pledge to be badger-friendly by protecting not persecuting badgers on their land. If they don't, they may well be condemning themselves and their neighbours to an even worse cattle TB future."

Download
12-06-2014 13:02 PM | Posted by: reg pollard
this cull has to be abandoned,it has been a total disgrace and shambolic slaughter of badgers from day one,Owen Paterson is determined to kill as many badgers as he possibly can,whether healthy badgers or unhealthy,this man does not listen to any advice from anyone,at the end of the day when it is proved it has not worked,Praterson will turn his back on Farmers and land owners,and walk away and leave someone else to pick up the pieces,but the arrogant little obnoxious Prat,will still insist he was right.
14-06-2014 15:42 PM | Posted by: reg pollard
Owen Paterson doesn't want to know about vaccination of badgers being successful,that is the last thing he wants to hear,this horrible little toe-rag is only happy when badgers are been shot and ripped apart by dogs,stop the badger cull,& sack Owen Praterson,NOW.
16-06-2014 15:14 PM | Posted by: rgraham
would reg pollard explain how a badger with tb running around the countryside is not spreading tb where ever it travels
17-06-2014 13:56 PM | Posted by: reg pollard
just to put the record straight,i have never said badgers don't spread tb,i would agree any infected badgers or any animal with tb should be put out of its suffering,what i am saying is that many more healthy badgers are being killed,than diseased badgers,and farmers need to get their own act's cleaned up.
20-06-2014 16:38 PM | Posted by: reg pollard
has anyone out there tried talking to Natural England,its like a police officer questioning a suspect,all they say is,No-comment-No-comment,have come to the conclusion these morons who work for Natural England,couldn't find their own Arse, with both hands and a map,no wonder Charlie -Boy talks to the trees,.
Display name

Please enter your name

Email
(optional)
Comment

Please enter your comment

Post Comment


Your comment submitted successfully.Please wait for admin approval.

Some error on your process.Please try one more time.