Farmers have taken up solar technology as they know is wonderful asset for any business it reduces your energy bills greatly, creates you an income for the next 20 years and adds value to your business, and if you are thinking it sounds great but can't afford it, get a loan the figures add up financially.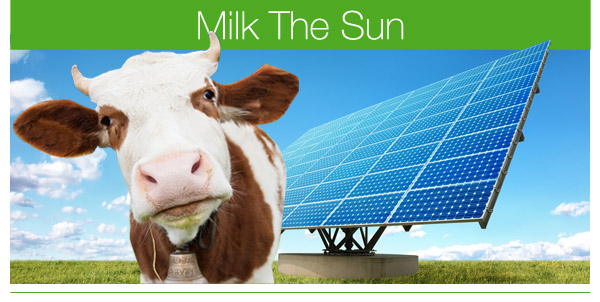 This green technology that will help us develop cleaner energy for future generations to come. Green technologies will in the future combat energy price rises to stabilise the dwindling reserves of fossil fuels.
Solar PV combats energy hikes
In the last five years the price of gas and electricity has increased by a staggering 30% and this has affected millions of households and businesses, and there is little prospect of the trend reversing.
Energy price rises have been proportionately higher for industry and have direct impacts on costs and competitiveness. As a business we can either absorb these costs and can think of ways to rescue our dwindling profits. The renewable sector offers a long-term solution with substantial financial gains.
Large energy savings from solar
When we visit business owners they often are most concerned about reducing the escalating cost of electricity. Some of the energy bills are rather large to say the least.
After a solar installation electricity bills in a home are as a rule of thumb reduced by half, but in a business you can take advantage of the fact that you use your energy throughout the day, and home owners are often working, so your gains should be greater.
Commercial solar and the feed in tariff
- Firstly, you save money by reducing your electricity bills, because you have created your own energy.
- Secondly the energy company will pay a generation tariff (paid per kWh), which is a small sum paid per kW for ALL the electricity you produce
-Thirdly the energy company will then pay you an export tariff of 4.5p after per kW for all energy not used that they can than export back to their grid.
Solar adds value to your business
A solar installation adds value to business, as a company with an income and reduced energy bills is a great asset and adds to the bottom line.
Pay back period on a commercial solar installation is can be as little as 6 to 8 years and then the rest if profit.
How big should you go?
Basically the more panels you can fit on your roof or ground the greater your savings and FIT payments you will receive. Solar PV makes economically sense even if you have to get a loan for to cover the cost of the install.
The payments you receive and energy savings cover the cost of the loan and you gain extra back on top of this.
Interested get a quotation and free survey here www.solarandgreen.co.uk
Comments
No comments posted yet. Be the first to post a comment