Supermarkets under pressure to sell more British food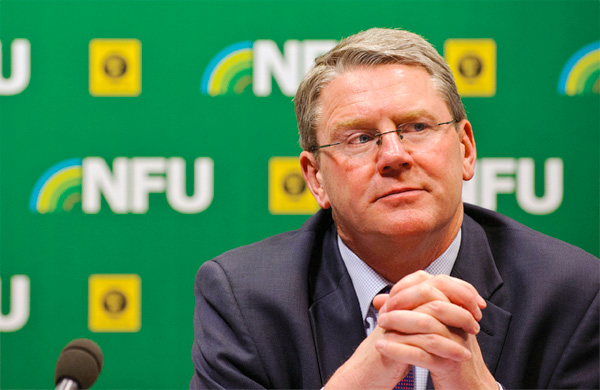 Retailers should show more support to British farming by stocking more British food, National Farmers' Union President Peter Kendall said today.

A year on from the horsemeat scandal, a new YouGov survey commissioned by the NFU shows that the pressure on supermarkets to sell more British food is as strong now as it was when a similar survey was carried out in the immediate aftermath of the scandal.

Kendall said: "The YouGov survey shows that 79 per cent of British people think British supermarkets should sell more food produced on British farms. I'm constantly told by some supermarkets that their sourcing policies are determined by what their customers want. This survey shows very clearly that consumers want more British food, so I hope they will take this on board and act on it.

"We're not saying that supermarkets should not stock any foreign produce. But we would urge the retailers to listen to what consumers are saying.

"The horsemeat scandal showed us that food security isn't just about an abundance of supply. It's also about safety, quality and transparency. British farmers and growers provide some of the highest quality produce in the world produced to high standards of quality, welfare and traceability and consumers want to buy it."

After the horsemeat scandal public trust in the supermarkets dropped significantly - from 69% to 35% according to a OnePoll survey in February 2013. A question asked by YouGov 12 months later shows the level of trust is now 52% but is still some way off trust levels before the revelations.

Mr Kendall said: "Last year I called on retailers to work on rebuilding consumer trust. While that trust has recovered to some extent there is still a long way to go. Backing British farming by stocking more British food will help retailers regain consumer confidence.

"Our farmers want to know that when retailers say they are backing British farming they are doing so at every turn and at every opportunity. There are many ways retailers can show their support – through stocking food that carries the Red Tractor logo; through the relationships they've created with their farmer suppliers; and through the types of supply arrangements they have in place with farmers.

"I would urge all retailers to join those that have already done so and sign up to our Back British Farming Charter and commit to stocking more British food and working in partnership with British farmers to develop committed, fair and beneficial relationships."

At a time when the UK faces a storm of adverse weather and economic difficulty the retailer is committed to sourcing closer to home.

Speaking to an audience of farmers, MPs and retailers at the 'Backing the Business of British Farming' conference, Justin King, Chief Executive at Sainsbury's, said: "A lot has changed, we now source more British products than ever, yet many things have remained the same such as consumer trust. Consumer trust is crucial to the success of our business and of the UK farming industry.

"Together with our farmers we have invested in where and how food is produced, and as we work towards our commitment to double the amount of British food we sell by 2020 our farming Development Groups and UK producers will be key to this."

Emphasising this commitment, the strategy focuses on: What is British will stay British, selling more British when it is in season and growing produce in Britain that would historically be sourced from abroad. To do this requires development and research, for example converting fresh pork to 100% British last summer or the trial of growing figs in Essex.

Download

25-06-2014 12:27 PM | Posted by: Mrs Jane Evans
As a weekly customer at Sainsbury's and Tesco's I would very much like to see more produce from British farmers also :) It's good to know the NFU are conducting surveys to find out what the majority of British consumers want as "Consumer trust is crucial to the success of our business and of the UK farming industry." I hope the supermarkets hear us!
It would be good to see a similar survey conducted asking the British customer what their thoughts were on the introduction of GMO foods onto supermarket shelves also. Another relevant survey would be to find out what the British consumer's thoughts were regarding meat, eggs, milk (other than organic)being reared on GM food with no labeling already on today's supermarket shelves. Please please please UK supermarkets AND UK farmers, please ask your customers what they want FIRST before giving in to pressures.
Display name

Please enter your name

Email
(optional)
Comment

Please enter your comment

Post Comment


Your comment submitted successfully.Please wait for admin approval.

Some error on your process.Please try one more time.
Trending Now
Viewed
Discussed