Support non stun slaughter vets urge party leaders
Support an end to non-stun slaughter, vets urge party leaders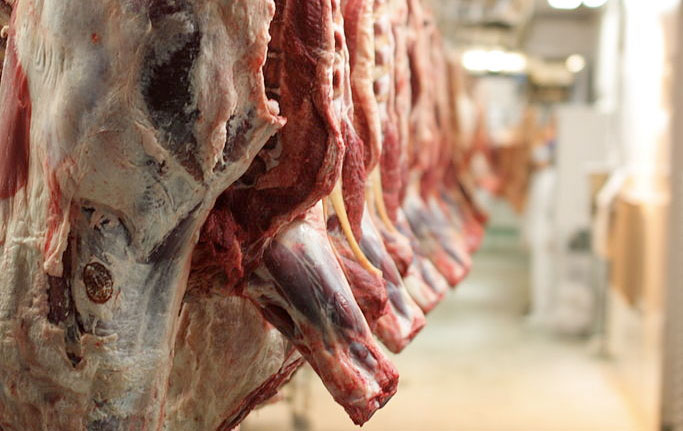 Party leaders in the United Kingdom have been urged to support a veterinary campaign to end non-stun slaughter.
Writing to party leaders, Robin Hargreaves, President of the British Veterinary Association emphasised the animal welfare issues involved in non-stun slaughter and the strength of public feeling about the issue – since the launch at the end of April of the BVA's UK-wide petition to end non-stun slaughter in the UK, over 72,000 individuals have signed. 100,000 signatures are needed to trigger a House of Commons debate.
European and UK legislation requires all animals to be stunned before slaughter to render them insensible to pain. However, an exemption in UK law allows animals to be slaughtered without stunning for certain religious communities - Dhabihah slaughter for Halal food and Shechita slaughter for Kosher food. It is important to note that almost 90% of Halal slaughter in the UK is already pre-stunned.
Scientific evidence shows that slaughter without pre-stunning compromises animal welfare. That is why the Humane Slaughter Association, the Farm Animal Welfare Council, the Federation of Veterinarians of Europe and the European Food Safety Authority are all calling for an end to non-stun slaughter.
In letters to Alex Salmond, Johann Lamont, Ruth Davidson and Willie Rennie, Mr Hargreaves was at pains to underline the campaign's focus on animal welfare at slaughter, stating that:
"We have always made it very clear that we are not concerned with the practising of religious belief, but with the throat cutting of animals that have not been rendered insensible to pain."
The need to differentiate between non-stun and religious slaughter in relation to food labelling was also highlighted to Scottish Parliament leaders by Mr Hargreaves:
"Recent media coverage has revealed a very strong feeling amongst the general public for better labelling about the provenance of food they are buying and eating. We very much hope you will listen to this sentiment and take forward the debate about clearer food labelling.
"Proposals to label all Halal and Kosher products will do nothing to inform the public about the very proper concerns regarding welfare at slaughter and could
fuel
further confusion and potentially feed prejudice.
"Halal labelling does not recognise that around 88% of halal slaughter in the UK is pre-stunned. At the same time the 12% that isn't stunned, along with the hindquarters of animals slaughtered by the Shechita method that are not Kosher, could continue to enter the mainstream food chain unlabelled.
"If labelling is to be progressed, we want the discussion to move away from one about 'Halal' and 'Kosher' and instead for labelling to show whether meat is from stunned or non-stunned animals."
Ronnie Soutar, President of the BVA Scottish Branch, said: "Concern about welfare of animals at slaughter is one of the top priorities for our members and we have long advocated an end to non-stun slaughter. Although very little non-stun slaughter takes place in Scotland that is no assurance that non-stun products aren't on Scottish supermarket shelves or sold in food outlets.
"We are hoping to gain cross-party support for our campaign from the main parties in Scotland because this is not only a major animal welfare issue but one of consumer choice and confidence in the food chain."
Scottish party leaders are in the process of responding to BVA's call for a cross-party consensus on the issue in Scotland and BVA hopes to work with all parties in the Scottish Parliament to support better consumer information and improved animal welfare.
Hargreaves said: "BVA has long held the position that slaughter without pre-stunning unnecessarily compromises animal welfare at the time of death. We are also concerned that meat from non-stun slaughter is entering the market unlabelled because there is no requirement to label meat and meat products with the method of slaughter. We believe strongly that food should be labelled as stunned or non-stunned and we are delighted that the all-party group supports the BVA call for clearer labelling.
"The issue of non-stun slaughter continues to generate media and political interest, and rightly so. Scientific evidence shows that slaughter without pre-stunning compromises animal welfare; a position supported by the Humane Slaughter Association, the Farm Animal Welfare Council, the Federation of Veterinarians of Europe and the European Food Safety Authority. We have a moral obligation to each animal we keep: any unnecessary pain should be eliminated.
"The all-party group's inquiry also identified several areas where greater research is needed and we would welcome in particular further work to gather evidence on the recoverability of certain stunning methods to reassure some religious communities that they are compatible with their requirements.
"BVA has been at the forefront of the campaign to ensure all animals are effectively stunned before slaughter and, with the support of the RSPCA, we launched a government e-petition calling for an end to non-stun slaughter on animal welfare grounds. We've reached over 71,000 signatures already but we hope to achieve 100,000 signatures so that consideration will be given to a debate in the House of Commons."
Download
09-08-2014 10:32 AM | Posted by: mike
Non-stun slaughter (NSS) causes unnecessary suffering. Cattle cut without stunning have been observed to take upto six and a half minutes to become unconscious and insensitive to pain. BUT a ban on the practice in the UK will lead to increased numbers of sheep and cattle being sent live to France and Eire for slaughter there. Most of the meat will be re-imported here:we will have lost the work and value will have been added abroad. Extra transport costs will be reflected in lower livestock prices, particularly for sheep, here.

A unilateral ban on NSS will lead to poorer welfare for many animals. Even if it was banned throughout the EC we could see sheep being sent by the boatload to Turkey or North Africa. If NSS is to be carried on anywhere it is best done here in the UK where we have best levels of welfare and control of the process.
Display name

Please enter your name

Email
(optional)
Comment

Please enter your comment

Post Comment


Your comment submitted successfully.Please wait for admin approval.

Some error on your process.Please try one more time.