TB breakdowns have devastating effect on farming businesses
TB breakdowns 'have devastating effect on farming businesses'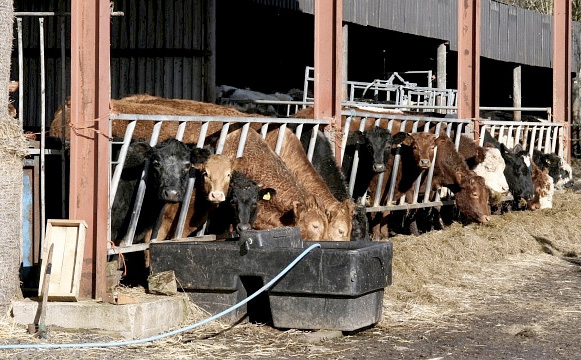 The effect a TB breakdown can have on farming businesses was the main topic of discussion when a delegation of NFU members met with their local Assembly Member, Kirsty Williams and local MP, Roger Williams recently.

Stuart Morris, Brecon and Radnor NFU Cymru County Chairman said: "Dealing with a breakdown of bovine TB is absolutely draining, not only emotionally with the loss of productive animals but also financially as farmers have to contend with the pressures of providing adequate feed, bedding and housing for additional cattle whilst under stringent movement restrictions."

The Welsh Government has recently consulted with the industry on proposals to move to a tabular based valuation system for TB reactors in Wales, a move which members throughout Brecon and Radnor firmly oppose.

Stuart Morris continued, "The future of beef herds in particular is extremely fragile as farmers worry for their livelihoods if they suffer a TB breakdown. We want a valuation system that will encourage farmers to be confident to be part of a thriving beef industry in Brecon and Radnor. The system has to be fair but the implementation of a tabular valuation system will simply deter farmers from investing in their cattle herds with a view to improving bloodlines and the quality of their breeding stock and end product in an attempt to improve profitability.

"The proposed move to a tabular valuation system fails to acknowledge the weight, conformation or performance characteristics of an animal and this is grossly unfair. If this system is introduced we could see farmers leaving the beef sector, which could devastate our livestock markets and our abattoirs in Wales. We sincerely hope that Welsh Government carefully considers NFU Cymru's consultation response."

Members present also raised their concerns on the findings of the recent Which? Survey, which found that lamb was being substituted by cheaper meats in some takeaway food.

John Davies, NFU Cymru Deputy President said, "Brecon and Radnor is one of the most densely populated sheep producing areas and we are astonished that this type of activity has been found. We produce a quality product, whilst adhering to stringent regulations on animal identification and movements and this type of behaviour is wholly unacceptable.

"We welcome the announcement made by the Food Standards Agency (FSA) to increase sampling procedures, with the assistance of local authorities. It is vital that food integrity and authenticity is upheld throughout the entire food chain."

NFU President Meurig Raymond said the decision not to extend the pilot culls was a 'bitter disappointment.'

"This TB breakdown only goes to emphasise the importance of controlling the reservoir of TB in wildlife. Without being able to control the wildlife which is spreading disease to their cattle they are rightly hugely frustrated and angry. It has a strangle-hold on their business.

"Farmers continue to bear the brunt of regulations too. More and more we are seeing tighter cattle controls introduced but they are pointless without also tackling this disease in badgers.

"I remain very concerned about the conclusions drawn in Independent Expert Panel report published last week. It has skewed the government's decision on the wider use of the badger control policy.

"While the IEP did outline accurately the challenges faced by those delivering the badger cull pilots, it has also made many assumptions based on anecdote, unpublished work which hasn't been peer reviewed, or selective use of evidence.

"It's conclusions on humaneness and effectiveness are simply not reflected in the experiences of those people on the ground.

"What is clear is that we need to look at other ways of controls badgers if we are to reduce TB in cattle. I will be visiting Ireland to look at how they have achieved success in reducing badger numbers and TB. The NFU is also committed to doing its own analysis of all of the evidence to help find a way forward for the current policy."

Download
28-04-2014 08:47 AM | Posted by: Balbuzard Pecheur
Complete and utter nonsense. Wales are reducing BTB without killing badgers. Stop blaming badgers and get your act together.
28-04-2014 11:19 AM | Posted by: Roger Broad
Nowhere in this article do I see any acknowledgement of the significant drop in BTB incidence in Wales. Or any recognition that this has been driven by the overall comprehensive programme being followed in Wales. Including the Vaccination of Badgers.
How many of the Badgers culled in the SW of England were BTB infected? You are in effect killing healthy badgers. By Vaccinating Badgers as a part of a comprehensive programme, you are establishing Social group immunity. This includes reducing infection levels even on infected badgers as well as creating some immunity on badger cubs not yet above ground.
But the major shortfalls to date involve the ineffective BTB cattle test, and a political block on Cattle vaccination. Some 20% of cattle tested are missed by testing and either remain in the herd, are sold for slaughter or sole to other farms.
It is clearly this expensive, unscientific and controversial style of badger killing, which in my view has and continues to limit comprehensive progress towards the long term eradication of BOVINE TB. Or perhaps it is the Politics and vested interests supporting it.
I offer the following quote" Prof John McInerney, Emeritus Professor of Agricultural Policy, University of Exeter said:
"Bovine TB is unarguably a serious problem in cattle farming, but the continual focus on the badger aspect is getting in the way of proper rigorous thinking about disease control. bTB is a disease of cattle and the badger is just an accessory, so badger culling (or vaccination) is just an accessory to the main problem. The control strategy has to be built directly around measures to limit the spread within the cattle population, and until this is done we will never get on top of the problem."
This Farming UK article continues to discuss promotion and quality of UK meat products.
Firstly in my view the RED Tractor label fails by being both an industry label, but also only applying the minimum legal welfare standards. It is this minimum legal Standard which has been rejected by Sainsbury's. Who believe their sourcing exceeds that low minimum standard.
Secondly on all meat products the labelling is important, currently I believe all imported New Zealand Lamb is Halal slaughtered, but not labelled as such. Slaughter is not a religious issue but an UK animal Welfare standard. And as such both controversial and important to the British Consumer.
At the same time live exports from the UK continue to raise controversy amongst many in the UK. The necessity, manner and welfare provisions. Prosecutions have already occurred as a result.
It is time perhaps for responsible, ethical farming to consider withdrawing their support for such live exports. All of these issues raised have one common point- public acceptance and their controversial aspect.

28-04-2014 13:17 PM | Posted by: Clued-Up
Why isn't the NFU celebrating the HUGE successes of the Welsh government's drive against bTB? Bringing down the number of cattle slaughtered because of bTB by 48% in 4 years through cattle controls and better support for bio-security on farms is a wonderful achievement. Many of us think the NFU's dead-set on killing badgers, no matter what.
Display name

Please enter your name

Email
(optional)
Comment

Please enter your comment

Post Comment


Your comment submitted successfully.Please wait for admin approval.

Some error on your process.Please try one more time.