Tending to the flock Organic best practice
25 April 2014 11:44:43|
News
Tending to the flock - Organic best practice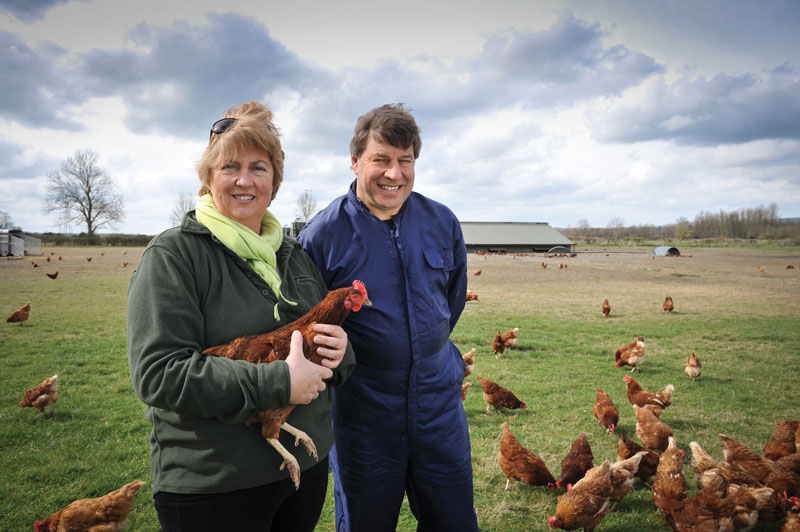 Attention to detail, innovative on-farm techniques and a passion for organic poultry has seen performance at Lawn Farm, Pewsey consistently high.
The farm is owned by Vale of Pewsey Minister, Reverend Gerald Osbourne - and whilst Reverend Osbourne is on pastoral duties, Rachel Rivers is busy tending to the farms 8000 British Blacktails.
Rachel, along with husband Andy, manage the 1000 acre organic farm which consists of poultry rearing and laying units, 300 plus acres of arable land (winter wheat, rye and barley) and 70 suckler cows.
"We started poultry production in October 2005," explains Rachel. "I joke with Gerald that we had a baptism of fire! The first few flocks, which were third party reared, presented various challenges, including underweight birds that we were unable to bring into lay until well after 20 weeks. It was at that point I approached Gerald to suggest we reared our own birds. Our motivation was for consistent quality, greater independence and control."
The farm had just come out of dairying and so there was an opportunity to rear. "We converted the old dairy sheds, replacing them with two specialist organic rearing units, with a total capacity for 4000 pullets. Performance has improved in the last 5 years and starting our own pullet rearing proved to be the turning point."
Rearing
As well as their own flocks, Rachel explains how they rear for other farms. "We work on a rotation, also rearing for 2 other farms. We need to be well organised and help comes from trusted partners such as Hatchery Joice and Hill and Colin Gravatt from Humphrey Feeds, who feed all our birds. Our pullets consistently exceed the targets set by the breeder, and nutrition plays a vital role."
"We will start the pullets on a high energy chick starter crumb" explains Mr Gravatt, Humphrey Feeds Poultry Specialist . "We aim to give the pullets the required energy to ensure early skeletal development and growth. I visit the farm on a regular basis to weigh the birds, monitor their progress and discuss any changes that need implementing. We will make small and gradual changes to the diet as and when required. Rachel understands that a well reared bird will have significantly improved productivity in lay."
Low mortality and a reduced disease burden are also areas of which the farm can be very proud. "Our tailored vaccination programme is vital, as our use of antibiotics is limited on the organic system," continues Rachel. "We pay close attention to biosecurity, especially during the first 3-4 weeks of rear. Rearing our own birds on site means there are fewer concerns about bringing in outside disease challenges. We try and do everything we can to encourage the birds natural immunity."
Light Control
Soil Association regulations state that pullets should have access to the range from 12 weeks, however, as Rachel explains, the policy at Lawn Farm has always been to let the birds out between 8 – 10 weeks, "we designed the rearing
sheds
to ensure easy access to the range. We give the crop every opportunity to go outside so they are used to that environment; this helps the transition from rear to lay and makes for a healthy, stress free and more productive flock."
Mr Gravatt agrees. "In rear you are preparing the flock for the demands of lay – therefore, the sooner certain elements are introduced the better. As with feed, it's about small, well planned step changes."
The ethos for Lawn Farm is to encourage natural bird behaviour – this applies to
light
control, an area often overlooked says Mr Gravatt. "The aim in rear is to mimic the natural
light
hours the birds will receive when they come into lay – this of course varies depending on the time of year. Our focus is on developing a routine for the birds and
light
management is an important component. The flock know when to wake up, when to feed and more importantly when to come back into the house at dusk. As a general rule we aim to give the birds 10 hours of
light
per day at 16 weeks."
Rachel uses green lighting in the rearing units (see image) to mimic the colour of natural tree cover. "Using green lighting is uncommon, but we find it to be an effective tool to help keep the pullets calm, reduce aggressive behaviour and any subsequent feather pecking.
"I know many organic producers have raised concerns of losing
light
control if new EU legislation comes into effect that states all organic pullets must have access to the range - however in our experience, with our set up and facilities and with our small flock sizes, it does work for us."
Dark Brooding
Lawn Farm uses an innovative dark brooding system. "The farm first introduced a dark brooder on a trial basis with just 500 birds, working alongside Bristol University. I was incredibly happy with the results and found it to be a very effective management technique. The birds are more even, less stressed with better feather cover."
Lawn Farm has since installed more dark brooders across both rearing units. The system uses tube heaters on the underside of a raised platform, suspended by chains hanging from the ceiling. "The brooders mean we don't need to heat the whole house, which can result in lethargy and loss of appetite. We only heat the area directly under the brooder, to mimic a natural 'mother hen' scenario. The pullets can leave from under the platform whenever they choose and are more alert, happy and active as a result. We also play the radio (normally Classic FM) in the rearing sheds, which helps to keep me calm, as well as the birds!"
When the birds reach 16 weeks they only have a short distance to travel to the laying sheds. "We load the birds early in the morning and by late morning they are happily exploring their new surroundings! We see little change in body weight during this transition. We never mix pullets from the two separate rearing units; 2000 go into one laying shed and 2000 into another," says Rachel.
"Everything we do is about high welfare and preparing the birds for lay; by ensuring an established routine, mimicking natural behaviours, creating a stress free and comfortable environment with no sudden surprises!"
In Lay
Lawn Farm has two houses, each with 2000 birds, "Following depopulation in an organic system we have to move the poultry house to another part of the field to allow the land to rest – therefore our stocking density is 500 birds/hectare. We keep Alpacas on the range - they are hardy, a good buddy animal, easy to manage and great for fox control," says Rachel.
The farm has seen excellent productivity in recent flocks. The aim is to produce a high quality medium to large egg. "Rachel has kept birds in lay past 72 weeks, although shell quality can sometimes deteriorate," says Mr Gravatt. "We use our tailored diet programme to control egg size and keep shell quality high."
Lawn Farm
eggs
are sold via Stonegate into Waitrose, with Rachel acting as an ambassador for the organic sector. "I carry out consultancy work at all stages of the supply chain, offering advice and sharing best practice. It is important that consumers understand why they pay more for organic eggs. Balancing supply and demand in the organic sector is always an ongoing issue. I am aware of the recent reports about a shortage of organic
eggs
in certain supermarkets, however my focus is on the areas of the business I can control; bird welfare, egg quality and farm productivity."
"I care passionately about employing a high welfare system that is also kinder to the environment. I spend time with the birds, walking inside the shed and on the range. We have fully beaked birds with minimal feather pecking and no cannibalism. I can understand the advantages of beak tipping in larger commercial flocks – but thankfully it is not a problem we have encountered."
The organic sector has seen many challenges, and impending EU legislation suggests there will be more challenges to come. "Rather than be daunted by these changes, I try to be on the front foot by instigating new ideas and on-farm techniques," concludes Rachel. "We have open communication with organisations such as BFREPA, Freedom Foods, Waitrose, Compassion in World Farming, Humphrey Feeds and the Soil Association to find ways to overcome these challenges without compromising productivity and welfare."
Download

No comments posted yet. Be the first to post a comment
Display name

Please enter your name

Email (optional)
Comment

Please enter your comment

Post Comment


Your comment submitted successfully.Please wait for admin approval.

Some error on your process.Please try one more time.