Thermal imaging cameras to prevent badger cull marksmen
Thermal imaging cameras to prevent badger cull marksmen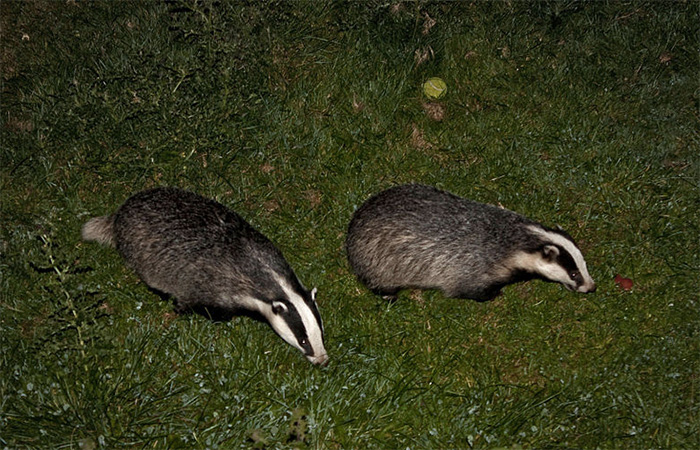 Marksmen could be prevented from targeting badgers in a cull by thermal imaging cameras, according to campaigners against the cull.

Local badger campaign group, Gloucestershire Against Badger Shooting (GABS), raised £3,600 at their Badger Ball over the Bank Holiday weekend. The event was held to raise both funds and awareness for their efforts to stop the continued culling of badgers in Gloucestershire.

"The night was a fantastic success," said Jeanne Berry, one of GABS' founder members.

"The Ball was over-subscribed with both local people and supporters from across the country attending. Thanks to the amazing generosity of those donating auction prizes and those buying them we made a huge contribution towards our fighting fund in a matter of minutes."

Those attending heard speeches from Dominic Dyer, CEO of the Badger Trust, and Pauline Kidner of Secret World Wildlife Rescue centre, who both confirmed that they and a host of other national charities will continue to fight to stop any further culling.

"The extra funds will help us with our Wounded Badger patrols when the cull comes back to the county this summer," continues Jeanne Berry, "Our numbers are increasing all the time so this year our efforts will be bigger and bolder, but more importantly we will now be able to purchase thermal imaging equipment to make sure we don't miss those badgers dying out of plain sight in the bushes. Equally, we'll be able to see exactly where the gunmen are, which is very important for our own safety as the government have refused to provide any monitoring of the cull for safety, humaneness or even it's effectiveness."

GABS is still hoping that the cull will be cancelled before it starts following planned legal challenges and continued opposition in Parliament. "If that succeeds then we will put all our efforts and money into helping farmers vaccinate their badgers instead," concludes Jeanne Berry, "Either way, we will not let this inhumane, ineffective and politically motivated cull go ahead without doing everything we can to stop the pointless slaughter of Gloucestershire's badgers."

Download
06-05-2014 10:37 AM | Posted by: Clued-Up
The badger cull is dead (or close to death); the tragedy for everyone is that it ever started. DEFRA and the NFU leadership should be heartily ashamed of themselves for adopting a policy so damaging to British farming,so pointless and so cruel.

The shooting estates, property developers and hunting and shooting groups had their private motives for wanting to kill badgers - but the alleged reason for the badger cull was the control of cattle bTB.

As all the UK's leading scientists and animal health experts told DEFRA, if you want to control cattle bTB you do it by tight, enforced cattle management and movement controls. Wales has proved the scientists right and DEFRA and the NFU wrong.

The badger cull has failed in its first year(as we all said it would). It's cost tax-payers £millions (the estimated cost of the 2 pilots is £10M; most of these costs have been dumped on the unwilling public). It's cost cattle farmers precious time and the loss of cattle that might have been saved if we'd adopted the Welsh approach a couple of years back. It's cost farming the support of the public - farmers have lost all credibility as "guardians of the countryside" and they don't deserve any support now in their battles with the supermarkets.
06-05-2014 16:12 PM | Posted by: reg pollard
agree with everything cluedup say's,farmers lost my support long time ago,majority of farmers only happy when killing wildlife no matter what it is,despite all evidence against the cull it amazes me how the idiotic Praterson is still allowed to continue with this barbaric cull,i cannot believe it is allowed to carry on,& even more unbelievable that Praterson hasn't been sacked,pity he wasn't as concerned about the flooding as he has been about killing healthy badgers.
06-05-2014 17:25 PM | Posted by: reg pollard
having heard that Badger Trust are to hold talks with Deathra,i just hope Badger Trust don't pussy foot around and take another year to decide whether or not to lodge another appeal in the court's,just hope the talks are successful and Badger Trust don't let the butchers of Deathra bully them into giving in to Deathra's demands.
12-05-2014 23:24 PM | Posted by: Jacky
Yet again the'powers that be'don't listen to the people that actually know what they are talking about-the non profit makers,who care about our future at its most basic....Listen,it will cost less financially AND INOCENTS SUFFERING
Display name

Please enter your name

Email
(optional)
Comment

Please enter your comment

Post Comment


Your comment submitted successfully.Please wait for admin approval.

Some error on your process.Please try one more time.