Tillerstar cultivator separator made available in Ireland
Tillerstar cultivator-separator made available in Ireland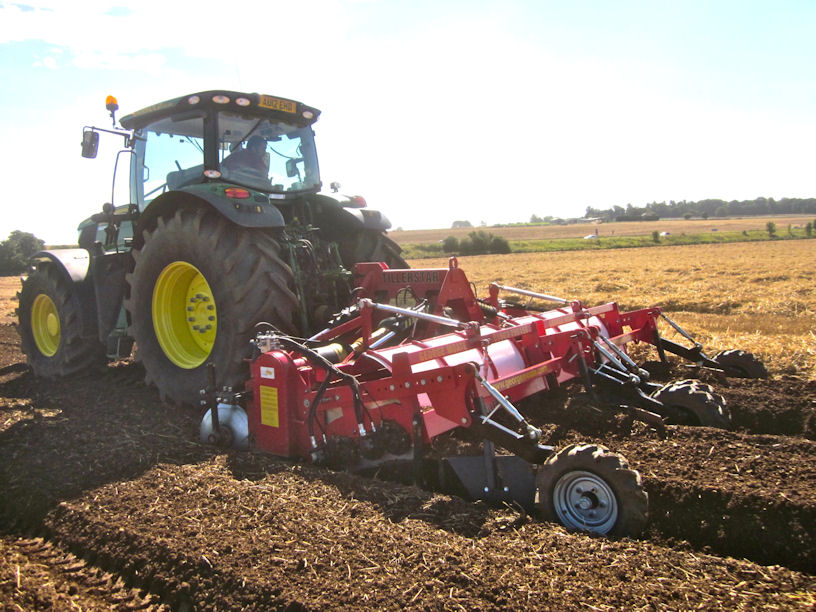 A unique implement that combines the work of a bed tiller and stone/clod separator in one machine is now available to growers throughout Ireland after a successful first commercial season on farms in Great Britain.
In contrast to conventional multi-implement, multi-pass systems, the Tillerstar, manufactured by George Moate Ltd, cultivates and separates in one pass, working directly on stubbles or ploughed ground.
"It can save a grower thousands in capital expenditure and the running costs associated with
fuel
and labour," says managing director Richard Pratt.
"It will also reduce a grower's carbon footprint and there are benefits for subsequent crops in the way separated stone is deposited beneath rather than to one side of the bed."
First examples of the Tillerstar have been used by farmers in Britain growing potatoes, carrots and onions. The implement is also suitable for other root crops grown in beds, as well as salads and bulbs.
"We took a cautious approach for our first year, keeping machines close to home so we could be sure to provide good service and parts back-up," says Richard Pratt.
"Now, we're happy to supply Tillerstar cultivator-separators and our other potato equipment products a bit further afield."
He and commercial director Lesley Pratt are delighted to have received their first order from a grower in the north of Ireland.
Father and son Robin and Ivan McKee grow salad and maincrop potatoes, as well as carrots and parsnips, at Comber near Newtownards overlooking Strangford Lough.
They were leading
lights
in the successful campaign to get Protected Geographical Indication (PGI) status from the European Union in 2012, so that only potatoes lifted from fields around the Co Down village can be called New Season Comber Potatoes or Comber Earlies.
They were attracted to the single-bed George Moate Tillerstar they have on order by the prospect of a big reduction in bed preparation costs, which results from cutting the number of bed preparation operations from three to just one.
"We're aiming to be more efficient and taking two tractors, two drivers and two machines out of the bed making process is a great way to be more efficient," says Ivan McKee.
"Normally, we use a deep ridger to pull up the beds, a tiller to cultivate them, and then a de-stoner; with the Tillerstar we'll do the job in one pass straight on to ploughed ground."
How does the Tillerstar work?
First, a bladed rotor cultivates with an upward cutting action that throws soil and stones backwards on to four flexible-finger star rollers positioned close behind.
These convey any large stone or clod forwards so they drop into the void behind the rotor. As the machine continues to work, loose soil passing between the sieving rollers covers the stone and clod, leaving a 'clean' bed up to 40cm (16in) deep ready for planting.
"Spacers on the easy-change shafts determine the size of material separated by the rollers and the hydraulic drive allows on-the-move speed adjustment for fine-tuning," adds Richard Pratt.
"The loose soil is moulded into a well-shaped bed by one of several different adjustable forming hoods we've developed."
"The hoods leave full-width beds for planting seed potatoes, onion sets, carrots, leeks, beetroot, bulbs – just about any crop you can think of grown in raised beds," he adds.
"We also have applicator mounting kits for pre-planting fertiliser and chemical treatments."
The Tillerstar range comprises single-, double- and triple-bed configurations, each with a choice of 1.82m (72in) and 2m (78in) standard bed widths; special sizes are available to order. Daily output is typically 10 acres per bed.
A single-bed model needs at least 110hp at the pto but is equipped with a multi-speed gearbox rated at 240hp, while the twin-bed version, which needs 170hp minimum, has a 330hp gearbox to make use of higher horsepower tractors.
Hydraulic folding is standard on the twin-bed machine and also on the largest Tillerstar – the triple-bed needs at least 250hp and also comes as standard with a 330hp gearbox. Auto reset safety clutches are fitted throughout for maximum protection with minimum downtime.
List prices range from €33,200 (£27,000) for a single-bed Tillerstar to a triple bed model at €94,700 (£77,000).
Download

No comments posted yet. Be the first to post a comment
Display name

Please enter your name

Email
(optional)
Comment

Please enter your comment

Post Comment


Your comment submitted successfully.Please wait for admin approval.

Some error on your process.Please try one more time.