UK cattle slaughter at 'lowest level since 1970'
The total number of prime cattle slaughtered at UK abattoirs during 2013 fell two per cent on the year to 1.93 million head according to EBLEX.This takes the UK prime cattle kill to its lowest point since at least 1970 when DEFRA records began. With the UK cattle herd at its lowest point since 1948, it is likely that these slaughter levels are the lowest in approximately 65 years.This year on year fall came despite both heifer and young bull slaughterings increasing on the year, up one and three per cent respectively. The overall drop was the result of a five per cent decline in the number of steers slaughtered.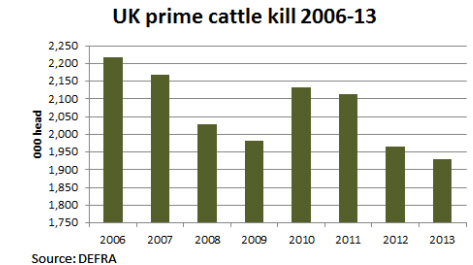 In addition to fewer prime cattle being slaughtered, carcase weights for all three classes fell year on year. This likely due to high feed costs in 2012 and poor weather limiting feed availability. Both steer and young bull averages were down two per cent at 360.6kg and 338.8kg respectively, while heifers weighed on average 315.8kg, a drop of one per cent on the year. The all prime average was down two per cent on the year at 340.5kg. With carcase weights lower and fewer cattle killed, overall beef production from prime cattle fell nearly four per cent, compared with 2012 levels, to total 657,000 tonnes. The UK adult cattle kill for 2013 fell five per cent on the year to total 608,000 head. This is the third year in a row that these slaughterings have totalled over 600,000 head and is the third highest kill since the full reintroduction of adult cattle into the food chain in 2006. This drop does indicate that the liquidation of breeding stock from the herd has slowed, with the total cow kill for 2013 representing only 17 per cent of the breeding herd as of December 2012. The equivalent figure for 2011 was 18 per cent of the previous December's breeding herd. Despite this, both the dairy and suckler herds have reportedly continued to decline, with figures in June showing decline of three and two per cent respectively. This, combined with the uplift in heifer throughputs, suggests that these breeding animals are not being replaced.
Much of the year-on-year fall in adult slaughterings occurred in the second half of the year when lower cull values and a better outlook for feed supplies and prices will have meant producers were less likely to cull stock. As with prime cattle, average carcase weights for adult cattle were also lower on the year with cow carcase weights falling one per cent to 301.5kg and bull weights dropping four per cent to 449.0kg. As a result, beef production from adult cattle fell by more than six per cent to 186,500 tonnes. Overall UK beef production during 2013 fell by more than four per cent on the year to total 843,500 tonnes.www.eblex.org.uk
Download

Trending Now
Viewed
Discussed