UK develops seed potato and horticulture stand at Fruit Logistica 2014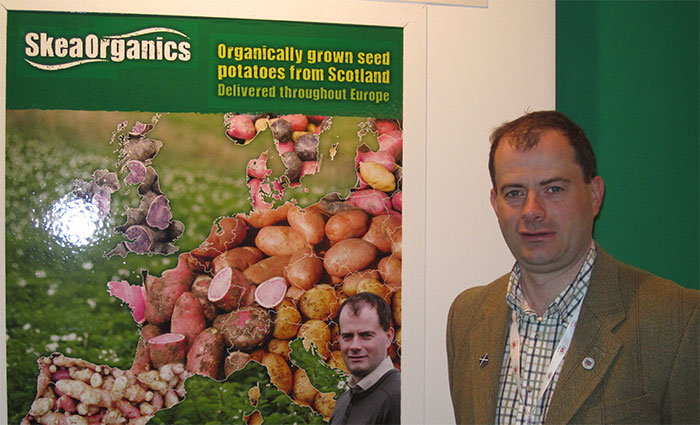 Following the successful first-time collaboration by the British potato and horticulture sector at Fruit Logistica 2013, Potato Council, Horticultural Development Company (HDC) and the Commercial Horticultural Association (CHA) return with their industries to this massive event in February 2014, to build their promotion of seed potatoes from Britain and raise the profile of the diversity and quality of UK horticultural crops.

Potato Council and HDC are divisions of the Agriculture and Horticulture Development Board (AHDB) which is responsible for promoting consumption and building the sustainability of UK agricultural industries at home and overseas, and they develop their leading role in showcasing produce from the United Kingdom to the world.Visitors to the UK stand can meet Potato Council's seed and export and HDC's horticultural teams and talk with experts from Potato Council's internationally-renowned crop storage facility, Sutton Bridge Crop Storage Research (SBCSR), on-hand with expert storage advice.Plant health officials from Scottish Government's Science and Advice for Scottish Agriculture (SASA) exhibit officially for the first time, to discuss plant health and seed export topics.Returning after a successful first year, HDC will be on stand once again to bring UK horticulture to the fore and raise awareness amongst FL2014 visitors of the diversity, availability and breadth of the horticultural crops grown in Britain.Leading researchers, seed breeders and exporters return, including Mylnefield Research Services Ltd, leaders in plant breeding, plant pathology and diagnostics, agronomy and physiology. Meet Caithness Potatoes, who grow seed in Scotland, within the EU Community Grade region. Caithness Potatoes have grown and sold potatoes for generations, with international customers in different market places, providing high-specification seed and varieties.Newcomer to Fruit Logistica, but no stranger to exports, Skea Organics add to the growing number of seed potato and vegetable exhibitors on the UK stand. Run by Andrew Skea, this thriving seed and ware potato and vegetable business in Scotland supplies companies around the UK, Europe and worldwide.Andrew told us "Each year we extend our varieties and have a wide range of heritage and speciality potato varieties with long histories and exclusive characteristics. Although Skea Organics supply many large organisations and seed sellers, we are a family business and we are always pleased to discuss varieties and customers' needs, large or small. I'm looking forward to participating on the UK stand at Fruit Logistica to meet new contacts and customers."If you would like to learn more about seed potatoes and horticultural produce from the UK, visit our stand (Hall 8.2; stand A-07) to meet key producers, exporters, technical and crop storage experts to discuss industry developments and your business requirements.

Download

Trending Now
Viewed
Discussed