Visitors attending the forthcoming Hay Festival are invited to join five local farmers on guided tours of their farms to learn more about where and how food is produced.
Farm tours will run every day from Monday, 26 May until Friday, 30 May, where visitors can enjoy tours of practical working farms. Five different farmers have volunteered to open their gates to the general public. The first tour takes place on Monday, 26 May, at David and Catherine James' farm, Trevithel Court, which produces cider apples and honey.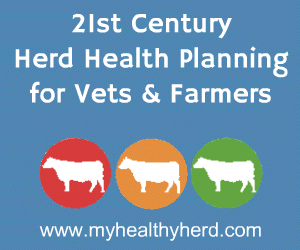 The second tour on Tuesday, 27 May, will be an opportunity to walk around Andrew and Rachel Giles' Maesllwch dairy farm, where visitors will be able to milk the cows as well as see the young calves. Tour three, on Wednesday, 28 May, will visit Llwynberried farm, Llanigon, where John and Helen Price will show visitors around their beef enterprise.
Day four, Thursday, 29 May, heads to Charlie and David Blandford's farm, Bredwardine, alongside the River Wye, producing top quality lamb and potatoes, among other foods. The visit includes a farm walk followed by demonstrations of sheepdog working, sheep shearing and wool spinning. The final tour, Friday, 30 May, takes place at the Welsh Venison Centre, Bwlch, owned by Andrew and Elaine Morgan. Along with a farm tour, visitors will also get the chance to look around the farm shop.
Stuart Morris, NFU Cymru Chairman for Brecon and Radnor said, "Brecon and Radnor NFU Cymru branch are pleased to sponsor this event once again and I thank all the other sponsors for their contribution. This is the tenth anniversary for these farm tours and they get more and more successful and popular with visitors every year. The Hay festival attracts thousands of visitors to the area which is an ideal opportunity to inform the general public of where food is produced and the merits of buying home-produced food."
Jonathon Harrington, who started the tours ten years ago and continues to organise them each year said, "It is all about re-connecting people with how and where food is produced and we are most grateful to all of the host farmers for agreeing to allow visitors into their homes to see how farms operate. The uptake for the tours has been extremely encouraging and I hope this is a reflection of the general public realising the important role farmers play in terms of food production and protecting the landscape."
Comments
No comments posted yet. Be the first to post a comment