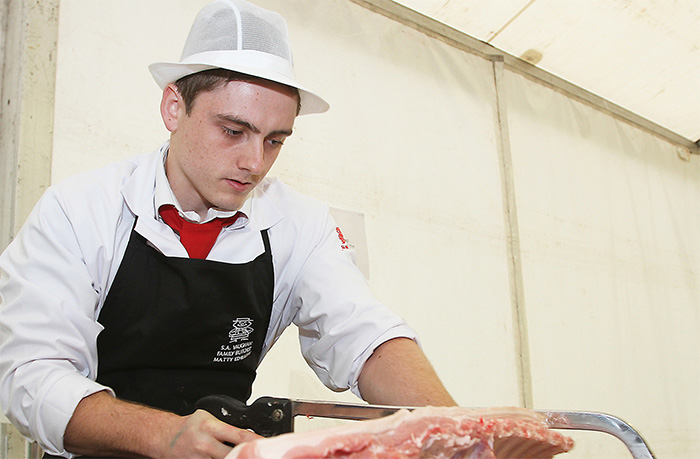 Matthew Edwards
Matthew Edwards, 22, who works for S. A. Vaughan Family Butchers, Penyfford, near Chester, has begun training for the European competition in Switzerland in September, while 18-year-old Peter Rushforth from Swans Farm Shop, Treuddyn, Mold, will follow in his footsteps by joining the Great Britain team next year.
Edwards, the reigning Welsh Young Butcher champion, gained his place in the team after finishing runner up in The National Federation of Meat and Food Traders' Premier Young Butcher competition at the NEC, Birmingham.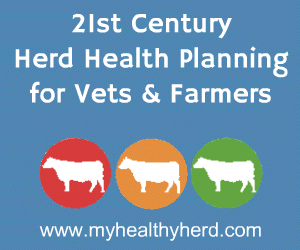 Rushforth has now matched Edwards by also finishing runner up against four much more experienced butchers in this year's competition and winning his place in the 2015 team. In the six competition categories he was highly commended three times for his ready to eat game pie, orange and cranberry with chestnut stuffed roast and his selection of barbeque products.
Both Edwards and Rushforth are learners with award-winning Cambrian Training Company (CTC) based in Welshpool. Edwards is now working towards an apprenticeship in Meat and Poultry Industry Skills while Rushforth began a foundation apprenticeship in Meat and Poultry Industry Skills last September.
Both young butchers started their career paths with Saturday jobs with Clive Swan at Swans Farm Shop and worked together for a short time.
"Peter is doing really well and I was chuffed when I heard that he had come second in the Premier Young Butcher competition and had been selected for the British team next year," said Edwards.
He is attending training once a month in Leeds in the run up to the European skills competition and recognises that he and teammate Ryan Healey will need to achieve a very high standard to be successful in Switzerland.
"It's quite overwhelming to be selected for the team from all the young butchers in Great Britain," he said. "Since starting with Cambrian Training Company I have gone from runner up to winning the Welsh Young Butcher competition and come runner up in the Premier Young Butcher contest, which shows the progress that I've made. I'm grateful to the company for giving me the opportunity to compete."
Since joining Steve Vaughan, he has won the Young Sausage Maker competition at last year's Bpex Regional Roadshow and will compete in the champion of champions contest at this year's event in Newark in October.
Rushforth said he was "dumbfounded" by his success in the Premier Young Butcher contest and his British team selection. "There was stiff competition because the majority of the butchers were quite a lot older than me and from much bigger operations," he explained.
"I felt like the underdog as a young butcher from a small shop in North Wales, but I love competitions because you can really show your skills and passion in the presentation of meat."
Having achieved 10 GCSEs and three 'A' levels, he opted for apprenticeship rather than university. "I definitely think there's a good career path down the butchery route because there is much more to the trade than standing behind a counter selling meat five days a week," he said.
"I prefer to learn a trade and develop practical skills rather than obtain a degree in university. The support that I'm receiving from Cambrian Training Company is brilliant and I hope to progress to an apprenticeship as soon as possible."
Chris Jones, CTC's head of curriculum for food manufacture, said it was "fantastic" that two of company's learners had been selected to represent Great Britain in consecutive years.
"To achieve this level of success learners must have natural talent and flair coupled with support from their employer to allow them time to practice," he added. "It's a fantastic achievement by both young butchers."
Wales' Deputy Minister for Skills and Technology, Ken Skates said: "It's so important that we recognise the level of training needed to become a top quality butcher. This is a highly skilled trade and it takes a lot of hard work and dedication to be the best.
"Matthew and Peter have demonstrated an exceptional aptitude for their profession and have shown just what can be achieved through an apprenticeship. I'm de
light
ed they are representing Wales and Great Britain on the European stage and wish them the very best of luck for the competition."
Comments
No comments posted yet. Be the first to post a comment