What's changed since the horse meat scandal broke?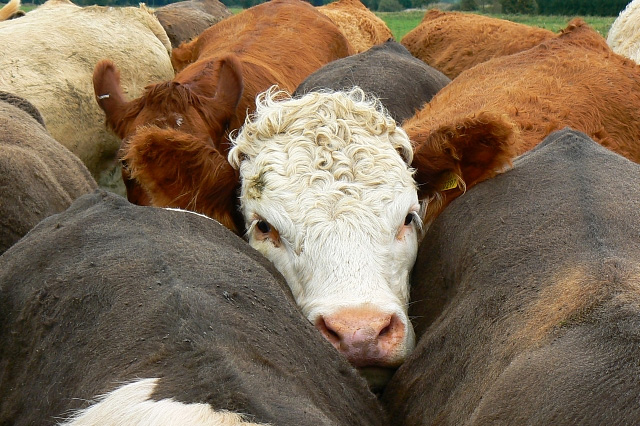 One year ago consumers were shocked to find out that what they thought was beef – was actually horse.
The horse meat scandal gave charities a chance to shine a spotlight on what was going on in the tangled and often sticky web of the horse meat trade, highlight how the laws in place meant to protect horses and the food chain don't do the job and bring focus to the importance of improving accountability and traceability – all key factors that contributed to the landslide that was the horse meat scandal.
Improving the horse identification system in Britain
The scandal prompted the European Commission and Defra to launch a review of equine identification to overhaul the system in the UK and inform changes to EU law.
"Tightening up the laws on equine identification – or 'horse passports' – and planning to reintroduce a central database are vital steps forward, but there is a risk that the new laws will not go far enough to ensure a workable, enforceable system. We are urging the European Commission and Defra to take the opportunity afforded by the horse meat scandal to do it right this time around," says World Horse Welfare chief executive Roly Owers.
The law requires that only horses born after 2009 have micro-chips linked to their passport, meaning that the hundreds of thousands of horses born before 2009 (who will potentially live on for decades) – will potentially remain untraceable, and the system remain open to abuse and difficult to enforce despite other measures to tighten the system.
World Horse Welfare said micro-chipping of all horses regardless of age is essential (these micro-chips to be issued in batches so they are traceable back to vet), however Defra and the European Commission may be reluctant to require this.
While Defra is rolling out more robust standards for equine identification next month, changes to the overarching EU Regulation are still being negotiated and are unlikely to be agreed until the end of the year, meaning no Europe-wide changes will take place until at least 2015.
"The momentum for change must be maintained. The effectiveness of the system will depend entirely on how well the new system and database are implemented, understood, complied with and enforced."
Mandatory country of origin labelling for horse meat
If beef - and soon sheep, pig and poultry - are labelled with their country of origin, why not horse meat?
The EU are considering changing food labelling laws and major charities said all horse meat should be labelled with its countries of birth and if different, rearing and slaughter. Consumers across Europe are denied this simple information that is needed to make informed decisions about what they are eating.
Currently horse meat may be legally labelled as the product of the country in which the animal was slaughtered. This means that meat from a horse transported for thousands of miles, spending only the final few hours of its life in the country where it is slaughtered, may appear to a consumer to be a local product.
Long-distance journeys across Europe to slaughter
The horse meat scandal brought the murky trade of horse slaughter into the
light
of the public eye, and now across Europe there is greater awareness of the welfare problems caused by these long journeys.
MEPS have shown their support for shortened journey limits for horses intended for slaughter and World Horse Welfare's scientific evidence, including that cited by the Commission's own scientific advisors, the European Food Safety Authority (EFSA), supports a journey limit for horses intended for slaughter of 12 hours. The charity is asking MEPs to get behind its calls for a journey limit that reflects this evidence and protects the welfare of horses.
In 2014, elections will be held to select Members of the European Parliament, and a new European Commission will also be chosen. The charity will have to work hard to present its campaign to a new audience so will need help to highlight the plight of these vulnerable horses and make sure that the new Commissioner understands the issue.
The Horse Crisis
Based on reports and other major welfare charities, there are currently at least 6,500 horses at risk of abandonment or neglect across England and Wales due to an increase in breeding despite the decreasing value of horses – with some going for as little as £5 at markets.
The dangerous and illegal practice of fly grazing, where horse owners graze their horses on land that they do not have permission to use, accounts for half of the number of horses at risk. This problem is in part a consequence of the unenforceability of the current equine identification system.
The Welsh Government have taken vital steps to implement legislation that deals with fly grazing but the English government are suggesting that the Localism Act may go some way to resolving the situation - charities await further details on how this might work in practice.
While charity centres are full to bursting with welfare cases there is nowhere for these horses to go and current legislation to address this issue is complex or often ineffective, often leaving the hands of Local Authorities tied.
What is clear is that this problem will not go away, is moving over the border and is likely to worsen unless government takes action to help.
Mandatory CCTV inside slaughterhouses in Britain
In
light
of revelations of flagrant horse abuse at an English abattoir earlier last year, World Horse Welfare handed in a petition to Defra complete with the backing of over 40,000 members of the British public calling for mandatory CCTV inside Britain's equine slaughterhouses. Defra however, is reluctant to compel slaughterhouses to install the cameras saying that a voluntary system is preferred.
World Horse Welfare said it was disappointed at Defra's response, and believes that had there been CCTV present inside the abattoir in question, the welfare abuses seen would not have occurred – or would have been identified at an earlier stage.
The abattoir in question was closed down temporarily for reasons unrelated to horse welfare. However, the charity is keen that CCTV be put in place as soon as possible to give horse owners confidence that humane slaughter is an option at the end of their horses' lives, particularly as euthanasia and carcase disposal can be unaffordable for some owners.
Restriction of the Tripartite Agreement
One huge achievement made possible by the horse meat scandal was the change to an agreement between the UK, Ireland and France to restrict the movement of horses without health checks or traceability.
There have been long campaigns for the Tripartite Agreement to be restricted so that it applied only to horses of a high health status – which was its original purpose when established. However, its expansion in 2005 to cover all horses moving between the three countries (except for slaughter) posed serious disease risks and is believed to have facilitated the needless transport of thousands of vulnerable horses of a low market value, sometimes as cover for other illegal activity.
At the end of last year the Chief Veterinary Officers in Ireland, France and the UK signed an agreement that will allow only horses of high health status (Thoroughbreds and FEI competition horses) to travel to and from the continent without health certification – and all these movements will now be traceable as well. Movements between the UK and Ireland will remain unchanged.
"This is excellent news for vulnerable horses and will help to safeguard the health of all horses in these countries so long as the revised agreement is effectively enforced," said Roly Owers.
Download

20-01-2014 09:01 AM | Posted by: EquinEd
EquinEd is a centre for education in horse ownership. We fully endorse micro-chipping ALL horses and think it should be part of their passport requirement. This would provide better identification, traceability and culpability.
20-01-2014 17:31 PM | Posted by: Susan carter
ONLY BUY LOCAL BEEF! DO NOT TRUST ANY MEAT FROM THE US, CANADA OR MEXICO ! IT IS MOST LIKELY ADULTERATED HORSEMEAT !
21-01-2014 03:28 AM | Posted by: Deedie
Beware of horse meat from North America. It isn't monitored and is likely contaminated with banned substances.
21-01-2014 04:12 AM | Posted by: elizabeth Dana
Horses in the United States are brutually starved and beaten by kill buyers and transported in 35 degrees below weather to Canada and Mexico to be butchered ALIVE and stabbed to death so that horsemeat can be stuffed down the throats of school children in their lunches as "Meat by products from Canada". These horses are loaded with drugs, parasites, tumors, snake venom and Bute as well as who knows what. Some are stolen wild mustangs and others are cut from pastures at night from their families - lost forever. This is a dirty secret that kills horses to cover up illegal drug trades as well across the borders of Canada and Mexico! Buy only local grown beef and help YOUR neighbor as well as boycotting American Horse Meat FOREVER!
21-01-2014 16:54 PM | Posted by: shoshone
The EU won't buy horsemeat from the United States because of the drug contamination. They wait until the horses are shipped across the borders to Canada or Mexico, then they become Canadian or Mexican horses and they are acceptable. Dog food companies do not use horsemeat in their products but it is perfectly fine to sell it to customers to feed it to their families.
21-01-2014 22:06 PM | Posted by: Barbara Griffith
I live in the US and I totally agree with the boycotting of horse meat from Canada/Mexico as 90% of it originates in the US. The US government has now banned any Horse slaughter plants in the US. A number of states thought they were going to start up this cruel business again but this law stops them in their tracks. The fight is now on to pass two bills S.541 and H.R.1094 that will stop US horses from being shipped across the border to Canada/Mexico to be slaughtered. The major over-breeding in the US is the racing industry and the quarter horse breeders. They all use slaughter as a way to cull horses they are not making any money on. Most of them don't even try to find homes for them. Its faster to dump them at a auction so a kill buyer can purchase them and throw them on a truck for the last ride. Many of them arrive at the slaughter plant injured and some dead from being knocked down and trampled by the frightened scared horses.
21-01-2014 23:58 PM | Posted by: WildHeartsRescueRanchInc.
How about not eating horses at all. Nasty bastards.
22-01-2014 00:19 AM | Posted by: Dennis Davey
As a resident of Canada, I have become familiar with the corrupt and barbaric Horse slaughter Industry, where it is virtually impossible to trace the historY, origin and drug status of any Horse slaughterd in Canada or for that matter Mexico. Simply put the United States do not regard or raise Horses for human consumption, AND THAT IS WHERE OVER 90% OF HORSES FOR SLAUGHTER IN C ANADA AND MEXICO COME FROM. The Canadian Govt. would have people believe that the Equine Identification Document[EID] filled out by KILL BUYERS is acurate a to drugs administered to a specific animal. THIS SYSTEM CANNOT EVEN CONFIRM IF THE INFORMATION ON THE EID IS ACCURATE OR TRACE THE PERSON WHO COMPLETED IT.A majority of Canadians and Americans are shocked that European authorities would even consider Horse meat from Mexico and Canada be permitted into Europe for human consumption. Frankly the European Public are intentionally being kept in the dark by their authorities or there is another reason. As Europeans you have no idea what Horse meat from Canada and Mexico are contaminated with, BUT I AM SURE THAT THE SLAUGHTER INDUSTRY AND THOSE WHO SUPPORT IT DO.
22-01-2014 13:01 PM | Posted by: ann fox
I will be posting this article on Conservative Bruce Stanton's facebook page. He supports horse slaughter in Canada (as does the rest of the Conservative Government of Stephen Harper. Stanton believes horse meat is safe & that horses are raised in Canada for their meat. I have emails from him stating this. Horse slaughter in Canada is an inhumane, greedy & toxic industry fully supported by this government. Buyers beware of horse meat that comes out of Canada.
22-01-2014 16:48 PM | Posted by: J Canfield
There is a paragraph in the article that addresses educating the general public about the true abuses in the slaughtering process. Some horse owners need to have full clarity about what a barbaric end their horses will meet if they do not choose to humanely euthanize. Slaughter might not be a preferred and convenient option if people learn to care enough about the animals which have been brought into this world by overbreeding. I beg the author to write again and be more graphic. Once the horrors of the process are cemented in the consciousness, I believe we'll have a better chance of curtailing indiscriminate breeding and people will take on the responsibility of each and every unwanted horse. Have faith.
22-01-2014 21:38 PM | Posted by: Lin Canada Month
There is NO humane way to slaughter a horse, or to transport them together in large shipments. As for those who eat "safe" horsemeat based on a pile of forms filled out by a bunch of sleezy kill buyers, good luck to them.
22-01-2014 21:39 PM | Posted by: Maggie Frazier
In the US there is no passport system or any way to track horses health. Our horses are NOT raised as food animals & as in most countries are given meds, antibiotics wormers etc throughout their lives. Any caring horse owner knows they are responsible for their animals end of life, and being responsible means they have their horse euthanized and buried. But there are too many irresponsible breeders here in the US as well as in other countries that use slaughter as a way to get rid of any animal that doesn't measure up AND get paid for it. The breed organizations need more regulations against over-breeding.

23-01-2014 04:06 AM | Posted by: B. King
I hope some horse meat eaters are reading these comments. I live in Canada and have seen what happens to horses bought by kill buyers at auction. They couldn't care less about the horses. They're packed onto double decker cattle trucks, including wild, pregnant mares, foals, old blind horses, horses so sick they can barely stand. As for the horse's drug history, that's a complete joke. The kill buyers don't have a clue and anyone dropping off a horse is free to say whatever they want. From that point on there's no way to know what drugs are in the horse's system, and the CFIA couldn't care less. The slaughter itself is horrific. If people knew the truth I'm sure even hard core horse eaters would no longer have any desire to eat horse meat.

Display name

Please enter your name

Email
(optional)
Comment

Please enter your comment

Post Comment


Your comment submitted successfully.Please wait for admin approval.

Some error on your process.Please try one more time.
Trending Now
Viewed
Discussed