Wheat variety resistance could still halt yellow rust infection
Wheat variety resistance could still halt yellow rust infection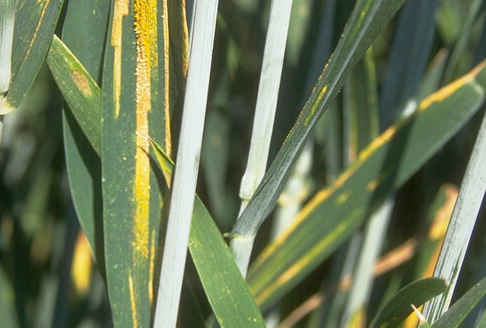 Wheat growers are advised to check crops for yellow rust, following widespread reports of infection in crops, but be aware that many crops could still develop adult plant resistance.

The disease has thrived due largely to a relatively mild winter combined with a large area of susceptible varieties in the ground nationally.

The HGCA-funded UK Cereal Pathogen Virulence Survey has received many samples of very active wheat yellow rust over the winter. Varieties being tested include Gallant, Horatio, JB Diego, KWS Kielder, KWS Santiago and Solstice.

NIAB's Dr Jane Thomas explains that yellow rust will remain viable over the winter in plants, and only dies if temperatures are low enough to kill the leaves which are infected. Otherwise the growth of the fungus either slows down or it remains dormant in the leaf until warmer conditions arrive.

"With continuing mild weather the risk remains that an early epidemic will develop in the spring, and fungicide programmes will need to be targeted for high risk situations," advises Dr Thomas. Some crops with active rust were treated before Christmas but the continuing wet weather and waterlogged fields will delay any further spraying.

However, though autumn and winter infection has been spotted on a number of varieties, not all of these will remain at risk as the season progresses and adult plant resistance factors develop. Some varieties are only susceptible to infection at the seedling stage and become more resistant after stem extension to the currently known rust races.

"Updates on seedling reactions to the common 'Warrior type' races for varieties on the 2014/15 RL are now available based on UKCPVS testing last year," says Dr Thomas. This information is summarised in Table 1 (also see attachment).

While the adult plant rating from the RL should guide fungicide programmes, growers should be aware that seedling infection may be seen on Chilton, Monterey and Leeds (all moderately resistant as adult plants) and KWS Croft and Myriad (both resistant as adult plants). Delphi, Revelation and Relay were susceptible to some, but not all, of the Warrior races used in testing but all have very good adult plant resistance. Cougar, KWS Gator and Dickens were resistant as seedlings and have very good adult plant resistance.

HGCA's Dr Jenna Watts explains that since the RL disease ratings are based on information from the previous cropping season all varieties need to be monitored. "New races can develop through the season so be prepared to take action to protect crops in the early spring if infection is found."

"The writing's on the wall this season," said Hutchinsons technical manager Dick Neale.

There are already some heavy yellow rust infections out there and where the disease is not obviously identified in a crop the inoculum is still likely to be present because we haven't had any hard frosts to knock the disease back."

More virulent strains of yellow rust also mean it is increasingly not just the classic yellow rust areas around eastern counties and The Wash that are at risk. The disease can be found almost anywhere given the right conditions and in a wider range of varieties, he warns.

"The most common Solstice strain has been around for several years, but it is the stronger Warrior strain that is of more concern now because it survives much better at low and high temperature extremes and mutates every year, so don't discount any variety from potentially being at risk."

Forecast colder weather in February could give crops some respite, but it is likely to be too little too late given the level of inoculum present. "We'd need a prolonged period of hard frosts (-8 degrees Celsius or below) to knock the disease back significantly."

Mr Neale advised growers to monitor all crops for yellow rust from now on, especially susceptible varieties , and not to assume yellow patches are simply due to herbicide damage or nutrient stress.

"History tells us that official disease ratings can quickly change from one season to the next, so don't discount any variety from being affected by yellow rust. Where you think there is a problem the key is to intervene early," he says.

Download

No comments posted yet. Be the first to post a comment
Display name

Please enter your name

Email
(optional)
Comment

Please enter your comment

Post Comment


Your comment submitted successfully.Please wait for admin approval.

Some error on your process.Please try one more time.