Winter Olympics pose heightened disease risk for British farms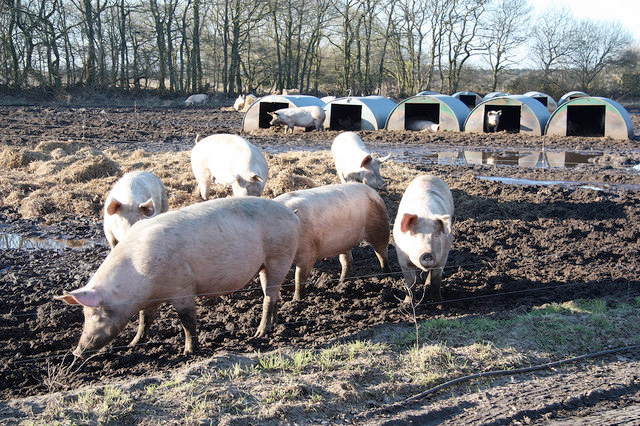 Border Force officers will be paying special attention to passengers returning from the Winter Olympics in Sochi, in a bid to prevent African swine fever entering Britain in contaminated meat products, according to food and farming minister George Eustice.

In a letter to National Pig Association chairman Richard Longthorp - in which he commends the association's proactive stance on keeping Britain free of imported diseases - he says the Border Force recognises the Winter Olympics as a period of particular importance.

Following the recent discovery that some shops in Russia have been selling meat products contaminated with the African swine fever virus, NPA is particularly concerned about passengers innocently returning with food from Russia and eastern European countries.

African swine fever can survive in raw, cured, cooked and even frozen meats for months, and if any infected meat found its way onto a British pig farm - for instance in a discarded ham sandwich - it would cause havoc in the nation's pig industry.

African swine fever is harmless to humans but fatal to pigs and if it arrived in this country it would mean the compulsory slaughter of pigs in affected areas and the loss of Britain's fast-growing pork export market with non-European Union countries.

Noting the recent spread of the virus from Russia to the Ukraine and Belarus, and now across the European Union border into Lithuania, George Eustice has promised that if the situation deteriorates and the virus spreads from wild boar in Lithuania to domestic pigs, Brussels will introduce extra controls and Defra will work with the Border Force "to ensure the travelling public are aware of the restrictions and to undertake checks on passengers".

NPA has called on Government to introduce in-flight announcements on flights from Lithuania and to introduce leaflets and warning posters at all border posts.

Welcoming the minister's prompt response to NPA's concerns, and his pledge to introduce extra measures should African swine fever continue to spread, Richard Longthorp said, "We - that is the pig industry and Government - must do all we can to ensure African swine fever, or any other exotic disease, does not get into the United Kingdom.

"The loss of exports valued at £350m would be devastating to the pig industry, a loss to United Kingdom trade, and would undermine all the great work that the pig industry and Defra have put into developing export markets for British pork and high-performance breeding pigs."

British pig farmers have been on heightened alert ever since African swine fever was carried into Lithuania by wild boar, as many British farms employ east European workers who pose a risk when they return from holidays or receive gifts from home.

NPA is in the process of preparing its own leaflets and posters and will be contacting airlines and airport authorities for help deploying them.

BPEX has urged pig producers to review biosecurity to protect their herds against devastating diseases, including African Swine Fever (ASF) and Procine Epidemic Diarrhoea (PRED) virus.

PED causes vomiting and diarrhoea especially in nursing piglets, with up to 100% mortality in that age group being reported.

The virus spreads by direct pig contact or indirect exposure through fomites (i.e. objects or substances capable of carrying infectious organisms) which are contaminated with faecal material which contains virus.

A positive case of PED has been confirmed in Canada and was diagnosed in the US in May 2013. It has since spread to 23 states. It is not a food safety issue and it poses no risk to other species, although it is considered a serious health threat to the Canadian industry.

ASF has just been confirmed in wild boar within the EU, in Lithuania.

ASF is a particular risk to UK pig producers because it can be carried via affected pig meat products and there is a considerable number of pig farm workers who travel to and from eastern Europe. To alert staff to this risk, producers can order 'Don't bring it home' posters.

"Key points for good biosecurity include: the isolation of pigs on arrival to the unit, limiting access to vehicles and people, thorough cleaning and disinfection of livestock lorries and arranging an offsite collection point for deadstock collection vehicles. Producers should always ensure that pigs have no access to meat products or products which may have come into contact with meats," BPEX said.

A major outbreak of Porcine Epidemic Diarrhoea in the US is causing losses of 50 to 100% of affected piglets. It has been reported on 200 units in 13 states since May.

It also appears to be spreading. In China more than a million piglets have died in an outbreak which started in October 2010. The virus from the outbreak in the US is said to be 99.4% similar to that from China.

The Chinese outbreak, where the virus has been endemic since 1973 and where vaccination has been widely practiced, suggests that were the new strains from China and/or the US to be introduced to the UK there is a significant risk that the impact of the disease could be severe with mortality rates in piglets of up to 50% to 100%.

Download

No comments posted yet. Be the first to post a comment
Display name

Please enter your name

Email
(optional)
Comment

Please enter your comment

Post Comment


Your comment submitted successfully.Please wait for admin approval.

Some error on your process.Please try one more time.
Trending Now
Viewed
Discussed