World's largest haggis record attempt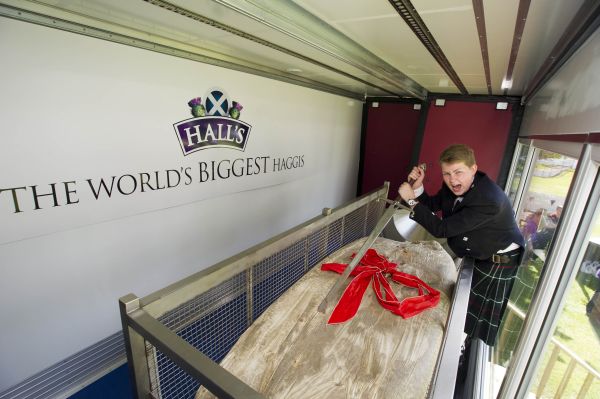 Hall's has officially reclaimed its title as the creator of the largest haggis, which has been officially verified by Guinness World Records.The staggering 2,227lbs (1.01 ton) haggis, unveiled at the Royal Highland Show in Edinburgh, made its way into the record books almost doubling the previous record, set in 2009 which stood at just 1,234lbs.Hall's, which was taken over by family run Brown's Food Group in 2013, has used the same recipe since their very first haggis was sold in 1932 and which was also used to create its 1978 world record of 328lbs.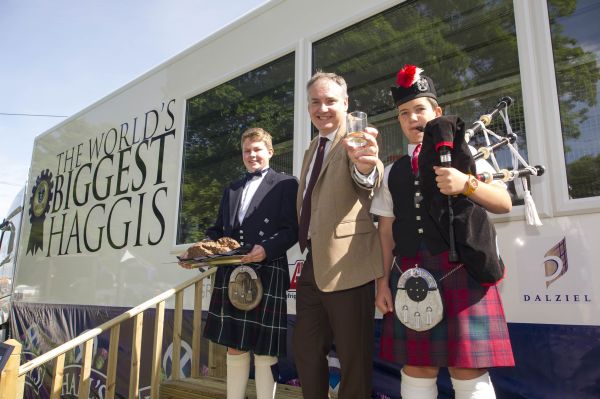 The Guinness World Record's largest haggis – measuring more than 2.5 metres in length, 1 metre in width and a metre in height – was made and cooked at Hall's North Berwick premises before being transported in a bespoke truck through the streets of Edinburgh to the Ingliston showground.Richard Lochhead, Cabinet Secretary for Rural Affairs and Food, was at the launch and was among the first to offer his congratulations.The enormous size of the haggis saw it remain inside its dedicated truck as the official announcement was made that a new GUINNESS WORLD RECORDS title had been set.A Chieftain, made from the exact same batch as the world record recipe was addressed by 15-year-old Cameron Hill from Kilmarnock before the 1.01 ton haggis was split open and served to the hungry public and assembled guests.Wayne Godfrey, CEO of Browns Food Group, which owns Hall's, welcomed the GUINNESS WORLD RECORDS title. He said: "2014 is the Official Year of the Haggis and so we thought this was the perfect occasion to reclaim the GUINNESS WORLD RECORDS title that was first held by Hall's over 30 years ago. We knew we were aiming for a very ambitious size and weight and so everyone at Hall's is thrilled we pulled it off, reclaiming the title – and beating the previous record by such a significant amount."Hall's is a Scottish company that has been around for generations and so we naturally want to do Scotland proud – by making history and setting a GUINNESS WORLD RECORDS title a nation can be part of as once individual portions are now on sale. Proceeds will go towards Macmillan Cancer Care as well as selected Scottish children's charities, meaning the legacy of the haggis will live on through donations with long lasting benefits in local communities."The judging of the GUINNESS WORLD RECORD attempt took place under strict surveillance from GUINNESS WORLD RECORD adjudicator and Scotsman, Mark McKinley. From Cumbernauld, Mark travels the world judging world records but made his way to his home nation to judge his home nation's dish.David Hall, son of David Hall senior - founder of the original Hall's company - was guest of honour at the launch. He said: "Hall's is one of the world's biggest distributors of haggis and it seems only fitting they also hold the title of the makers of the world's biggest haggis. My father devised the recipe that is still used today for all Hall's haggis and I can most definitely confirm the biggest of them all tastes just as good as the ones made by hand in his shop in Corstorphine in Edinburgh in 1932."Scotland's Food Minister Richard Lochhead said: "Haggis is Scotland's iconic national dish and is enjoyed by people from all over the world. In our second Year of Homecoming and the Official Year of the Haggis what better way to celebrate than by unveiling the world's biggest haggis. This is a momentous achievement and I am delighted to be here at the Royal Highland Show to witness it breaking the official record. It is the perfect way to celebrate one of our nation's proudest culinary traditions whilst raising money for a good cause."For a minimum donation of £5 to charity, a portion of the GUINNESS WORLD RECORD haggis and a full sized haggis - in a cool bag - will be on sale throughout the Royal Highland Show.
Download

Trending Now
Viewed
Discussed