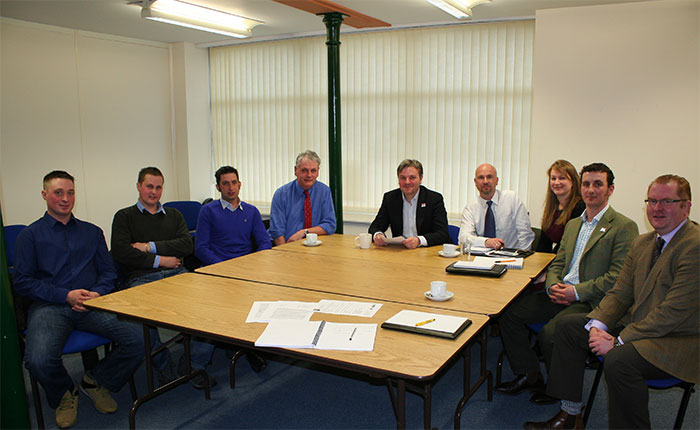 Farmers need 'the right signals from government' if they are to carry on in business, according to young farmers who met with Jamie Reed MP at an event organised by the National Farmers' Union.
The group met with the MP for Copeland on Friday to remind him that agriculture is just as an important industry within his constituency as nuclear power.
NFU Cockermouth group secretary Jim Cosker went one step further and challenged Reed to encourage Sellafield to source its food from the West Cumbrian farming community.
He told the MP that he represented egg producers who had tried for many years to secure a supply contract for Sellafield, but to no avail.
"Sellafield lives in its own little bubble. I know that improvements are being made to its supply chains with an increasing focus on buying local but any changes that are made will happen incrementally" Reed said.
On the thorny issue of reforms to the Common Agricultural Policy, the NFU members asked Mr Reed to raise concerns with Defra and government ministers based on two threats from our own government which would disadvantage farmers here compared to those in Europe. These are:
More costly and demanding forms of "greening" for English farmers than will be required from farmers in the rest of Europe.
And increased rates of "voluntary modulation" (moving money from direct payments for farmers to rural development schemes).
Ian Knight of Stepheny Farm in Calderbridge said that receiving the Single Farm Payment makes him feel like he's on the dole and has an effect of low self-esteem on a young businessman. However, having recently invested in two farms, he can ill afford to take a Defra imposed percentage reduction in his payment because he's currently unable to make that money back through the livestock he keeps.
"Farming has to pay its own way in the long term but without the single farm payment there is no certainty," said Knight.
"Trying to predict what my farms are going to turnover in the next calendar year for my bank manager is impossible."
James Hodgson of Woodend Farm in Egremont added: "We cannot afford to increase our stock numbers and don't have the capital to increase the farm size by purchasing the farms around us that are being lost."
Jimmy Pritt of Thornbank Farm in Gosforth stated that with a bit of encouragement, farmers in West Cumbria could be on the brink of a bright future.
"I think we're on the edge of something big and we have to seize the opportunities," said Pritt.
"I supply First Milk which is making serious investments in the dairy industry. I think the future is bright. There are definitely opportunities for younger people to get involved through share farming initiatives."
Summing up, Reed said: "Before looking to the future we need to look at the present dangers for farmers and a lot of that boils down to regulation. We can scrutinise and criticise the regulatory systems with the aim of changing them without losing the positivity that's beginning to flourish in farming."
Comments
No comments posted yet. Be the first to post a comment