Animal Health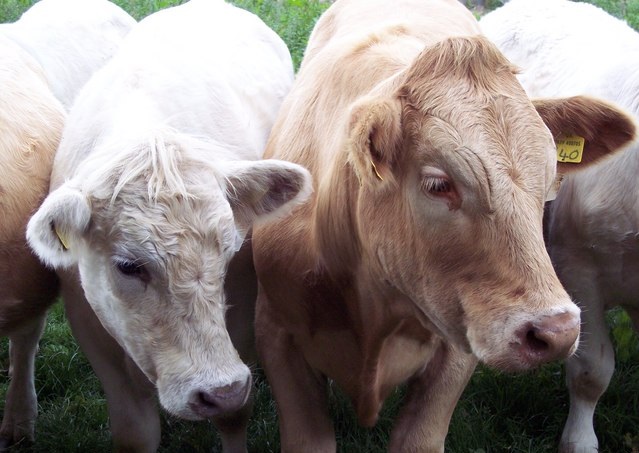 Disease fears blight early lambing season
Recent reports have confirmed farmers' worries over a return of the Schmallenberg virus in sheep and cattle with figures indicating up to 60% loss bei...
Government to combat declining bee population
New plans to prevent a declining bee population by protecting hives from pests and diseases has been unveiled today. Defra and the Welsh Government...
FUW highlights need for greater BVD awareness
A recent survey conducted by the Farmers' Union of Wales revealed a need to increase awareness of the potential impacts of Bovine Virus Diarrhoea (BVD...
Farming groups warn of losses to liver fluke disease
Liver fluke is causing havoc in many parts of the UK, recent reports show. Peter Baber, Chairman of SCOPS (Sustainable Control Of Parasites in Shee...
Badger cull may start in other areas, farming minister says
Farming Minister David Heath has hinted the badger cull could resume in other areas after a delay was announced by the government last October. Pla...
Significant liver fluke risk across the UK
There is a risk of very high levels of liver fluke disease across Scotland, Wales and western England according to a new forecast. January's Parasi...
USDA issues final rule for animal disease traceability
The U.S. Department of Agriculture (USDA) today announced a final rule establishing general regulations for improving the traceability of U.S. livesto...
Badger vaccination can cut TB by half says research
New government-backed research has revealed that vaccinating badgers can reduce the level of TB within an infected colony by 54%. The results, whi...
MEPs urge better animal transport conditions
More animals are being transported inside the EU in 'sub-standard' conditions according to MEPs. During a debate in the European Parliament, they s...
Defra warns of 2013 Schmallenberg return
The Department for Environment, Food and Rural Affairs (Defra) has warned the animal health sector that the Schmallenberg virus could return by 2013. ...
Bovine TB testing rules 'will have serious implications'
From January 1st next year a number of new TB rules will come into force which will have a direct impact on farmers in the counties of Cumbria and Lan...
Fluke season is 'just as bad as expected'
Recent heavy rains across the UK have maintained the high risk of liver fluke in sheep and cattle, and SCOPS Chairman Peter Baber has stressed the nee...
EU identifies 'serious defects' in French GM rat study
The European Union's food safety watchdog has identified 'serious defects' in the research undertaken by French scientists who said rats fed on a GM d...
TB report shows complexity of disease, say vets
Veterinary associations have welcomed the Review into Bovine Tuberculosis (TB) by the Assembly's Agriculture and Rural Development (ARD) Committee, an...
Sheep scab to be a priority following inaugural conference
At the inaugural conference of the Sheep Health and Welfare Group (SHAWG) last week, a clear mandate was given to the group when the 224 attendees vot...
Disease eradication tops agenda at BVA meeting
The British Veterinary Association (BVA) has used its Northern Ireland meeting to call on the Department of Agriculture and Rural Development to ensur...
Farming group attacks Charity Commission on RSPCA stance
The Farmers' Union of Wales has accused the Charity Commission of 'bringing the nature of charities into disrepute by failing to confront the RSPCA' o...
Measures to reduce antimicrobial resistance 'not sound science'
Measures to reduce antimicrobial resistance in Europe are in danger of becoming 'kneejerk' reactions, the British Veterinary Association has warned. ...
Hospital food welfare 'shocking' says survey
Eggs, chicken and pork served in English hospitals are produced from animals reared in only basic welfare conditions, according to a survey published ...
NFU attacks RSPCA over badger warning
The National Farmers' Union has said the RSPCA 'overstepped the mark' over comments made about 'naming and shaming' people involved in the badger cull...
Henry Schein signs agreement to acquire C&M Vetlink
Henry Schein, Inc. (NASDAQ: HSIC), the world's largest provider of health care products and services to office-based dental, medical and animal health...
Liver fluke in top 10 diseases to beef cattle
According to the latest National Animal Disease Information Service (NADIS) Parasite Forecast, liver fluke was rated in the 10 most important diseases...
MP proposes badger vaccination for Cornwall
Following the government's decision not to proceed with a badger cull in Somerset and Gloucestershire, West Cornwall MP Andrew George has urged a badg...
Feeding sows more efficiently
When someone mentions feed costs, thoughts typically gravitate towards what is happening in the finishing barn, simply due to the influence it has on ...
Government remains committed to TB eradication despite vote
Today's backbench business debate was an opportunity for MPs to discuss the government's TB eradication programme, the NFU said today. A vote of 1...
Badger cull delay could spark assessment of RBCT trials
The decision to delay the badger cull in England should be used to undertake a full and proper assessment of the impacts of the Randomised Badger Cull...
NFU writes to Defra to urge 2013 badger cull
The National Farmers Union (NFU) have written to Environment Secretary Owen Paterson to request that the pilot badger culls in West Somerset and West ...
RSPCA expresses delight as badger cull halted
The government has announced today that plans for a badger cull in Somerset and Gloucestershire, which had been due to start any day, have been put on...
Defra announce new TB measures
Defra has today announced changes to the rules around the movement of cattle to help prevent the spread of bovine TB. The changes will start on Ja...
Swine influenza affecting large number of herds
The incidence of swine influenza in pig herds in the UK and Ireland could be higher than expected if the results of a recent survey are replicated acr...
RSPCA accused of bullying after badger cull threats
The NFU has accused the RSPCA of hypocrisy after farmers were warned they could lose their valued Freedom Foods status if they supported or allowed ba...
75,000 Welsh cattle slaughtered due to TB in last 10 years
Over 75,000 cattle were slaughtered in Wales in the last decade (2002-2011) as a result of bovine TB, equivalent to more than the total number of adul...
TB vaccine 'remains years away' say farming groups
A cattle vaccine to help control bovine TB in the future 'remains many years away' according to farming groups. Unions such as the NFU have admitt...
FUW urges farmers to use rodenticides correctly
Farmers' Union of Wales' land use and parliamentary committee chairman Gavin Williams today urged farmers to consider their on-farm rat control measur...
Farming groups 'stand firm' behind TB badger cull
Farming groups have said they will 'stand firm' behind the government's TB eradication policy, which will include pilot badger culls. Critics say ...
E.coli poultry vaccine to be launched
An innovation in protecting chickens against E.coli bacteria has been achieved with the launch of a first modified live vaccine. The vaccine, which...
Mexican avian flu 'nightmare' as 25m birds lost
Two leaders of the Mexican egg industry have spoken of their "nightmare" after an estimated 25 million laying birds were lost in an outbreak of avian ...
Farm fire checks launched after claims triple
Montgomeryshire NFU Cymru has joined with Mid and West Wales Fire Service to launch a new free service to reduce the number of farm fires. The camp...
Schmallenberg case 'must be investigated to understand virus'
Following the discovery of the Schmallenberg virus in Dyfed, West Wales, earlier this week, there have been calls for a thorough and rapid investigati...
Farmers warned on Schamellenberg virus signs
Welsh farmers were today urged to be vigilant following the detection of Schmallenberg Virus (SBV) antibodies in three cows and one calf on premises i...
GM animals 'could spark major backlash'
Moves by the EC to approve GM animals for commercial use in food could spark a major consumer backlash if the Commission does not change direction, GM...
Three new Holstein bulls launched at Livestock 2012
Three new Holstein bulls representing cutting-edge genetics, A2A2 milk and outstanding daughter fertility have been launched this week at Livestock 20...
Liver fluke prevalence at very high levels
Farmers are being warned about a "very high" prevalence of liver fluke disease across the UK in the latest National Animal Disease Information Service...
Cuts could leave council vulnerable to animal diseases
Data on animal movement that may be essential in the event of a disease outbreak such as food and mouth, will no longer be kept on file by Cumbria cou...
Welsh bovine TB measures are 'draconian', says NFU
Welsh dairy and beef farmers are facing difficulties due to 'draconian' bovine TB cattle control measures introduced by the government, according to t...
Law Commission seeks views on wildlife laws
In a consultation opening today, the Law Commission is seeking views on how wildlife law should be modernised. The current law regulating wildlife ...
Schmallenberg tops agenda at health conference
News that the Schmallenberg disease has over-wintered and may bring fresh outbreaks next spring has topped the agenda at an animal welfare conference ...
New vaccine against PPR launched
A new vaccine against Peste des Petits Ruminants (PPR), a severe, fast-spreading viral livestock disease, has been launched by MSD Animal Health. P...
Schmallenberg virus circulating, say scientists
Schmallenberg virus could circulate across the UK after the virus has over-wintered according to results uncovered by the Royal Veterinary College and...
Zimbabwe cattle die due to lack of pastures
Zimbabwe livestock farmers have warned of beef shortages owing to an increase in the number of cattle dying due to lack of pastures. The lack of pa...