Dairy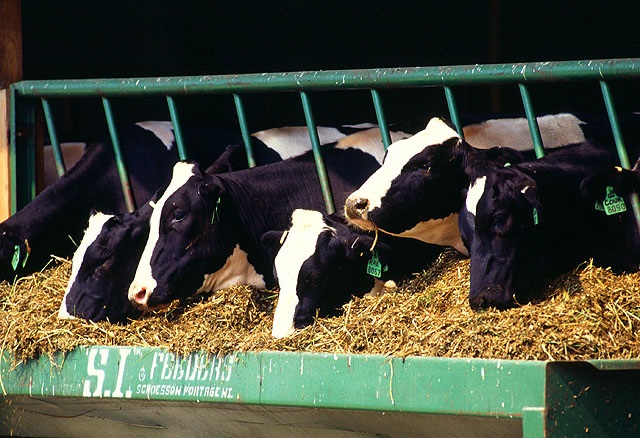 Greens echo NFUS call for fair trade for Scottish farmers
A fair deal for Scottish farmers, in particular dairy farmers, is vital to securing a sustainable future for agriculture and protecting consumers'...
Hard pressed dairy farmers can broaden their businesses by paying more attention to beef sector.
Cash starved dairy farmers can create a second leg to their businesses if they take account of money that can earned from a more beef orientated appro...
Milk Link aquires 100 per cent of The Cheese Company
Milk Link, the UK's most progressive farmer-owned dairy enterprise, has announced that it has acquired full ownership of The Cheese Company, the l...
Soft autumn cow beef market can be avoided in 2007
The soft market for cull cows over the peak seasonal culling period may be avoided next autumn if more big companies are actively exporting, more supe...
Dairy farmers' 'favourite' cows can be their costliest, warns MDC
Dairy farmers were today warned that their favourite and most productive cows could be their costliest. This came at the launch of a new decision-mak...
Building a better future for England
The England Implementation Group (eig) has today published 'Building a better future for England's kept animals', its first annual report ...
Wind down dairy industry at milk supply's peril warns report
An independent report has warned processors and retailers to increase producer prices for milk or face losing a secure, long-term milk supply base in ...
Calm before the storm
While 2005 was a stable year for margins in the dairy supply chain, there were strong indications of a 'calm before the storm' according to Ke...
NFU launches campaign to recover costs that threaten dairy industry
The NFU is launching a campaign today to encourage dairy farmers in England and Wales to send in invoices to boost flagging milk prices in the face of...
Profits black hole threatens dairy industry - NFU
A survey released by the NFU and the RABDF today shows that the gap between what dairy farmers are paid for their milk and what it costs them to produ...
New dairy initiative celebrates achievements in marketing
IDF Marketing Awards, the new initiative of the International Dairy Federation, received 27 entries from 11 countries. Results will be announced at th...
Senior government and industry leaders to attend Dairy UK annual dinner
Senior government, food industry and dairy sector representatives from the UK and beyond will attend this year's Dairy UK dinner in London on Nove...
Under-performing herds being over-faced with fibre
A number of under-performing dairy herds are losing up to five litres per cow per day due to a little-known restriction on feed intakes brought into p...
Dairy farmers should be valued more
The Tenant Farmers Association is using its presence at the South West Dairy Show at the Bath and West Showground, Shepton Mallet to argue that dairy ...
Clear steer and commitment required
"The phrase price takers rather than price setters had never been truer than for today's dairy farmers. Yet, when dairy farmers talk of coming tog...
Dairy Hygiene Inspectorate and State Veterinary Service to merge
The Dairy Hygiene Inspectorate (DHI), working on behalf of the Food Standards Agency, has merged with the State Veterinary Service (SVS). The merger h...
Newspaper poll shows strong support for higher milk prices for farmers
An overwhelming majority of the public believe dairy farmers are being paid too little for their milk and, by implication, would support a price incre...
Organic dairy movement must cooperate and remain true to beliefs
- Delegates at first ever Milk Summit look to the future - The organic dairy industry must be careful not to compromise the values on which it was ...
Milked dry
NFU calls meeting to highlight changes needed to save North West's dairy industry from disaster There is growing concern that the North West...
Fears over approaching meltdown on UK dairy farms
Commenting today on the open letter to The Prime Minister setting out the dire plight of UK milk producers, BVA President Dr Freda Scott-Park, herself...
Dairy industry needs strong regulator
The Tenant Farmers Association has called for a strong dairy industry regulator, with teeth, that can adjudicate between retailers, processors and pro...
Dairy farmers urged to share facts on increasing production costs
The NFU has joined forces with the RABDF to call on dairy farmers to share facts on how this year's drought and rising energy prices are set to af...
APPG for Dairy Farmers to meet with farmer co-ops
Further consolidation within the dairy sector is being called for by the All Party Parliamentary Group for Dairy Farmers, with discussions involving e...
Latest milking machine systems at the Dairy Event
The latest milking machine systems and equipment will be featured by the world's leading manufacturers at the Dairy Event to be staged on 20 and 2...
OFT issues provisional decision against Scottish processing dairies
The OFT has provisionally found that six Scottish dairies entered into an agreement and/or concerted practice in the supply of fresh processed milk to...
dairy farmers advised to unite in the marketplace
Dairy farmers will be urged to gain might in the marketplace by working together more effectively. An NFU conference on the crisis in milk prices w...
Milk partnership to power Yeo Valley ahead
Picture: left to right, Rosie Palmer, marketing manager of OMSCo, Marcus Keenor, one of the OMSCo farmers supplying Yeo Valley with organic milk and B...
Dairy farmers must 'quit 'breaking cows' and manage their herds
Quit breaking cows top American nutritionist tells UK herd managers 23rd August 2006.doc>> erds to optimise productivity and production costs, Dr Blai...
Reduced milk supply is not the answer says MDC report
The NFU has endorsed a report by the Milk Development Council which explodes the theory that a massive cut in production would be the best way forward...
Calls to reduce milk supply are
Calls to reduce milk supply in a bid to improve farmgate prices are not only unlikely to succeed, but could be preventing crucial reinvestment among d...
Jersey Jo scoops top honours at Nantwich Cheese Show
This year's supreme inter-breed championship at the Nantwich International Cheese Show held in the last week of July was won by Coldeaton Advancer...
Milk processors creaming off dairy profits
Wholesale cream prices are on the increase thanks to good demand and low supplies. But the news has left dairy farmers scratching their heads wonde...
Designer cows are the dairy future
Victorian scientists in Austrlalia are using the latest DNA techniques to fast track the breeding of better, more productive and more profitable dairy...
The Dairy Event 2006
The Dairy Event, Europe's premier two day business to business exhibition for the dairy industry organised by the Royal Association of British Dai...
Milk Link announces organic milk price increase
The Milk Link Governing Board has announced an increase in its Organic milk price by 1.75ppl effective from 1 October 2006. The increase takes Milk L...
Stand together – NFU dairy chairman tells industry summit
The NFU has called on all sections of the dairy industry to work together to add value and avoid the potentially disastrous loss of critical mass. ...
Study gives encouragement to smaller dairy farmers
A research study published today, commissioned by Milk Link, one of the UK's leading integrated dairy businesses, has found that the efficient use...
New measures crucial to save dairy industry
Greens today stressed the need for a tougher regulation of the supply chain following reports that Wiseman's are to reduce the amount that they pa...
Nine out of ten dairy farmers can save money on fertiliser costs
Ninety per cent of GB dairy farmers could be wasting money by buying in unnecessary fertiliser, according to the Milk Development Council (MDC). T...
World Cup sales boost for Milk Link
Despite England's defeat at the weekend, one business in the region has still been winning as a result of the World Cup, as football fans holding ...
Milk Links Channel Island producers set gold standard for new breakfast milk
Milk Link's Jersey and Guernsey milk producers are to supply the milk being used in the 'Breakfast Milk' brand being re-launched by Highgr...
Knowledge gap on dairy cattle energy gap hits fertility satisfaction
Just four per cent of dairy farmers are happy with their herd's fertility levels, according to a survey conducted by Merial Animal Health at April...
Dairy industry must capitalise on product development record, says Curry
The UK dairy industry is in a strong position to capitalise on its outstanding record for development of new products as part of its drive to secure a...
Northumberland dairy farmers have diversification licked
Northumberland dairy farmers Michael and Angie Howie have diversification success licked with the help of Defra's Rural Enterprise Scheme (RES). ...
ARLA price cut disgusts me
Ongoing competition in the middle ground liquid milk market, exacerbated by retail price cuts is the real reason Arla has reduced the price it pays fo...
WestfaliaSurge's rapid exit parlour is a great success
WestfaliaSurge's side-by-side rapid exit milking parlour, the Global 90i, has been a great success at its first UK installation in Field Farm in C...
Good News and Bad News for Carmarthenshire Dairy Farmers
The good news for dairy farmers emanating from the lifting of the beef export ban has unfortunately been clouded by the damage retailers are doing to ...
NETV supplies Stralis fleet to dairy farmers of Britain
North East Truck & Van (NETV), the largest independent Iveco distributor in the UK, has supplied Dairy Farmers of Britain with a fleet of 14 Stralis A...
Conservation wins Yeo Valley a Queen's award
Yeo Valley's commitment to organic farming, environmental conservation and the growth of the organic dairy industry has been recognised with a cov...
Reduction to business market related adjustment
As announced to members, the Milk Link Governing Board has reduced the Business Market Related Adjustment element of the milk price by 0.4ppl effectiv...