Shows and Events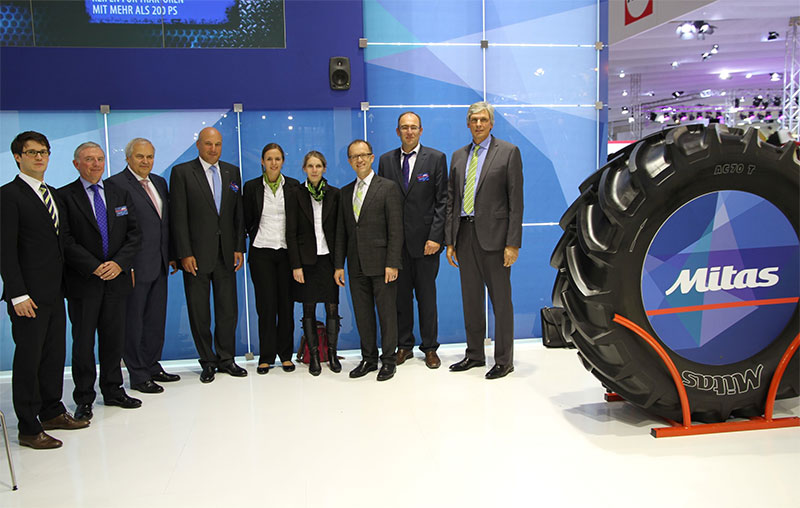 NFU community champion award shortlist
Four farmers who make an incredible contribution to their local communities have been shortlisted for the NFU Cymru / NatWest Welsh Rural Community Ch...
Milk link produces strong results at show
Milk Link, the UK's leading farmer-owned dairy co-operative and largest cheese manufacturer, produced another strong set of results at yesterday...
Royal visit to support Pembrokeshire pasty
The Prince of Wales and The Duchess of Cornwall are to visit The Pembrokeshire Pasty & Pie Co. in Tenby on Wednesday 30th June. In what is hoped wi...
Show jumping championships cancelled for 2011
Grandstand Event Management has today advised that they will not be running the British Open Show Jumping Championships in 2011. The British Open was ...
Professor wins International Environmental Award
Professor Bob Watson, Defra's Chief Scientific Advisor, has won the prestigious international Blue Planet Prize, it was announced today. The...
Loss of Royal Show has silver lining
The closure of one of the country's biggest agricultural shows may have benefitted an event much closer to home. Last year's Royal Show...
Llama trekking for Staffordshires rural entrepreneurs
A group of female entrepreneurs in Staffordshire will be trekking with llama's and tasting Buzzard Valley wines in a yurt for their next meeting...
Wyre Forest inspire farmers and producers
Businesses in The Wyre Forest are set to showcase their enterprises and share their knowledge with interested farmers and growers from across the regi...
May collective machinery sale a success
The May 28 collective machinery sale at Stone, near Kidderminster was the biggest and most successful to date, say auctioneers Halls. "An inc...
Old Mill celebrates livestock presentation
Old Mill Rural Services was pleased to continue its support of livestock exhibitors at last week's Royal Bath & West Show, sponsoring two presti...
Farm strikes gold at Bath and West show
Ford Farm, a leading south west cheese producer struck gold several times over at the National Cheese Awards at the Royal Bath & West Show last week. ...
Land and fishery excel at Shropshire auction
An auction of accommodation land and a fishery at Hoarstone, Market Drayton exceeded all expectations with both lots selling to local buyers after int...
Record numbers at South Devon National Show
A record number of South Devon cattle will be on display at the Royal Cornwall Show this week, with the launch of the breed's annual National Sh...
Major conference coup for Dundee
Scientists studying some of the world's most important cash crops are to converge on Dundee this Autumn. They are world-leaders in research wor...
All Energy 2010 - Another record breaker
With a total of just over 7,000 participants from 55 countries; and over 450 exhibiting companies from 16 countries All-Energy 2010 (Aberdeen, 19-20 M...
Yorkshire dairy herd to host RABDF NMR Gold Cup Open Day
All dairy farmers will have the opportunity to visit one of the UK's leading herds at a summer open day jointly organised by the Royal Associati...
All Energy 2010 - Yet another record breaker
With a total of just over 7,000 participants from 55 countries; and over 450 exhibiting companies from 16 countries All-Energy 2010 (Aberdeen, 19-20 M...
Gearing up for the show season
THE finishing touches are being made for the first big event in the region's annual show season. The 32nd North Yorkshire County Show is held...
HRH, The Countess of Wessex to introduce retail speakers
As the demand for locally sourced food continues to grow, The Countess of Wessex, the new President of the Royal Bath & West Show, is set to introduce...
HRH The Princess Royal to visit Yorkshire Show
The Yorkshire Agricultural Society is delighted that HRH The Princess Royal is to visit the 2010 Great Yorkshire Show. The Princess will tour the fam...
Agricultural Engineers honour members
Ten members of the Institution of Agricultural Engineers have been recognised for contributions to the land based sector at the Institution's a...
Regional Agricultural Centre Scoops Top Award at Industry Oscars
The Regional Agricultural Centre (RAC) has beaten tough competition from across Yorkshire and Humberside to scoop the highly acclaimed 'Project ...
New date and venue for Kenilworth Show
One of the Midlands' leading agricultural shows takes place in Warwickshire on Saturday, June 5. The Kenilworth Show attracts thousands of p...
VILLAGERS PROVIDE ACCOMMODATION FOR CEREALS EVENT
The Villagers of Chrishall and surrounding villages have come up with a scheme to welcome people to the area for the forthcoming Cereals Event (www.ce...
Kindling business enthusiasm for wood fuel
Business owners can find out about the incentives and funding available for woodfuelled heating systems, small-scale electricity generation and woodfu...
BASC Scotland Country Fair set to attract crowds
Visitors to this year's Scotland Country Fair, hosted by the British Association for Shooting and Conservation (BASC) will be able to take part ...
Dashing Knights and a New Voice form part of the HOYS 2010 line-up
Grandstand Media Ltd, organiser of Horse of the Year Show (HOYS), is delighted to announce that the winning H Factor presented by Equimax & Eraquell a...
Livestock entries at an all Time high
An unprecedented number of entries have already been received for the cattle classes at this year's Great Yorkshire Show. The farming and count...
British Pig and Poultry Fair 2010: It's all about you...
Visitors to this year's British Pig & Poultry Fair will experience a continuation of the journey started two years ago by leading monogastric an...
Huge turnout for Severn Valley Discussion Group
Seventy poultry farmers and tradespeople braved the snow for the Severn Valley Discussion Group's first meeting of the year, which featured gues...
Bullish trade for store cattle at Bishops Castle
Auctioneers Halls reported a "bullish" trade at a successful sale of store cattle at Bishops Castle Auction on March 4. "The number...
Woodfuel seminar shows where there's wood, there's brass
A FREE event later this month aims to offer an insight into the emerging market for fuel that grows as trees. The one-day Woodfuel Supply and Insta...
Fisher German promote renewable energy to over 2000 farmers and landowners
Fisher German is at the forefront of a major drive to inform farmers and landowners of their options when considering renewable energy. This has inclu...
Skipton agricultural showcase a resounding success
Skipton's second bi-annual Spring show of agricultural machinery, equipment, and animal healthcare products proved a resounding success. Sta...
First ever National All Breeds Show welcomed by the industry
Last week's National All Breeds Show came to a fitting finale when the prestigious interbreed Dairy Burke Trophy was judged after the completion...
Hoggets sell for up to £90 a head at first sale of the season
The first of a series of weekly Thursday night sales of hoggets at Shrewsbury Auction Centre was held last week when a small entry sold to a good trad...
Countrywide announces expansion into game and shooting sector
An expansion into the game and shooting sector is announced today by Countrywide, the UK's leading rural retailer. The acquisition of Country...
Festival of Farming Cancelled
The Society of Ploughmen have announced that the planned "Festival of Farming" has been cancelled. The event was due to be held on 28th Mar...
Energy generation to provide solutions for farmers
The introduction this year of feed-in tariffs will provide additional income to those considering renewable energy. This means that there is now a si...
Hook Norton Brewery hosts Taste of Game event
Members of the British Association for Shooting and Conservation (BASC) and friends enjoyed a taste of game and beer at the sixth Hook Norton Brewery ...
Event planned to help landowners manage difficult sites
Wet Culm Grassland habitats can be difficult to maintain, especially tussocky, scrubby areas which are often dominated by purple moor-grass. Devon Far...
Pig, Poultry & Dairy Focus Asia 2010
With good early bookings, all the signs are that3 there will be another well attended Pig, Poultry & Dairy Focus Asia 2010. This event is now perceive...
Demand for in lamb ewes at Shrewsbury Auction Centre
Auctioneers Halls reported an excellent sale of 250 Suffolk and North Country Mule in lamb ewes on Tuesday at Shrewsbury Auction Centre. The ewes,...
Backing Innovation With Good Herd Health Management
An innovative Stirlingshire farm with plans to expand its beef herd will play host to an SAC Animal Health and Welfare day on 26th January. Moira Stew...
Wheel Alignment at LAMMA Show
On the 20th and 21st January Goodyear will be present at the LAMMA Show, Newark. LAMMA is the largest UK show dedicated to farmers with over 62,000 pe...
McVeigh Parker to Showcase X FENCE at LAMMA 2010
McVeigh Parker, the leading providers of farm supplies are showcasing their innovative wire livestock X FENCE® at 'LAMMA' to demonstrate i...
Double Triumph for David at Craven Dairy Auction
Skipton Auction Mart's monthly Craven Dairy Auction (Monday 4th January) proved a double triumph for David Lawson from A. Lawson & Son of Arthin...
Dairy Burke to be competed for at new National All Breeds Show
The Dairy Burke Trophy, the most prestigious award competed for in the national dairy showing ring, is to feature at the inaugural National All Breeds...
Successful year for Shrewsbury plant and machinery sale
Auctioneers Halls have hailed the success of its collective plant and machinery sales at Shrewsbury Auction Centre during 2009 and pledged to continue...
LAMMA debut for Massey Ferguson MF 7400 tractors
Massey Ferguson's new MF 7400 Series flagship model, the 240hp MF 7499, makes its UK debut at the LAMMA show in January. At the same time the co...