Supermarkets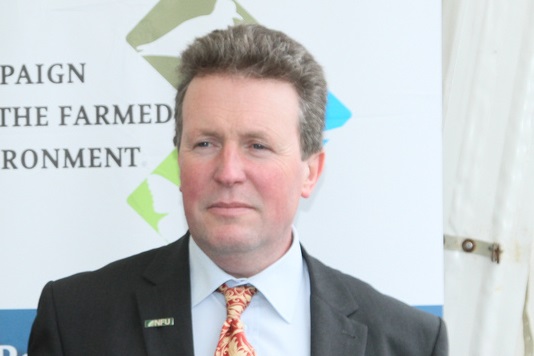 Sainsbury's increase local milk sales in Scotland
Sainsbury's commitment to sourcing local produce is paying dividends in Scotland, with the company today (3 February 2008) announcing that the int...
Supermarkets Reap the Profits while Farmers Suffer
"The time has come for us to market ourselves as food producers, rather than farmers. Perhaps then our contribution to society will be held in higher ...
Marks and Spencer: Most compassionate supermarket
M&S scored highest in Compassion in World Farming's Supermarket Survey, beating Waitrose and others to scoop the Compassionate Supermarket Award 2...
Supermarket price-fixing hurts farmers and consumers
Responding to the news that Asda and Sainsbury's have agreed to pay multi-million-pound fines after they admitted fixing the price of milk and che...
Outrage at retailer's lack of support for local farmers
Supermarket chain Somerfield has once again come under fire from NFU Cymru. Despite repeated warnings over their policy of stocking imported lamb and ...
Support for CLA supermarket stance
Rural economy experts the CLA have welcomed the report published by the Church of England, which supports the organisation's calls for an independ...
NFU Cymru welcome Church of England support for supermarket ombudsman
A report out today by the Church of England which proposes that an independent ombudsman will stop the supermarkets squeezing farmers has been welcome...
Morrisons leads with commitment to 100% British Fresh Lamb
Morrisons has made a commitment to sell 100% British fresh lamb throughout the year in its stores nationwide. Chief Executive, Marc Bolland, annou...
Supermarkets ombudsman would need real powers says NFU
Action to curb supermarket malpractice is urgently needed, says the NFU, on the back of the Competition Commission's provisional findings that the...
Commission should take action against supermarkets
In a debate in the European Parliament today Scottish Euro MP Struan Stevenson called on the European Commission to take action against giant supermar...
Egg prices: Supermarkets accused of displaying a 'criminal' lack of understanding
For months, egg producers have been having sleepless nights over feed prices; yet still it seems that the supermarkets have failed to grasp the full e...
Tesco Brought to Task over Misleading Lamb Labelling
Following concerns raised by NFU Cymru last month regarding the misleading labelling of lamb on sale in a Tesco store in Gwynedd, the supermarket has ...
Pork - We'll pay more say shoppers
British consumers have said 'yes' to digging a bit deeper into their pockets to help secure the future of quality British pork supplies accord...
Chitty launches Organic Beef Farmers Association to supply Tesco
Chitty Food Group, one of Tesco's major suppliers of Organic beef, has held the first preparatory meeting for organic farmers interested in joinin...
Countrywide announces renewables partnership
Countrywide has announced a partnership agreement with Treco for the supply of renewable energy product and services to its customers. As the issue...
Sainsbury's must back the UK beef industry says NBA
Sainsbury's cannot claim it is strongly supporting UK beef farmers if by its own admission at least 24 per cent of its fresh beef is imported from...
Beef import record of major UK supermarkets revealed
It is not often that supermarkets receive praise from faming organisations, but today the National Beef Association is singling out Morrison's and...
Store's Branding U-turn Meets with NFU Cymru Approval
Somerfield's decision to rebrand its Welsh meat at stores across Mid and North Wales has been warmly welcomed by NFU Cymru. The store's po...
Sainsbury's helps the plight of the bumblebee
Sainsbury's declares war and fights for better farming practices to improved farmland bio-diversity. With an army of bumblebees on the front li...
New green scheme at Waitrose milks packaging for every drop
Waitrose is taking pioneering steps with one of its suppliers to offer UK shoppers a greener way to buy and store their milk. From 25th June, Waitrose...
Supermarkets have significant effect on lamb prices
The failure of the major retailers to support the Welsh lamb industry was the major discussion point at the Carmarthenshire NFU Cymru Livestock meetin...
Sainsbury's gives an extra penny per litre – straight into farmers pockets
Sainsbury's announces today it's continued commitment to the UK dairy industry – and raises the farm gate price it pays to farmers by one penc...
NFU President dismayed by ASDA ads
NFU President Peter Kendall today expressed his dismay at ASDA after the supermarket giant proclaimed its long term commitment to cheap food with full...
New initiative brings Tesco and local farmer together
Consumers in Edinburgh are set to become the first to benefit from Greenvale AP and Tesco Scotland's new initiative, which will see new season p...
Waitrose Supports Lamb Farmers As Industry Faces Collapsing Prices
As the British lamb industry faces crisis with collapsing prices, Waitrose is bucking the trend and supporting its lamb farmers by paying them a premi...
Absolute Disgust at Dolgellau Store's Meat Policy
NFU Cymru is absolutely disgusted that the Somerfield store in Dolgellau is stocking imported lamb and beef on its shelves. Brazilian beef and New Zea...
M&S Producers Club Brings Organic Farmers Together
The Chitty Food Group, major supplier of Organic beef to M&S, has set up a new producer group in conjunction with M&S, dedicated to bringing the best ...
Supermarket pursuit of higher retail prices could create a win-win for entire beef industry
Retail analysis conducted by Eblex (English Beef and Lamb Executive) and released earlier today (June 1st) confirms the National Beef Association'...
NFU to highlight imbalance of power in the food chain
Supermarkets and food processors need to work in a fair, transparent and sustainable way with their suppliers so that all parts of the food chain will...
Waitrose Gives 100% of milk price increase back to farmers
Waitrose, food shops of the John Lewis Partnership, announces today that following an industry wide rise in retail milk prices of around 1.7p per litr...
Milk Link awarded Sainsbury's cheese contract
Milk Link's The Cheese Company has been awarded a contract to supply Sainsbury's with high quality cheddar. The contract, which will commence...
Tesco profits do not reflect true state of British farming - Williams
Following today's announcement of record Tesco profits of £2.55 billion for the past year, Roger Williams, Liberal Democrat spokesperson for Food ...
Tesco announces direct deal for UK dairy farmers
Tesco today announced a range of measures to support UK dairy farmers and bring shoppers even more choice when it comes to buying milk. In the bigg...
NFU welcomes 'ground-breaking' tesco milk deal
The NFU has hailed Tesco's announcement that it is setting up a dedicated supply chain to provide its liquid milk requirements, and guaranteeing a...
nfu call to Supermarkets – bring farmers and growers in from the cold
The NFU today called for Britain's major supermarkets to take greater responsibility for the viability of their farmer and grower suppliers, as an...
Illegal supermarket displays are holding back price improvement for English beef industry
English supermarkets are blatantly flouting EU rules on retail display and single-mindedly ignoring efforts by Local Authorities, farmers, and consume...
ASDA ethical sourcing Head to address Anglesey farmers
Chris Brown, Head of ethical and sustainable sourcing for supermarket chain ASDA will be guest speaker at the NFU Cymru Anglesey Annual General Meetin...
Supermarkets urged not to rely on foreign milk
Given current concerns about food miles Mansel Raymond, NFU Cymru's Milk Board Chairman, is using today's Welsh Dairy Event to tell supermarke...
Supermarket led price squeeze will end if finishers toughen up selling
The National Beef Association is advising feeders not to allow processors to take the easy way out and react to supermarket pressure on higher than ex...
Rolling out red tractor success
Red Tractor will be added to more products in supermarkets after Assured Food Standards responded to consumer demand and agreed to roll out the logo o...
Sainsbury's cuts plastic from packaging in environmental revolution
An environmental revolution in packaging was signalled today by Sainsbury's, in the biggest ever initiative to eliminate plastics from Britain'...
Local company Cranswick Lazenbys to supply Sainsbury
Hull-based Cranswick Lazenby's has won the contract to supply Sainsbury's with fresh organic pork for the supermarket's SO Organic range. ...
Fruit and Veg delivered direct to supermarkets by farmers
In a bid to cut food miles even further, ASDA announced today (Monday 14th August) a group of farmers will start delivering their produce direct to it...
Supermarkets told to separate beef
Supermarkets and other retailers are to be told that beef from different countries of origin must be clearly separated in chill cabinet, or other di...
Asda sponsors Sussex producers with Food and Drink Festival
Launching a brand new range of local produce in its Sussex supermarkets, ASDA is to headline sponsor this year's Brighton & Hove Food and Drink Fe...
Asda announces ground breaking two year cheese deal
ASDA today announced a ground breaking two year deal, the first of its kind, with Dairy Crest and the farmers that supply milk to its Aspatria dairy. ...
First green shoots in supermarket beef price recovery are seen
An across the board rise in supermarket prices is raising hopes of a more secure domestic beef industry in the future. So says the National Beef As...
Winning carcass on shelf at Sainsbury's
Following their success in this year's Commercial Beef Carcass Competition held at The Royal Show (Warwickshire), two champion carcasses will be o...
Asda milk move to stop the rot - NFU
The decision by the supermarket group ASDA to follow other leading multiples in raising liquid milk prices has been welcomed by the NFU. Gwyn Jones...
Competition commission grocery inquiry to include NFU recommendations
The Competition Commission's issue statement published today takes on board many of the recommendations proposed by the NFU in its consultation. ...