The Durrance
Property Address: The Durrance, Berry Lane, Upton Warren, Bromsgrove, B61 9EL
Property Type: Self Catering
Price Range: £240 - £410
Email: Click here
Email: 42 + 25 =
Email: info@thedurrance.co.uk
Worcestershire
Property Images :





Property Description :
Owner: Helen Hirons
Tel: +44 (0)7976 573306
The Durrance offers both comfortable B&B accommodation and Self Catering Cottages.

We are situated 2 1/2 miles from the picturesque village of Chaddesley Corbett between the towns of Bromsgrove (4 miles) and Kidderminster (9 miles).

We have Wi-Fi access to the Internet throughout both the B&B and Cottages, enabling you to deal with those important business emails - or simply catch up with friends.

What to See and Do:
Walking: Maps are available and may be borrowed.
Cycling: Bicycle Hire is available locally.
Golf: Bromsgrove Golf Centre, a 9 hole golf course and golf range is 5 miles away.
Sailing: The Upton Warren Sailing Centre is situated 3 miles away and offers a variety of activities to suit all ages.
Bird Watching: The nearby Upton Warren Nature Reserve is renowned for its beauty and rare breeds of birds.

Places to Visit:
As we are situated close to the motorway network we are ideally located for visiting the Cotswolds, Stratford Upon Avon, Warwick Castle, Ragley Hall, and the NEC. Other nearby attractions include the Avoncroft Museum of Buildings, the West Midlands Safari Park and the huge Merry Hill Shopping Centre.

Finding Us
We are located in Berry Lane, off the main A448 Bromsgrove to Kidderminster road approximately 4 miles from Bromsgrove.

Oxen and Cider Mill Cottages are recently renovated single storey barn conversions.
Each cottage has its own individual characteristics with high ceilings to expose the original oak beams.

Local crafts people have added their own special touch with hand-made pottery, wrought iron work and a magnificent mural painted in Cider Mill's bathroom.

Oxen Cottage has one double bedroom and a twin bedroom. Cider Mill Cottage has a double bedroom and a single bedroom, all fitted with solid pine furniture.

We welcome most small and well behaved dogs in our cottages by prior arrangement, please contact us with details.






























Things to see and do in Worcestershire :
Battle of Worcester Battlefield
The Battle of Worcester took place on 3 September 1651 at Worcester, England and was the final battle of the English Civil War. Oliver Cromwell and the Parliamentarians defeated the Royalist, predominantly Scottish, forces of King Charles II.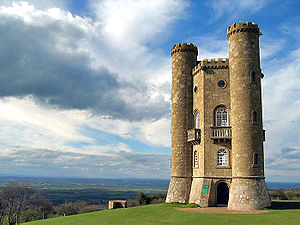 Broadway Tower is a folly located on Broadway Hill at the second highest point of the Cotswolds. It is a tourist attraction with various exhibitions open to the public.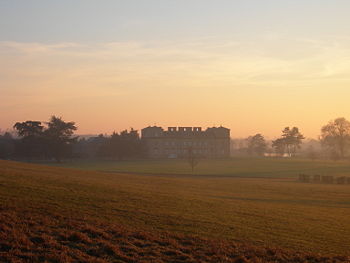 Croome Park is a landscaped country park surrounding Croome Court, near Besford in Worcestershire, England.
One of England's greatest composers, Sir Edward Elgar, was born on 2 June 1857, in this pretty country cottage near Worcester in the heart of England. After his death in 1934, Elgar's daughter Carice set up a Museum here, as her father had wished. In 2000, the new Elgar Centre was added to the Museum, to display even more treasures from this wonderful collection.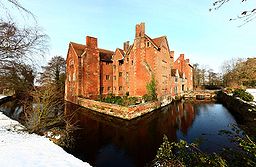 This medieval and Elizabethan Moated Manor House, contains secret hiding places and rare wall paintings. The hall has a tea room and gift shop. Various rooms are available to hire for business meetings or private functions.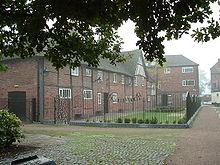 A glorious Grade 1 listed site dating back to the 12th century, The Commandery has had a long and varied history that is reflected in its range of architectural styles from medieval to Victorian. The Commandery has exciting stories to tell you about power, greed, war, wealth, romance, death, society and industry. Step back in time to catch a glimpse of the lively characters that have inhabited this ancient building during the past seven centuries.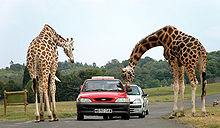 The West Midland Safari and Leisure Park is a safari park located in Bewdley in Worcestershire.
Worcester Cathedral is an Anglican cathedral in Worcester, England; situated on a bank overlooking the River Severn. It is the seat of the Anglican Bishop of Worcester. Its official name is The Cathedral Church of Christ and the Blessed Mary the Virgin of Worcester. Built between 1084 and 1504, Worcester Cathedral represents every style of English architecture from Norman to Perpendicular Gothic.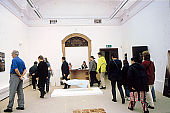 Worcester's principal art gallery and museum hosts a unique programme of contemporary art exhibitions, as well as housing a historic picture collection and an intriguing selection of objects ranging from a 19th century chemist's shop to the wonderful Worcester sauce machine.