Three new models in the Challenger MT700D Series have been launched by combining advanced engines and leading Mobil-Trac systems.The MT700D Series is powered by Agco Power engines, which are designed for agricultural applications and equipped with Generation 2, e³ Selective Catalytic Reduction (SCR). This system treats exhaust gases after combustion and can cut
fuel
consumption by 10%, compared with previous engines, while also complying with the Stage IIIB emission standards. Challenger MT700D features: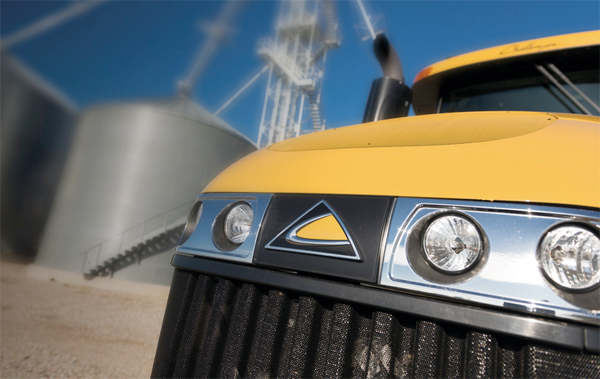 • Six cylinder, 8.4 litre Agco Power engines, developed specifically for agricultural applications with four valves/cylinder and common rail injection, and Generation 2, e³ Selective Catalytic Reduction (SCR) deliver up to 10%
fuel
savings• Mobil-Trac system transmits levels of drawbar power with minimal slip. Wide, long tracks create superb traction, which results in more work done in less time while protecting the soil • Durable 'poly mid-wheels', featuring bigger bearings, high capacity lubrication and sight gauges further extend working life • New belt designs increase track life and durability. Debris deflectors also prolong track life.Purpose built power The 8.4 litre capacity engines employ four valves/cylinder and common rail injection as well as the industry-leading Generation 2, e³ Selective Catalytic Reduction (SCR) system.SCR is now providing benefits to tens of thousands of owners of a wide range of tractors, combine harvesters and specialist applicators.The big benefit of SCR technology is it allows the engine characteristics to be set for optimum power, torque and economy, without making compromises to meet the exhaust emission regulations. Agco's tests reveal the new models consume up to 10% less
fuel
than their predecessors and running costs are further cut by longer, 400 hour service intervals. The new engines can also be serviced by all Agco Dealers.Starting with a 'clean sheet' design, Agco Power developed the engines with high power densities to meet the toughest challenges, with torque delivery matched precisely to the fluctuating loads of the most demanding equipment. On top of its unbeatable
fuel
economy, the engine is also light in weight and quiet in operation.The Mobil-Trac benefitChallenger is still the only tractor designed specifically for use on rubber tracks and the new MT700D Series continue to offer the unique Mobil-Trac system's benefits of unrivalled traction with low compaction.All new MT700D Series tractors are fitted with highly durable 'poly mid-wheels' as standard. Well-proven in extreme conditions, the wheels have a hard-wearing polyurethane working surface.These extend working life in harsh environments by offering high resistance to chipping and damage. The mid-wheels now also have new bearings that increase durability and are fitted with larger bearing cups that hold more lubrication oil. New, clear sight gauges offer a simple and easy way to check levels.Robust debris deflectors prolong track life by guiding soil and stones away from the undercarriage and ensure the belts are kept clean in work.All MT700D Series models are also fitted with new Challenger tracks. Depending on width required, these are available in General Ag specifications, which feature an extra inside rubber layer; as well as Extreme Agricultural and Extreme Application versions, which have two extra inside layers. General Agricultural and Extreme Application tracks also now use a larger diameter main cable.The exclusive Mobil-Trac technology is the product of 25 years' experience of leading track design, which provides huge benefits by spreading the load over a large footprint. This provides ultimate traction that increases productivity by pulling wider implements, faster allowing operators to make best use of
fuel
and establish crops in optimum conditions.At the same time the Mobil-Trac system spreads the load over a large contact area, which reduces ground pressure and cuts the risk of compaction. This protects the soil structure and helps improve crop root development and ultimately increases yield.Refinements increase durabilityChallenger is also introducing other refinements on the MT700D Series. Operators will also appreciate a slight change to the transmission, which involves recalibrating the hydraulic valves that change the gears and this improves comfort and control while shifting.Externally the biggest change is the new oval-shaped exhaust stack, which contains the catalytic converters. This novel design not only benefits the SCR system, but also helps improve forward visibility, presenting a smooth narrow exhaust pipe alongside a cab pillar. Up in the cab there's a new power strip that provides more connections for implement terminals, telephone chargers and other devices that need electric power. There's also an adjustable, intermittent wiper position plus the option of a factory-installed radio. A new ignition key also locks and unlocks the door on the Challenger MT700D Series, as well as other AGCO products.