As 86% of Welsh farmers have reported a decrease in farm business income, farm input costs have risen in the last six months according to reports. The costs of producing food - categorised under feed,
fuel
and fertiliser - has 'rocketed' and is impacting heavily on farm businesses across all sectors.97% of survey respondents reported a rise in feed costs over the last 12 months, 96% of farmers reported rising costs of energy and
fuel
and 83% reported a rise in fertiliser costs over the same period.And in a separate report, the overall inflation of 4.39% reflects a period of some instability, with significant increases in inflation seen for feed and animal health products (16.9%),
fuel
(11.2%) and seed (10.2%). The only area to have experienced deflation is machinery (-6.4%).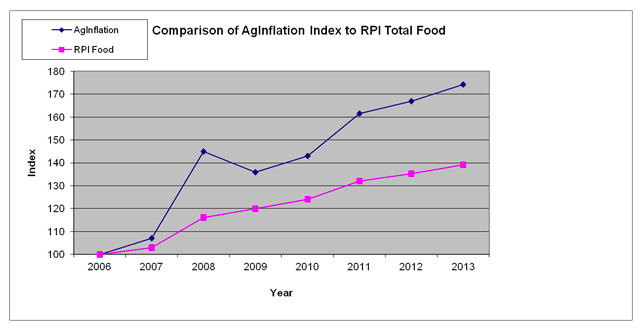 The figures show an increase from AgInflation of 3.38% recorded for the year from August 2011 to August 2012."Unfortunately the results of the survey will come as no surprise to the majority of Welsh farmers, particularly those farming in the uplands" said John Owen, NFU Cymru LFA board chairman. "The combined effects of increasing production costs on farms, continued low lamb prices and the repercussions of the extremely poor weather conditions that farmers have had to cope with over the last 12 months have left many upland farmers in Wales struggling to survive."Clarke Willis, AF Group CEO, said: "While the costs of cereal and oilseed rape production have risen, inflation has been lower than for other enterprises as fertiliser and chemical costs have both seen increases of less than 1%. The dramatic increase in the cost of potato production has been driven by the limited supply of potato seed following last year's very poor harvest.""The rising cost of
fuel
has affected all sectors and rising animal feed prices have caused significant increases in production costs for livestock and dairy farmers."Machinery is the only input to have experienced deflation in the last six months. Workshop labour costs have decreased and the price of genuine and non-genuine wearing parts has also fallen or remained static." John Owen said: "The Welsh Government's continued refusal to recognise the difficulties and constraints associated with farming in the hills and uplands of Wales is most regrettable." "With 80% of the agricultural land in Wales designated as LFA, these support payments have been critical in ensuring the continued viability of livestock farming in the uplands and have been a much needed source of income for many of our rural communities." "The loss of targeted direct support will come as a huge blow to our upland areas in 2013 and it's extremely sad that Wales will be the only part of the UK that does not offer dedicated and targeted support to its hill and upland farmers."