A farmer's wife has completed her mammoth 2,129 mile tractor journey from John O'Groats to Land's End.
Pauline Bennett, from Welshpool, Powys completed the impressive feat in just 15 days in a New Holland T6 Dynamic Command tractor.She set off from Welshpool Market in the tractor, donated by Hallmark Tractors, and drove up western England and Scotland to reach John O'Groats.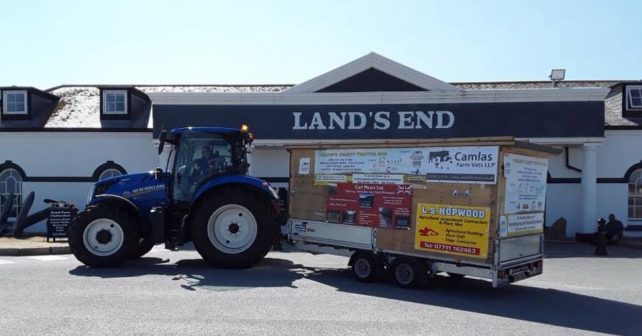 Pauline then turned back, and proceeded to drive down to Land's End before returning home to Welshpool.Along the way, she stopped by to visit her supporters, including a young boy who'd never been in a tractor before.Pauline said: "He was thrilled when I said he could get in the cab with his dad for a closer look."
A number of supporters also offered up their homes for Pauline to stay on her journey."I stayed one night on a big farm in Summercourt, near Newquay, curtesy of Steve and Nic Carlyon. Nic's father had done the John O'Groats to Land's End run on a 135 in 2004 in only 9 days, which prompted Nic to contact R.A.B.I and kindly offer me free bed and breakfast.She added: "I would like to take this opportunity to thank everyone for their support and kindness along the way. I have met some amazing people and seen some fantastic scenery. I have really enjoyed this trip of a lifetime."The
money raised
from Pauline's charity challenge will be donated to R.A.B.I, the British Heart Foundation, Cancer Research UK, and the Wales Air Ambulance.