A dismal week for the UK economy, but the markets put the skids beneath Sterling when talk of a date for the PM's European speech was first announced. The fact that the US wants the UK to stay in, and the PM is seen to have `kicked the can down the road', seems to have weakened £ further during the week, only to take another dive at the prospect of a triple dip recession! Weaker £ will increase the cost of imported raw materials, but the good side is that it makes our wheat exports more expensive. Oh, I forgot, the cupboard is already bare, we have no more exports really, and if anything may have to import
grain
to see us through to what we hope will be a harvest.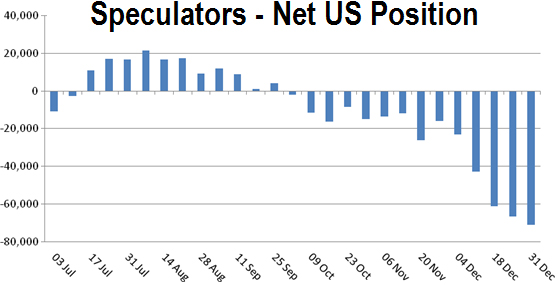 Demand for wheat in the UK remains firm, particularly from the industrial factories that process wheat, so much so that it is distorting regional prices. In a normal season a range around England of £2-3 would be normal, but that has spread to £7-8 as Cerestar and Ensus continue to pull large quantities of wheat to feed their processes. There has been much speculation about the impact of speculators on the market, as to whether they influence the market, exaggerate its movements, or on the other hand provide much needed liquidity.The jury will be out for some time to come, but the most recent market fall (seen above in green) was very much led by the shortening of speculator's positions for US wheat as the long Christmas holiday approached. UK prices had lifted to contract highs, effectively matching the cost of importing
grain
(at the end of the season) and some in the trade were talking that the price would continue to rise. Having achieved a `world price', when the speculators sold US grain, the US market dropped, and so did ours. This graph shows a strong correlation to the falling wheat price:UK wheat prices closed at last week's level for old crop, but new crop continues to rise, as worries continue regarding the crop that is supposed to be growing. Estimates suggest that only 75% of what would normally have been planted was planted by the end of last year. Winter wheat can be planted up to the end of January, but after that, spring varieties perform better – but spring varieties are all but sold out. With farmers reporting significant damage to the planted crop from slugs and water, there is concern as to where the wheat will be coming from, as some farmers may only be able to plant poorer performing winter wheat varieties. One unofficial pole of arable farmers this week estimated that harvest 2013 may yield less than 10 million tonne, whereas in a good year we harvest 16 million, and 2012's dismal harvest yielded 13 million. Surely things will improve that figure…..?Soya prices are marginally higher than a week ago, responding to the dual impacts of weather in S America, and confirmation of China's increasingly rapacious appetite for soya. 2011 – China imported 52.5mln tonne, 2012: 58.4, 10% more, the UK, by comparison, imports circa 2mln T, and that is a pretty constant figure). Conditions have been dry in Argentina and Southern Brazil, and with such large crops required, any reduction in potentially record crops would not be advantageous. One importer has at last released prices for May onwards for NonGM, but there will not be enough to satisfy current UK demand, and is already at a significant premium.