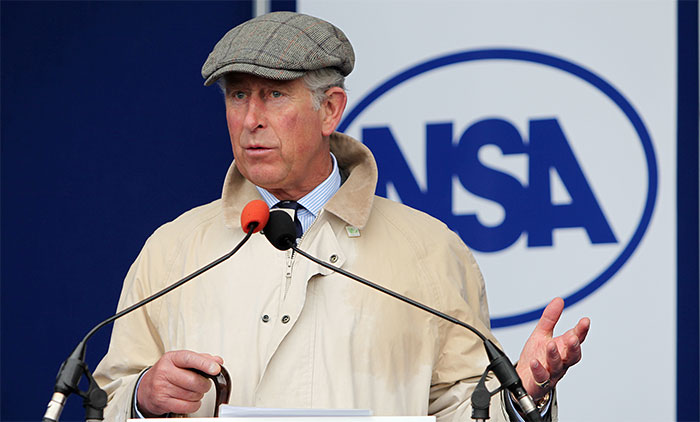 The National Sheep Association has announced the Prince of Wales as the winner of the 2012 George Hedley Memorial Award, which is presented annually to recognise an individual for their outstanding contribution to the sheep sector.
John Geldard, NSA Chairman, says: "We are absolutely delighted to name HRH The Prince of Wales as a deserving recipient of this prestigious award. In its 52-year history the George Hedley Memorial Award has recognised a wealth of great people who have made incredible contributions to the industry, and it is a pleasure to add a member of the royal family to that list for the first time.
"No other individual can be said to have such a holistic approach to supporting the sheep sector as the Prince of Wales.
"Be it his patronage of the Rare Breeds Survival Trust, various breed societies and industry organisations, his instigation of the Mutton Renaissance Campaign, forming the Campaign for Wool or championing young people through the Prince's Countryside Fund, his passion for the sector and upland sheep farming in particular is abundantly clear. Through all his initiatives he has sought to add value to our meat and wool to ensure better returns, but also raise the profile of our sector and demonstrate the environmental and wider benefits of sheep farming to the rural economy.
"The Prince of Wales' support of both rare breeds and young people shows he values the need to protect traditional ways of sheep farming but also strengthening our industry for the years to come. Similarly, he has been there as a helping hand in times of crisis but equally encouraged the sector to look forward and innovate to ensure its future viability."
The winner of the George Hedley Memorial Award is voted for annually by NSA representatives, following nominations from a number of committees, organisations, breed and show societies involved in the sheep sector. HRH the Prince of Wales will be presented with his award later in the year.
Reflecting on this year's winner, David Pittendreigh, NSA Wales/Cymru Chairman, says: "HRH The Prince of Wales has a long-held commitment to British agriculture and upland sheep farming in particular.
"His Farmers Marketing Initiatives are just one example of this and, in Wales, the Cambrian Mountains Initiative exemplifies his passion for supporting the rural community where sheep farming is at its heart. Through developing a brand and hosting meetings for farmers with major customers he has helped to develop Cambrian Mountain lamb as an exclusive, added value product.
The breadth of his passion for the sheep sector and the number of initiatives he champions show why he is such a deserving winner of this award."