Growing financial pressures coupled with a lack of prospects are pushing more European dairy farmers to commit suicide.
Farmers are concerned after news reported that a French dairy farmer took his own life last December.Those in the industry have launched a campaign to encourage farmers to write to their agriculture ministers in their own country.President of French milk producer association APLI said farmers are 'running out of steam'."We work round the clock but are still unable to live off our work," said Boris Goudouin."Debt is a system that forces us to keep producing more and more but at the end of the day, we are left with nothing."
A statement on the UK based YANA (You Are Not Alone) website says: "Farming is usually a good way of life but it is a demanding and stressful occupation."So it's not surprising that many people involved with agriculture can feel isolated, depressed or unable to cope as well as normal.""Those who work in agriculture are often reluctant to seek support for depression, stress or anxiety. However, talking about your problems and seeking appropriate help can make it easier to cope and improve your quality of life."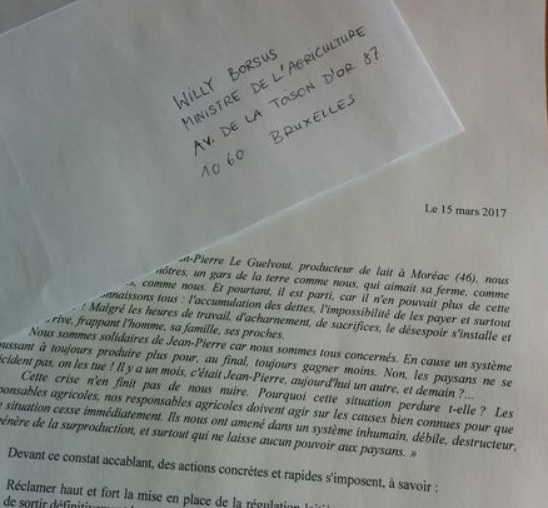 'Overproduction'
According to the agricultural social insurance MSA France, the suicide rate among French farmers is especially high.APLI started a campaign to send letters to the French Minister of Agriculture Stéphane Le Foll in late January. These letters, signed by farmers and citizens, demanded specific measures to help French milk producers.
Milk producers from other European countries are currently sending letters to their own national agriculture ministers.The system of 'unbridled liberalisation and overproduction' must come to an end, stressed Mr Gondouin. "We need a European regulatory system for the dairy market to pull European dairy production out of the crisis and keep it out."The EMB's Market Responsibility Programme takes this approach to the logical next step and must finally be legally established."In the UK, the charity organization
YANA (You Are Not Alone)
works to help depressed farmers. They have GPs, counsellors and people who know what it's like to farm - the number is 0300 323 0400. The
Farming Community Network
also helps farmers and their families.