The agility and
fuel
efficiency of his new tractor impressed Will Hornsby during the silage-making campaign last year – and it impressed his friends and neighbours too!The 83hp Landini Powerfarm 90DT was used for leading silage alongside a couple of bigger tractors – and despite hauling a 12 tonne trailer versus their 8 tonne units, the little Landini ran in and out of tight farm yards quicker and used a lot less fuel, he says.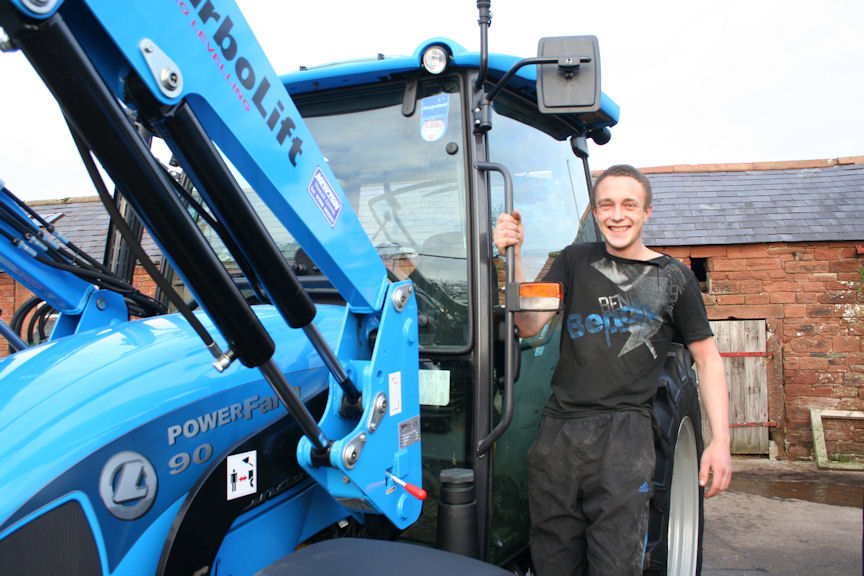 According to Tony Blackburn of Newton Trailer Centre, the Landini sales and service dealer at Newton Reigny near Penrith, Cumbria, the Powerfarm has a deserved reputation among stock farmers for being a 'bulletproof' tractor with a strong reliability record.
"Will Hornsby's experience also shows what a capable tractor it is," he adds. The Powerfarm 90 is the second example of the Italian-built tractor to enter service at Rose Farm, Aldoth near Abbeytown, where Will Hornsby is taking on more responsibility for the 130-acre unit and its livestock."We grow mostly grass for the 50-cow suckler herd and the calves we sell as six-month old stores," explains Mr Hornsby. "We also run 100 lambing ewes – Suffolk and Beltex/Texel crosses, grow barley for stock feed, and also potatoes for local sale."His first Powerfarm – a 92hp example – was bought used and has run up only 2100 hours in its 10 years; it is kept in very tidy order. The tractor performed well enough for Will Hornsby to go for a new Powerfarm 90 last year, complete with Landini TurboLift loader.Now with around 400 hours on its record sheet, the tractor bales silage and produces around 12,000 small hay bales for a neighbouring contractor, in addition to helping out leading silage from a forage chopper."It's really handy in a small farm yard and used only 45-litres of diesel on a day's silage leading, which customers really like when they're supplying the fuel," says Will Hornsby. "It pulls well too and it's simple to use – that's useful when you've got people coming along to help out – and both tractors have been reliable."Mr Hornsby's commitment as the fourth generation involved in the family farm has prompted investment in new buildings and a refurbished farmhouse. He is looking forward to further good service from his Landini tractors and from the team at the Newton Reigny dealership as he takes the farm business forward.