Farmhouse kitchens will be filled with mouth-watering smells as part of the annual Farmers' Union of Wales campaign of support for locally-produced Welsh food during this year's Farmhouse Breakfast Week (Sunday January 26-Saturday February 1).The union has organised a host of events, ranging from hearty breakfasts in Snowdonia farmhouse kitchens to a prestigious lunch at the House of Lords, that start with a Welsh buffet breakfast next Tuesday (January 14) at the National Assembly's Senedd building in Cardiff Bay.At Parc, near Bala, the union's Meirionnydd county branch will hold a Welsh breakfast event on Monday January 27 (from 10am to 1pm) at Ysgol y Parc which, since its closure as a school, is being used as a community centre. The function will be hosted by FUW members Olwen and Nia Davies, of Ty Cerrig, Parc.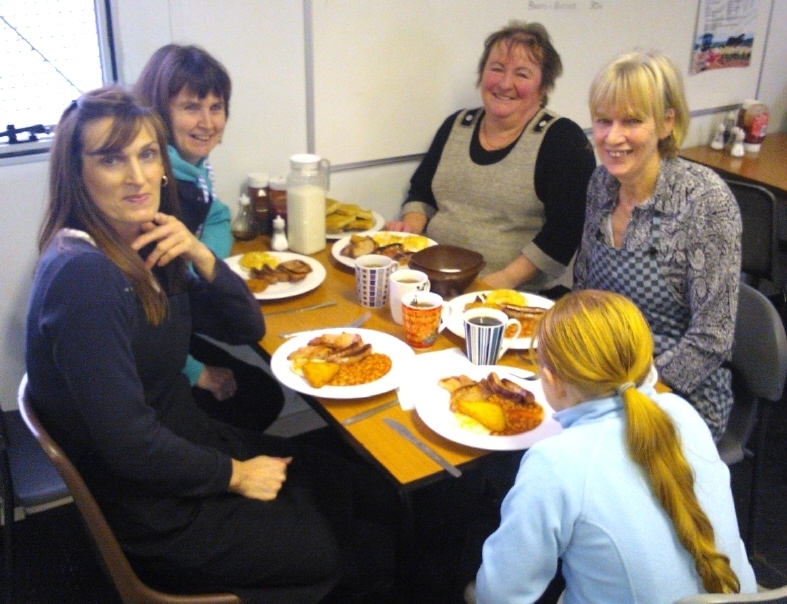 The branch has also arranged a breakfast event for Friday January 31 (8am and 11.30am) at Mr and Mrs R J Breese's farm, Gogarth, Pennal, that local AM Dafydd Elis-Thomas is expected to attend.And FUW's Flintshire branch has organised a breakfast function on Saturday February 1 at Cilcain Village Hall, Cilcain, Mold, hosted by Mrs Fiona Faire who can be contacted on 01978 790240. The various events will highlight the union's enthusiastic support for the Farmhouse Breakfast Week campaign organised since 2000 by the Home Grown Cereals Authority (HGCA).Between January 26 and February 1 breakfasts will be held on a total of eight farms in Caernarfonshire and Denbighshire and another at Bryncir livestock market's cafe.The FUW's annual breakfast functions at the Senedd, House of Lords and European Parliament in Brussels are sponsored by the Welsh Government, Welsh red meat promotion agency Hybu Cig Cymru and E.ON.FUW president Emyr Jones said the union is a keen supporter of HGCA's campaign to raise awareness of the benefits of eating a healthy breakfast and demonstrate the rich variety and quality of breakfast foods available in Wales and the rest of the UK."It's great to see so many members joining us in promoting farmhouse breakfast week this year and I am sure the breakfasts served up in every farmhouse kitchen taking part will fill the air with a delicious smell that will get everyone's taste buds excited."In the UK one in four people skip breakfast during the week and as many as one in six adults never eat breakfast even though experts claim it is the most important meal of the day and plays a key role in helping tackle obesity."The NHS also says eating breakfast has long term health benefits and can reduce obesity, high blood pressure, heart disease and diabetes."The theme for HGCA's campaign 'Shake Up Your Wake Up' encourages us to make small changes to our morning routine to make sure you have time for breakfast every day!"It is all about showcasing the most important meal of the day in a bid to raise awareness of the health and nutritional benefits of breakfast and the huge variety of top quality farm produce available in Wales - ranging from bacon, sausages and
eggs
to speciality dairy products, breads and cereals."During the Senedd breakfast natural resources and food minister Alun Davies will launch Farming Connect's Agri-Academy 2014 and representatives of a wide cross-section rural organisations in Wales will tuck in to a hearty early-morning platter.Mr Davies said: "I am looking forward to sampling some great Welsh breakfast produce at this year's Farmhouse Breakfast. I've been working to support and promote Welsh food and produc."Last month we published a new action plan to drive growth and I've put that commitment into action immediately by leading a trade mission to the new and growing markets for Welsh lamb and beef in the US and Canada. "The breakfast event is an excellent opportunity to promote Welsh food and farm produce at home and meet with people from the farming and rural community to discuss the key issues affecting them."While at the breakfast, I am also launching the Agri-Academy for 2014 which provides advice and support to budding farming entrepreneurs and rural leaders in Wales."The FUW's Caernarfonshire county branch breakfasts - with proceeds shared between Mr Jones' chosen charities Ty Hafan and Ty Gobaith children's hospices as well as Gwynedd Hospitals Breast Cancer Research Fund - will be held on the following days between 7.30 and 10.30:Monday January 27 at Ty'n Hendre, Tal-y-bont, Bangor (Mrs Anita Thomas - 01248 362 871);Tuesday January 28 at Towyn, Tudweiliog (Mrs Daloni Metcalfe - 01758 770 600);Wednesday January 29 at Glyn Uchaf, Tynygroes, Conwy (Mrs Ifora Owen - 01492 651 267);Thursday January 30 at Penfras Uchaf, Llwyndyrys (Mrs Eleri Hughes - 01758 750 254);Friday January 31 at Caffi Anne's Cafe, Bryncir Mart; Friday January 31 at Dylasau Uchaf, Padog (Mrs Eleri Roberts - 01690 770 215); Saturday February 1 at Pengelli Isaf, Caernarfon (Mrs Menna Parry - 01286 673 232).FUW Denbighshire breakfasts will be held on:Monday January 27 at Pontruffudd, Bodfari, Denbigh LL16 4BP (Mrs Eirlys Roberts - 01745 710245); Thursday January 30 at Hendrearddwyfaen, Ty Nant, Corwen LL21 0RG (Mrs Nan Owen - 01490 420396).