Farmers looking to purchase new or updated sprayers or catch up with the latest spraying technology have an unrivalled opportunity to do so at Cereals 2014.Over 40 exhibitors will show the latest developments in the specialist Sprays & Sprayers feature at the event, while 50 of the latest self-propelled, mounted and trailed machines can be seen running in the Sprays & Sprayers Arena, in association with Syngenta.Ben Magri, Syngenta's application specialist, says as well as gleaming new machines there is a mass of innovation on hand designed to improve spraying results.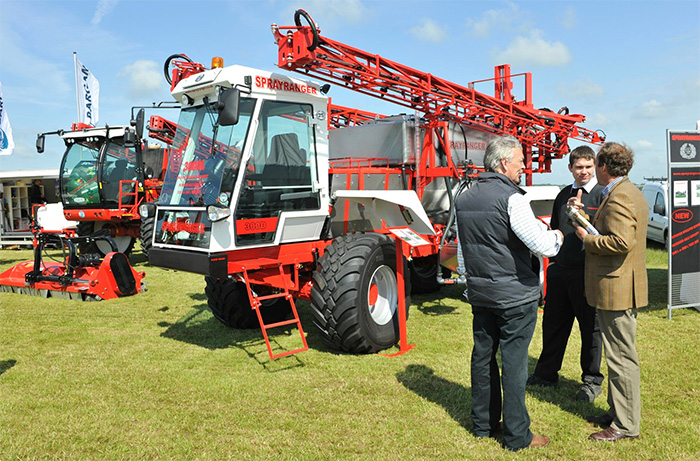 "Comfort, ease, efficiency and accuracy are just some of the watchwords," he says. "Automated record keeping using the sprayer's computer is moving on apace, and look out for improved quality of sprayer cabs and rinsing systems on sprayers. Variable rate application is now taking off, so it is well worth spending time at Sprays and Sprayers looking out for features which facilitate this."Amazone's Pantera 4502 self-propelled sprayer is being demonstrated at Cereals for the first time. It offers increased output and driver comfort with Category IV cab filtration to keep even aerosol-sized particles out of the cab. A larger 4800-litre tank and the new 218hp, emissions-friendly Deutz engine offer increased performance. It offers self-steering, and cleaning, filling, washing and mixing is simplified or automated using electronics. Data transfer for documentation, field boundaries and variable rate application is via ISO-XML files to a USB stick.John Deere's new mid-specification M-Series trailed sprayer range makes its working debut in the Sprays & Sprayers arena. M700 sprayers have 2400, 3200 or 4000-litre tanks, and are equipped with a triple-folding 30m boom, to match 6m seeders or drills.The larger M900 sprayers share many features with the range-topping R900i trailed machines, including high-capacity filling performance using the PowrFill chemical inductor, 5200 or 6200-litre tank capacities and steel booms from 24 to 40m.Both the M700i and M900i sprayers are ISOBUS ready and include automatic boom height and tilt control and documentation software. Automatic tractor steering and
GPS
boom section control are available.Leeb's novel BoomControl Pro system can be seen at Cereals on Horsch's stand. The hydraulically proportional control offers smooth and exact positioning, keeping the boom very close to the target area even at high speeds and on hilly terrain, says the company. The Leeb range of trailed and self-propelled sprayers have 6000-8000-litre tanks capacities and 21-36m boom widths.Agrifac's Condor Endurance sprayer is a bigger version of the company's self-propelled Condor, using the same StabiloPlus chassis for vehicle and spray boom stability. That allows high speeds, which together with its 8000-litre tank and a boom width of up to 51m delivers very high capacity. It is fitted with a powerful 320hp engine and has hydraulic track width adjustment.Another Agrifac newcomer is the Condor MountainMasterPlus. Ground clearance can be adjusted between 140 cm and 200 cm from the cabin and the machine can level on slopes up to 20%. Two special edition trailed sprayers will be revealed on the Vicon stand. The iXtrack Comfort 2800 is a 24m sprayer with 2,800-litre tank that includes Autotrac axle steering, parallelogram boom suspension with slope correction and electro-hydraulic sprayer controls.The iXtrack i-Spray 3600 has 24m aluminium boom and 3,600-litre tank and includes Isomatch Tellus ISO terminal, boom section control, in-line driving guidance display as well as auto height control. Team's upgraded Leader 3 trailed model includes a new 7m radius steering drawbar system, improved coil sprung suspension and a range of options including boom re-circulation,
GPS
nozzle switching and a range of low drift air-inclusion spray tips. Four capacities are available from 2500 to 4000 litres and booms range from 18 to 32m. Variable boom geometry and computerised spray rate control are optional.Knight Farm Machinery's sprayer line-up at Cereals 2014 will include several technological advances. Self-propelled sprayers with engines above 175hp are now available with EU Stage 4 (US EPA Tier 4) Final engines. The company is also offering Category 4 cab filtration on its SP sprayers, giving drivers the highest standard of protection against hazardous substances. Micron Group is introducing its Tank System 1200L, which comes with an induction hopper, hand wash and rinse tanks and a hydraulic pump. Its bigger sibling, the 1800L, incorporates 1050 and 750-litre liquid reservoirs with independent spray systems, hydraulic centrifugal self-priming pumps and induction hoppers with agitation and rinse facilities.Berthoud is rolling out its EC Tronic controls to its trailed 3200-litre Tracker and mounted Elyte ranges. The control panel displays key information on a large backlit colour screen to ensure efficient spray application. EC Tronic also incorporates boom control and sprayer set-up and stores key data for total traceability. Auto guidance and
GPS
controlled auto-boom shut-off are options.Martin Lishman has developed a 350-litre demount sprayer for use on utility task vehicles. It is powered by the UTV's 12V power supply and includes a three-section balanced valve block with pressure regulation, isolator for each section and an agitation system that can be run during filling. A 4m three-section folding boom with PVC spray lines and individual shut-off nozzles is included as standard.
Nozzle technology
Pentair Hypro is showing its new pneumatic twin-valve nozzle body to fit new crop sprayers. Called Duo React, the system combines a single outlet and a four-way turret in one compact unit, allowing easy in-cab nozzle switching for different spray characteristics or application rates. This, says the company, provides the simplicity of a single sprayline with the versatility of twin spraylines. Pentair Hypro will have a live demonstration unit on their stand. In addition, several manufacturers will have sprayers fitted with the system. Sands Agricultural Machinery has units in the field and Knight Farm Machinery will exhibit a 2050 self-propelled sprayer at the Cereals Event equipped with Duo React nozzle bodies. John Deere's high-specification M900i and R900i Series trailed sprayers will be fitted with the new system as an option. The company is calling it TwinSelect.Aeros 9040, the new field computer from TeeJet Technologies, integrates a host of data, including precision guidance, auto-steering, mapping, variable rate application and automatic boom section control, into a single package.It features a bright 8.4" colour touch screen and accepts input from up to eight RealView cameras. The system also features a new droplet size monitoring function, ISOBUS UT capability and wireless data transfer. Lechler is presenting its latest nozzle, the ID3. It uses the Venturi injector principle like the ID and IDN series, optimizing droplet spectrum and the nozzle can be used from 2 to 8 bar. Output can be doubled with little change in droplet size, allowing changes in application rate and/or speed without changing nozzles.Lechler is also showing its PRE 130-05 pre-emergence nozzle, which was developed with Syngenta, offering 95% drift reduction at 1-5 bar. Cereals 2014 takes place on 11th and 12th June at Chrishall Grange, near Duxford, Cambridgeshire. Tickets cost £23 each (£19 for students) and are available at www.cerealsevent.co.uk Visitors qualify for 2 NRoSO points and 3 BASIS points for attending either day. In addition, there is the chance to earn additional points throughout the event.