Dairy-Tech is a dairy event tailored for the new generation of dairy farmer, manager and technician.
Our second Dairy-Tech in February continued to showcase ground-breaking technology; inspired uptake of the latest science and field-based skills, introduced a fresh range of innovative products and services and pioneered new global concepts in management efficiency. The event saw over 50 new products showcased across the show floor and diverse and dynamic speaker programmes on the Innovation and Dairy Hubs.
Due to the transformation in the dairy industry over recent years it is becoming increasingly apparent that farmers need to be competitive, and irrespective of their system type and market they supply, they need to match both to their available resources and milk contract.
Regardless of their cost base, future successful dairy businesses must be informed, resilient, proactive and efficient; Dairy-Tech provides this platform, alongside a recognition that dairy farming has become a professional industry.
Dairy-Tech will showcase a fresh show that recognises the pressing needs of the modern dairy professional, allowing them to gain maximum exposure to new and exciting industry innovations relevant to their business, despite a large variation in cost base and system.
CLICK HERE TO BUY TICKETS FOR DAIRY-TECH 2020
Why Visit?
Visit Dairy-Tech for unique opportunities to existing routes of knowledge. The event will provide the necessary environment for any dairy professional to gain the exposure they need to the latest gadgets, tools, science, skills, products, services, methods and advice, to increase the sustainability and profitability of their dairy business.
The event will host top international speakers who will reflect on how other countries overcome potential problems and how UK dairy farmers can apply this knowledge. There will be interactive product testing and practical demonstrations, including innovations that are yet to be widely applied and adopted in this country's dairy farming practice. Visitors will also be able to broaden their knowledge of the industry at technical seminars and industry debates, both of which will be a prominent feature at Dairy-Tech.
Revolutionary learning in the form of technical seminars, technology and training hubs and technical demonstrations will broaden visitor horizons and assist them in improving their dairy business profitability whilst discovering new business and career paths.
Get the most out of your visit with our 'Personalised Itinerary Service'
CLICK HERE TO BUY TICKETS FOR DAIRY-TECH 2020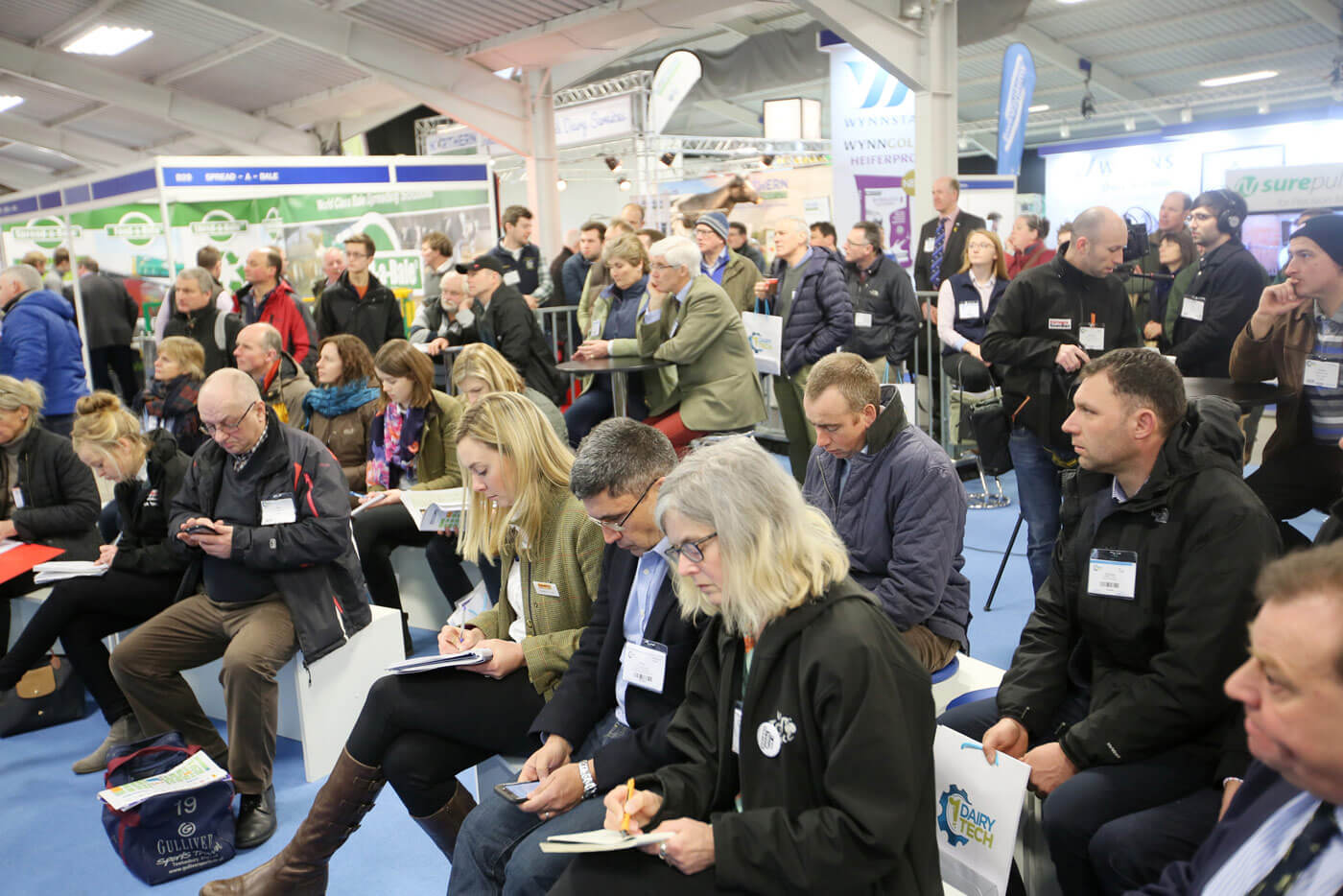 What's On?
To ensure visitors utilise their time at Dairy-Tech the event will be comprised of four key areas including; science, technology and innovation; business efficiencies; practical solutions and a machinery and innovation hall. Dairy-Tech is a unique event concept within the industry and is aimed to drive business profitability through performance, innovation and technology.
There will be a variety of new products featured throughout the show floor with all of the supply chain welcome to exhibit. Companies are invited to exhibit to help farmers and their businesses become more efficient, sustainable and profitable through the use of the products, services and advice on offer. Exhibitors and visitors can expect to see a fresh range of innovative products and services and pioneering new global concepts in management efficiency. There will also be the chance to try out the latest technology, hear from international speakers and see exciting new products that could change the face of dairying.
Exhibitors will be present in all four areas of the show and we will be ensuring that any companies with a particular relevance to a specific area are prominent in this section to maximise traffic to the stand.
• The science, technology and innovation area will be located in Hall 1 and will be home to the Innovation Hub – a presentation seminar packed full of short, dynamic and tech-focused speakers.
This area will see dairy farmers being pushed forward with new thinking and ideas. Make sure you pay a visit to learn how to adapt and apply inspiring outlooks and new concepts to your business.
•
Business efficiencies will be based in Hall 2 – this will be an area focusing on the key elements required to run a sustainable and profitable business. The Dairy Hub will be based in this hall, adjoining the RABDF stand, with a high profile line up of speakers scheduled to present on the key topics
Here you will able to visit all of your semen, feeds, banks, milk recording companies and all other exhibitors that are best placed to help you find solutions to the current problems and issues affecting the dairy industry and its farmers.
•
Our practical solutions area will be housed in Hall 3. This is also where you will find our Skills Studio – the one-stop-shop for students and new entrants into the industry and those looking to develop their skills.
•
The machinery and innovation hall will be new for 2020 and will replace the outdoor area – this hall will showcase the latest tractors and kit available to farmers and also house a number of live demonstrations including foot trimming and thermal imaging.
CLICK HERE TO BUY TICKETS FOR DAIRY-TECH 2020