Strefford Hall Farm
Property Address: Strefford Hall Farm, Strefford, Craven Arms, SY7 8DE
Property Type: B&B
Price Range: £30 - £36
Email: Click here
Email: 57 + 40 =
Email: strefford@btconnect.com
Shropshire

Property Images :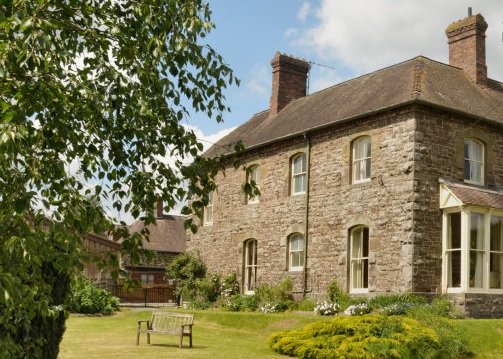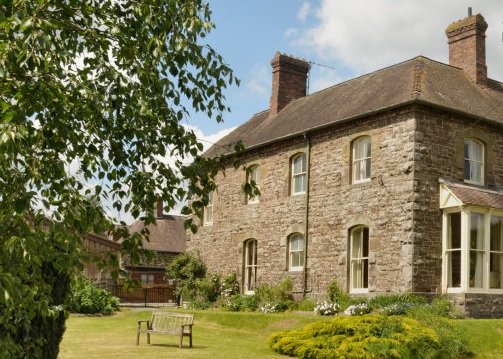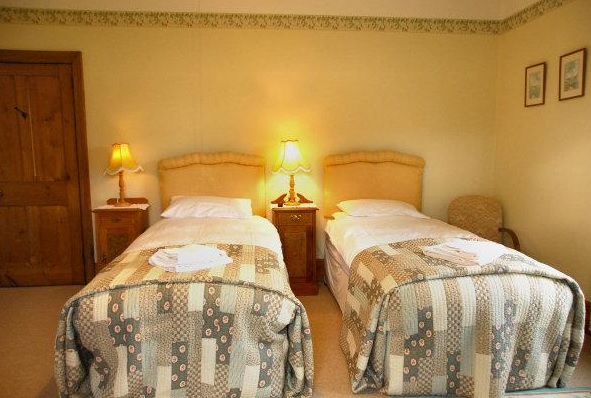 Property Description :
Owner: Caroline Morgan
Tel: +44 (0)1588 672383
Strefford Hall Farmhouse offers rural bed and breakfast accommodation in our large, spacious rooms, furnished with antique furniture.
We are inspected annually by the AA and have been awarded a 4 Star Quality Assurance Rating.

As you enter the quarry tiled entrance hall you will be welcomed by the ticking of the grandfather clock.

Double Room Here you will find a wealth of books and local maps for you to borrow.

A beautiful Victorian pine stairway leads up to the upper floor and the bedrooms.

The Bedrooms
Our three bedrooms offer a choice of:

King Size Double / Twin •Double
•King-size double
(which can be divided to make twin beds)
•Family - double with an additional single bed
All three rooms are en-suite with wonderful views across the fields towards the South Shropshire Hills.

All rooms are equipped to a high standard, featuring:

Family - Double plus Single •Duvets (blankets available on request if preferred)
•Colour TV
•Tea & coffee making facilities
•Hair dryers
•Toiletries
•Soft towels to hand.
Guest Facilities

Sitting Room You are also very welcome to relax in our warm and comfortable sitting room.

Our sunny dining room is a great place to start your day.

Enjoy our excellent breakfasts, prepared using home-made sausages, preserves and eggs from our happy free-range hens.

For evening meals there are a selection of pubs and restaurants close by.

Dining Room We are also just ten miles away from the gastronomic delights of Ludlow, renown throughout the UK for the quality of its eating establishments.

Ample off-road Car Parking is available for guests.

Strefford Hall Farmhouse is non-smoking.


Things to see and do in Shropshire :
Charles Darwins Birthplace
The Mount was built by Dr Robert Darwin in the 1790's on a fine site overlooking Shrewsbury and has remained largely unaltered to the present day. This house was Charles Darwin's home during his school and college days and the place to which he returned from his famous voyage round the world on HMS Beagle.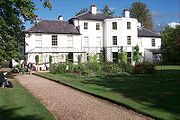 One of the world's most eminent scientists, it was at Down House that Darwin lived with his devoted family for 40 years, and it was here he researched and wrote his most famous and explosive of works, On the Origin of Species.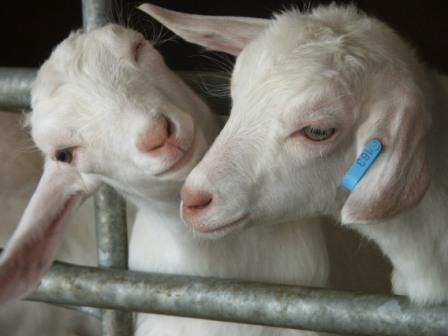 Once inside Hoo Farm there are lots and lots of activities to take part in.
Ludlow Castle is a large, now partly ruined, non-inhabited castle which dominates the town of Ludlow in Shropshire, England. Construction of Ludlow Castle began in the late 11th century as the border stronghold of one of the Marcher Lords, Roger de Lacy.

Admission is free to the museum in the West Midlands, which houses 70 aircraft and is home to War Planes, Missiles, Transport & Training and Research & Development collections. The National Cold War Exhibition with its interactive kiosks and hotspots gives visitors a chance to see what life was like behind the Iron Curtain.
The Abbey of Saint Peter and Saint Paul, commonly known as Shrewsbury Abbey, was a Benedictine monastery founded in 1083 by the Norman Earl of Shrewsbury, Roger de Montgomery, in Shrewsbury.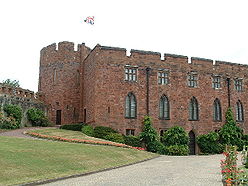 Shrewsbury Castle is a red sandstone castle in Shrewsbury, Shropshire, England. Its location is on a hill situated on the neck of the meander of the River Severn which the town originally grew up in. The castle is situated directly above Shrewsbury railway station. In 1138, King Stephen successfully besieged the castle held by William FitzAlan for the Empress Maud during the period known as The Anarchy.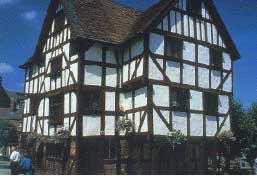 Shrewsbury Museum and Art Gallery
Shrewsbury Museum & Art Gallery at Rowley's House occupies two adjoining buildings, one of which is timber-framed (originally built as a merchant's warehouse in the 16th or early 17th Century) and the other a stone and brick building built around 1618 (the mansion of the merchant William Rowley). The buildings are among the finest in Shrewsbury.
Shropshire Hills area is designated as an Area of Outstanding Natural Beauty (AONB), in the English county of Shropshire, close to its border with Wales.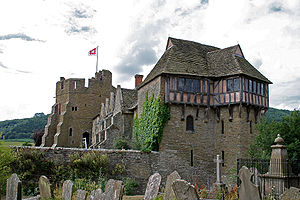 Stokesay Castle, located at Stokesay, a mile south of the town of Craven Arms, in southern Shropshire, is the oldest fortified manor house in England, dating to the 14th century.
The Iron Bridge crosses the River Severn at the Ironbridge Gorge, by the village of Ironbridge, in Shropshire, England. It was the first arch bridge in the world to be made out of cast iron.