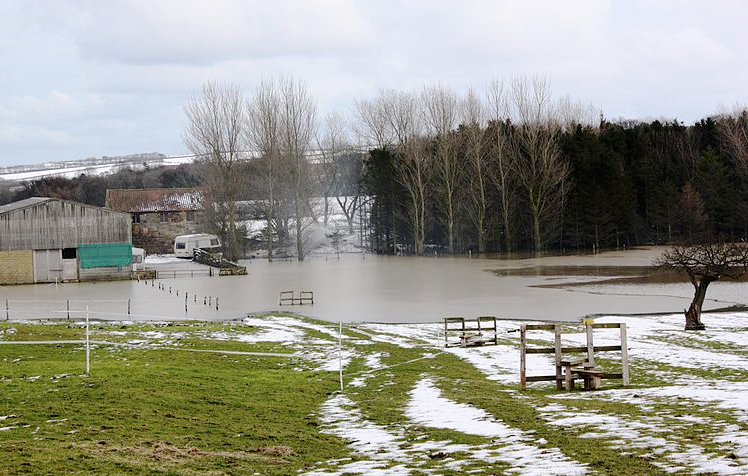 More than 64,000 homes will be better protected from the effects of flooding after 93 new flood defences were given the green light to start construction this year.
With £294 million to be invested in flood risk management this year, 165,000 homes are now expected to be better protected by 2015.
But despite an additional £120m for flood defences announced last autumn, many believe that long standing budget cuts have seen river maintenance reach 'an all time low'.
The Country Land and Business Association said the investment continues to 'discriminate against rural areas'.
"The new funding process has failed to deliver a complete overhaul of prioritisation techniques, cost benefit valuations and discounting assumptions for land" said CLA President Harry Cotterell.
"Placing limited value on agricultural land and buildings compared to more urban residential properties limits the scope for rural flood defence projects to achieve favourable cost benefit outcomes."
"The Government must redress the balance by reviewing the process alongside rewriting the Treasury Green Book guidance in relation to flooding."
The Chartered Institution of Water and Environmental Management said increased investment was needed to combat the damage of floods.
They called for a more effective partnership between farmers, government and the Environment Agency to protect agricultural land from flooding.
"While belt tightening is part and parcel of life at present, there are some areas that must be protected – investment in sustainable flood infrastructure is one such area" said CIWEM Executive Director, Nick Reeves.
"Failure to invest in infrastructure and manage the risks of flooding in a sustainable, realistic way will lead to continued loss of life and property, extensive damage to the UK economy and ongoing misery for millions of people."
NFU Deputy President Meurig Raymond said it was critical that the Environment Agency and Defra put far more funding into maintenance budgets and that Defra policy re-balanced the weighting for flood defence spending to give greater consideration to high value farmland.
"The 93 schemes given the green light today will bring huge relief to tens of thousands of homes and businesses that have lived with the fear of flood waters hitting their doors" said Environment Secretary Owen Paterson.
"They can get on with their daily lives and work knowing that there are well built defences."
"This is also a message to the business community. By building defences that will unlock the economic potential of once blighted land we are saying to them that it is safe to come and set up. This will create jobs and grow the economy so we can compete in the global race."
Chief Secretary to the Treasury Danny Alexander, said: "The Government is getting on with building better flood defences across the country. We're protecting another 165,000 homes by 2015, providing security for homeowners and businesses alike."
"Extra funding that we announced at Autumn Statement to boost growth is already being allocated to areas where flood defences will unlock new development and job opportunities, creating a stronger economy and a fairer society."
The flood defence schemes announced today bring the total of partnership funding contributions to £148 million.
These contributions, from local councils, businesses and private investors, are in addition to the Government's investment.
The increase in external investment has been made possible by the partnership funding model introduced by Defra in 2011 to allow more schemes to go ahead.
"And while the capital budget has been given an additional £120m, in the main for defence projects, we have heard today that the Environment Agency is expected to have £49m less over the next few years to spend on essential things such as maintenance. This is nonsense and has to be reversed" said Meurig Raymond.
"Farmers are saying quite clearly that they are prepared to look after rivers and undertake additional drainage on their farm but they are prevented by additional regulations aimed at protecting habitats. Surely we can do both?"
The Association of British Insurers' raised concerns about the significant risk, which could lead to those within areas identified at greatest risk likely to find the level of future premiums to insure against flood risk unaffordable, if insurance is available at all.
With increased frequency and severity of flooding, the viability and future of communities where property cannot get insurance would be in question, causing whole communities to be potentially lost.
Where uninsured communities are affected, it is often the local authorities who provide the response to flooding and subsequently reclaim their expenditure from the Treasury.
"Our partnership funding approach is a clear success, bringing in £148 million on top of our £2.3 billion investment so that more flood defences can be built" Paterson said.
"We now expect to protect 165,000 homes and businesses from flooding by 2015, exceeding our previous goal by 20,000."
The partnership funding approach targets Government support towards the most at-risk and deprived communities and gives local people greater choice about levels of local flood protection.
In the past, communities held out for full Government funding when there was little or no prospect of it being available.
The partnership funding model clarifies what level of investment communities can expect from the taxpayer so that they can find cost savings or secure funding from other sources to allow schemes to go ahead.
Lord Smith, Chairman of the Environment Agency, said: "Our priority is to do as much as we can with every pound of funding and the new partnership funding approach is bringing in new money to allow flood defences to go ahead that would have been unaffordable in the past. We now expect to improve protection for 165,000 properties by 2015."
"With one in six homes in England at risk of flooding, we would also encourage people to take their own steps to prepare for flooding, for example by signing up to the Environment Agency's free flood warning service."