A wide range of new Massey Ferguson tractors, combines and equipment will be making its UK debut at the LAMMA show on January 16th and 17th 2013 on AGCO's stand, which is twice the size as last year."Massey Ferguson is increasing its share of the UK tractor market," says Ben Agar, Manager, Marketing Services UK and Ireland. "There is high demand for the latest MF 7600 Series, which is building on the success of the well-respected models in the MF 6400 Series and MF 7400 Series. And a new flagship model, the MF 7626, will make its UK debut at the show."Further down the range, the four latest models in the MF 5400 Series have proved extremely popular, again increasing our share in this important sector.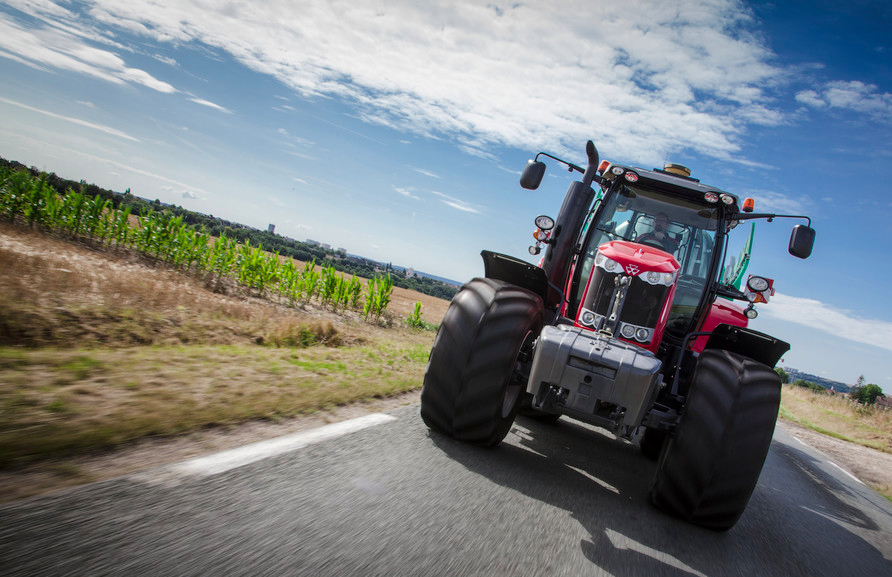 At LAMMA 13 Massey Ferguson is introducing a whole new range – the MF 5600 Series that, with powers from 85hp to 105hp (max), set the new benchmark for loader tractors and introduce some radical new features," he adds.The wet harvest experienced across most of the country this season showed robust, straightforward drum and concave and straw-walker technology offers the versatility to work well, even the most difficult conditions. Massey Ferguson ACTIVA and BETA combines not only handled the testing conditions well, but did so producing an excellent sample with minimal losses and good straw quality.At LAMMA Massey Ferguson is showing, for the first time in the UK, the new Skyline cab for the MF BETA combines. Specified to the highest standards, this advanced and spacious operator workplace is also equipped with the very latest touch-screen terminal for optimum control.
New from Massey Ferguson at LAMMA 13• MF 5600 Series introduces three new tractors from 85hp to 105hp (max), powered by new AGCO POWER three cylinder engines with Dyna-4 Eco transmission, brake-pedal activated transmission to neutral, new spacious high comfort cab, higher hydraulic output and unique features to enhance loader applications.• Flagship MF 7626 – 280hp (max with Power Management) heads the MF 7600 Series. Light new model powered by latest AGCO POWER, e³ Generation 2 SCR engine combines exceptional power to weight ratio with enhanced Dyna-6 transmission, new control system and three levels of specification.• Completely new Skyline cab for Massey Ferguson BETA combines offers more space, low noise and new Techtouch terminal, which offers automatic crop settings.MF 5600 Series – power with practicality
Three new models make their debut at LAMMA 13 – the MF 5608 (85hp), MF 5609 (95hp) and MF 5610 (105hp). All are powered by the very latest AGCO POWER three cylinder engines, which generate maximum power at 2,000rpm. Exactly the right size for the job, they employ straight forward technology to meet the latest emission standards.A new brake pedal-activated neutral on the Dyna-4 transmission is perfect for loader work, increasing efficiency and cutting wear by automatically disengaging drive when the brake is pressed. The transmission, which has been optimised for the tractor size and power, also now comes with the option of AutoDrive that changes both Dynashift speeds and ranges, allowing up to 16 speeds to be changed automatically simply by pressing the throttle pedal.Also new is the spacious, high comfort cab, which is a similar size to that fitted on the larger models in the MF 7600 Series. Despite being much larger than the previous workplace, it doesn't compromise manoeuvrability around the yard or in the barn, thanks to an extensive choice of cab positions and roof types. All the MF 5600 Series tractors are available with two cab positions and a choice of either Slimline, Visio of Standard roof, providing a range of overall height options.The MF 5600 Series tractors' superb size, transmission and manoeuvrability make them the number one loader tractors on the market. A position that is further bolstered by a new hydraulic pump option that offers high flows of up to 100 litres/min for loader work. At the flick of a switch the system automatically combines the output of three pumps.Loader operation is made even easier by the new right-hand joystick option that allows operators to control the transmission, hydraulics and loader with one hand.
MF 7626 flagship leads the field
The MF 7626, which makes its LAMMA show debut, expands the MF 7600 Series into an even wider market, providing up to 280hp from its 7.4 litre, AGCO POWER engine. Equipped with e³ Generation 2 SCR technology and Engine Power Management (EPM), this well proven unit offers outstanding performance and exceptional economy.The internally redesigned Dyna-6 transmission offers completely clutchless operation by either the left-hand Power Control or right-hand armrest levers, providing a total of 24 speeds from six Dynashift steps in four gears. 'AutoDrive' is standard and is proven to increase workrates and cut
fuel
consumption during both field and transport work.The MF 7624, in common with the rest of the range, is available in three levels of specification – Essential, Efficient and Exclusive – to suit all customers' requirements and budgets.The spacious new cab comes with a choice of mechanical suspension or, for top comfort, the hydraulic OptiRide Plus option. Inside operators will appreciate the space, visibility, comfort and control layout. Depending on specification, it is available with a range of new Command Control Arms and multi-function joysticks. A new Multipad joystick is standard with the top specification, while there is a new option of a Multifunction Joystick, which includes fwd/rev shuttle and gear shift buttons, along with hydraulic control.