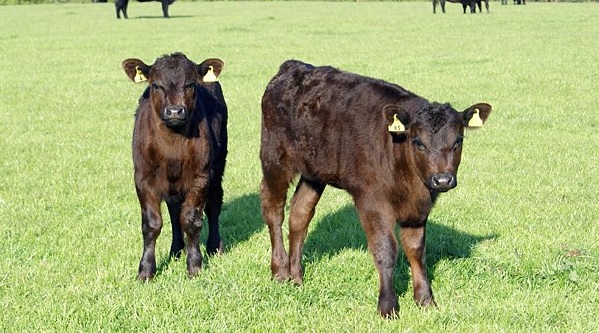 We live with our 2 children, Emma and William, at Broom House, a windy spot at 750 feet, with fabulous views over the surrounding countryside, when the weather allows!

The farm house is on the top of the hill, but the farmland itself rolls down the valley to the River Browney. Broom House is really a livestock farm - although some arable crops such as oats and barley are grown, as well as forage crops like turnips and kale - with the aim of producing as much of our own feed for the animals as possible.

We have a herd of beautiful Aberdeen Angus cattle, as well as a large flock of Lleyn sheep and a small herd of Saddleback pigs as well as a flock of laying hens.

The aim is to breed all our own replacement animals on the farm, enabling us to improve the quality of our livestock through breeding. Our animals are reared outside on grass and clover pastures in the drier months, with the young stock in particular being kept inside on straw in our barns during the muddiest winter months.

We manage our livestock to the highest standards of welfare, with minimum use of medicines and bought in feeds and in October 2007 we obtained full organic status for the farm. All the farmland is organic, inspected annually by Organic Farmers & Growers. We are also members of the Farm Assured British Beef and Lamb Scheme and EBLEX.
Maps