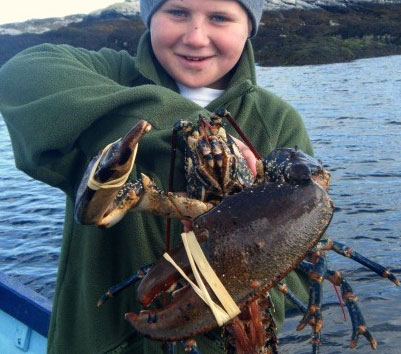 Sharon and Tony welcome you to our home, B&B, and caravan site! Flodabay Farm is set in 30 acres of peaceful croft land, with stunning views of the Bays of Harris, Isle of Skye, and the mainland Scotland beyond.

We cater exclusively to adults (aged 18 and over), and aim to provide top-notch, friendly service and a relaxing atmosphere for that perfect secluded getaway. Take some time for yourself here at Flodabay Farm and explore this hidden gem of the Outer Hebrides in comfort.

Our site boasts 2 secluded fresh water lochs – they are full of wild Brown Trout and home to the resident otters. Both lochs can be fished. We are also ideally situated for visits to the local attractions – to read more about what the Isle of Harris has to offer, just check out our Local Attractions page.

When you settle into bed at night, you will discover just how tranquil the island can be. The nights are dark and there is no late-night traffic noise, so you can enjoy a night of uninterrupted, blissful sleep.

While we're located right in the middle of some of nature's greatest scenery, we've also been praised for our excellent internet service (B&B) and our TV and mobile phone reception, so you won't be completely cut off from the world. Unless, of course, you want to be…

Hot Stone Reflexology Massage available by a fully qualified therapist MAR,FAAPA.Pre booking is essential..Please contact us for details.
Maps