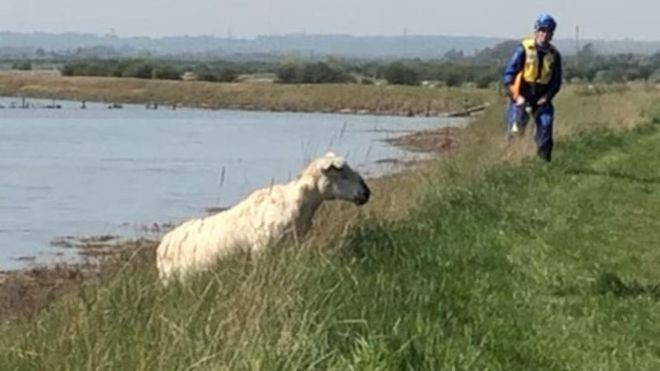 A stranded sheep which found itself in difficulty in an Essex river eventually managed to swim to safety after rescuers walked two miles in an effort to help it.
Fire crews and the Southend Coastguard hiked two miles around Bridgemarsh Marina at Althorne on the River Crouch to help the sheep.
Rescuers went on a 'two-mile hike along the sea wall' only to witness the sheep swimming to safety without the need for help.
"Are ewe ready for this?" a spokesman from the coastguard said in a pun-laden post on Facebook.
"We thought the writing was on the wool for the animal, but our readersheep will be pleased to know that no team members had to go out on a lamb to effect a rescue, as the sheep - through shear force of will - swam flamboyantly to shore."
The spokesman added: "We think it had come down for the day from Baa-king."
"All's wool that ends wool."
It comes days after rescuers completed the 'most technical rescue' they have ever faced after saving 65 sheep from sea cliffs in the same county.
And just last week, a walker took an unusual photograph showing a member of the public braving steep cliff edges as he tried to rescue a stranded sheep.