A livestock farm situated on the banks of Loch Tay with over 91 acres of land has been put up for sale in Stirlingshire.
Rynachulaig Farm, on sale for offers over £470,000, is a productive and compact livestock farm, situated in an elevated position with views over the loch and surrounding hills.The farm includes 36 hectares (91.38 Acres) of productive hill ground and pasture land, a modern farmhouse built in 2016, a range of modern farm buildings and farmyard, and the title rights to graze 300 ewes on an area of adjoining hill ground owned by the National Trust for Scotland.Property consultants Galbraith is handling the sale. They say it is an "excellent opportunity" to acquire a compact working farm in a "lovely location".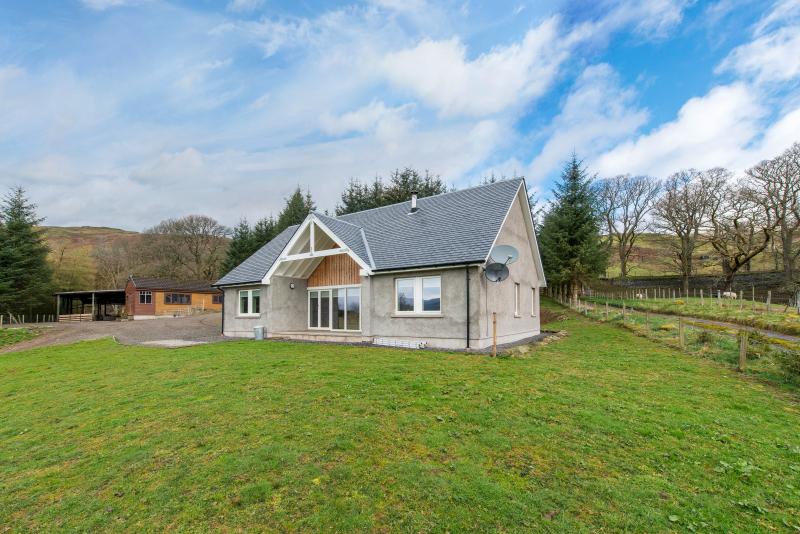 Duncan Barrie, who is handling the sale for Galbraith said: "This area is well known sheep farming country and the proximity to Stirling Agricultural Centre is a notable bonus."The farmhouse is two years old and is in excellent condition inside and out. The house has the potential to be extended, subject to the necessary planning consents, on the upper level.
Mr Barrie added: "The purchaser of Rynachulaig will be able to step in and continue the farming business in a relatively straightforward manner. This could be an ideal opportunity for anyone wishing to farm on a small-scale and enjoy the beauty of this part of the country."The farmland has been classified by the James Hutton Institute as being Grade 4.2 and the land has carried approximately 450 of a hefted sheep flock in recent years. The existing hefted sheep flock on the farm is offered along with the farm by separate negotiation.Rynachulaig Farm is located in an area renowned for the high quality of its stock and sporting opportunities. The surrounding areas are also well catered for by a range of agricultural suppliers and facilities including the market at Stirling Agricultural Centre which provides an outlet for stock reared on the farm.For further details please contact the firm's Stirling office on 01786 434600.