An impressive display of the latest machinery is on show at Cereals 2014, much of it for the first time, offering even the most demanding purchaser a fantastic choice of equipment to help establish, grow and harvest crops.
Tractors
One of the most significant developments in the Fastrac tractor range since its creation 23 years ago is being launched to British farmers and contractors. The Fastrac 4000 Series replaces the current 2000 Series and steps up performance with a new 6.6-litre six-cylinder engine, giving peak outputs of 180hp, 210hp and 240hp.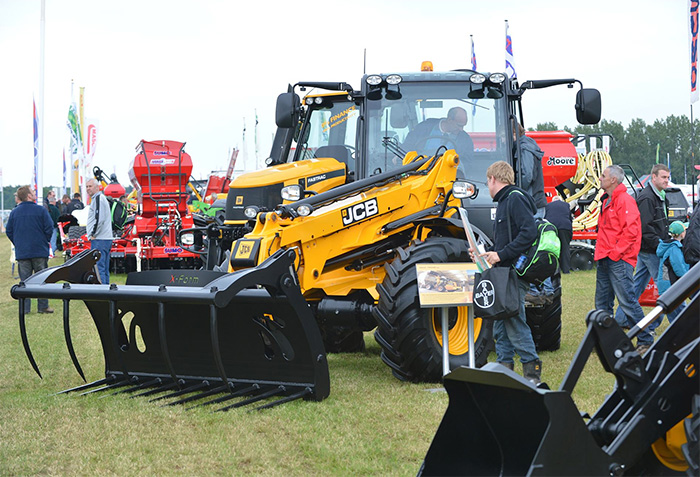 The new tractors are fitted with continuously variable transmission (CVT), more powerful hydraulics with variable output and major advances in suspension specification and control. Front linkage and a generous mounting area behind the cab add to the machine's versatility.John Deere's new top of the range 7R Series model, the 7310R, makes its Cereals debut. Its Stage IV compliant engine, the first on a European
John Deere
tractor, produces 310hp at rated engine speed. For transport and PTO applications, the engine's intelligent power management (IPM) system provides an extra 30hp and is expected to deliver 2% better
fuel
efficiency than previous units. The model heads five other new tractors from 210 to 290hp.Case IH is exhibiting the world's most powerful tractor in series production, the Quadtrac 620, its first Cereals outing. Rated at 628hp, it produces a maximum power output of 692hp and 2941Nm of torque.Comprehensive standard equipment includes a 16 x 2 Full Powershift transmission, Automatic Productivity Management (APM) function and Surveyor cab. The range includes the 540 and 580 models.One of Kubota most recent additions to its M60 range, the 64hp M6060, joins the 85hp M8560 on the stand. M60 Series tractors are powered by a five-cylinder C-CDIS engine, and have 4100kg lift capacity.
Seed drills
Claydon is launching its new Hybrid T trailed drill, available in 6m form with an 8m version to follow. The machine uses the company's Direct Strip Till Seeding System. With 19 seeding tines the 6m version suits tractors of 300–350hp, while the 8m 25-tine unit needs 400–450hp to pull it. Both versions incorporate a 5500-litre hopper, which can be used for seed only or with fertiliser in a 60:40 split. The Hybrid T has 500mm of under-frame clearance. Row spacing can be set at 30cm or 60cm.Cereals sees the first appearance of Dale Drills' Eco3 mounted drills. The models, fitted with a steel 2000-litre hopper, are expected to be available in 3 to 5m widths. They come with variable row spacing from 12.5–25cm, seed and fertiliser placement, independent contour following and variable hydraulic drilling pressure. Electronic variable seed rate control is standard.Vaderstad is showing its Spirit 600C StripDrill, a tillage and drill front-tool arrangement designed to minimise soil disturbance at drilling and to reduce compaction, encouraging rapid rooting. It features 25mm narrow tines mounted at 16.7cm or 33.4cm and load-sensing hydraulics.Kverneland is unveiling its new universal seeder, the U-Drill 6000. It uses packer tyres, two rows of discs, and a staggered row of packer/transport tyres, and includes a new double-disc coulter assembly. Optional weigh cells can be fitted under the 4350-litre slimline hopper, offering more accurate on-the-move seed rate control.Also on show is The Kulti-Strip, Kverneland's development for strip tillage practices, which is likely to be produced initially as a six-row rigid chassis machine.Amazone's Cirrus 6003-03 trailed cultivator drill is being launched. The 4000-litre pressurised tank can be used for
grain
only or split 60:40 between
grain
and fertiliser. Up front, the optional CrushBoard levels and firms ahead of the twin-row disc harrow element in front of large diameter Matrix tyres. The new RoTeC pro coulter has been designed for better seed placement at high forward speeds. Seed pipe monitoring is optional. New exhibitor Alpego UK is showing its latest range of kit, including the DK-500/AS4-500 combination folding power harrow and drill, which has a unique vacuum seed transfer system. Also on show is the DmaX-800, an 8m power harrow that can handle up to 550hp.Horsch's Focus TD, which features strip and conventional drilling in one machine, makes its first Cereals appearance. Available in 4m and 6m versions, the drill has a 5000-litre
grain
and fertiliser hopper. The tine cultivation frame can be easily replaced with the firm's DiscSystem to create a disc cultivator drill, says Horsch.The firm's new singulation unit, which enables precise seed application with TurboDisc seed coulters as fitted to the Focus and Pronto DC, is also on show.
Cultivators
Knight Farm Machinery is showing two new additions to the Bednar range of cultivators. The Fenix FN is a mounted three-row tined machine for shallow cultivation or deep tillage. A variety of points and several different rear packers are available.The Terraland TN is a chisel plough that can be used down to 65cm in a wide variety of soils, using two rows of winged tines and a tandem-type spiked roller at the rear. A new levelling board will be available on Horsch's Joker 6 RT and 8 RT for next season. It consists of a row of levelling paddles enabling it to be used directly on ploughed ground as well as stubble.Bomford is introducing its relaunched Dyna-Drive at Cereals. Originally introduced in the 1980s, it can be used for primary and secondary cultivations and is especially suited for stale seedbed work to help control blackgrass. The 2-5m wide machines retain the simple two-rotor system, but incorporate updated tines and drive gear. Amazone's Cenius 6003-2TX mulch cultivator is making its Cereals debut. Available in 6m and 7m widths, the trailed machine can be used for shallow stubble cultivation or deep loosening by changing shares fitted to the new C-Mix tines spaced at 28cm ahead of levelling discs.Cousins of Emneth is unveiling the new 12.4 HD Contour HZ, a seven-bank Cambridge roll with horizontal folding. The rolls weigh over 10t and are 12.4m wide. There is a choice of ring sizes from 20" to 26".Grimme's new CS clod and stone separator boasts an extra 15% output over previous models, achieved by extending the sieving area on the main web and clod mat up to 7.2m2.
Combine headers
Case IH's 12.5m 3050 VariCut header can be seen for the first time at Cereals. It has been developed to match 12m controlled traffic farming (CTF) systems and to make best use of the latest Axial-Flow combines' capacity.New Holland's Varifeed header, also 12.5m wide, debuts at the event. The header, which fits the CR combine, is equipped with four wide Autofloat sensing pads for automatic height and angle adjustment.
Materials handlers
Newcomers to the JCB Loadall range include the 560-80 Agri, the heaviest-lifting agricultural telescopic handler ever produced by JCB, and the 525-60 Agri, an all-new compact telehandler. In addition, five new or improved Farm Master large wheeled loaders are being introduced this year and include a quieter, more spacious cab and the installation of JCB's Ecomax T4i diesel engine to the revised 411 Agri and the new 413S Agri and 417 Agri models.Case's new Farmlift telescopic loaders are also on show. The six-model range includes the Farmlift 525, designed for use in low buildings and livestock housing, and the Farmlift 935 for high and heavy lifting work.
Mechanical Weeding
Garford is exhibiting its range of Robocrop camera-guided weeding equipment including the InRow M2 2014, which can operate at up to four plants a second. In addition the Robocrop Spot Sprayer can be seen for the first time at Cereals.
Beet harvester
Ropa's new twin-axle Panther on CTM Harpley's stand features a novel Active Stabilisation System, using four hydraulic cylinders to provide computer-aided slope adjustment to improve alignment and beet flow. The 28m³ tank is fitted with ultrasound sensors to ensure even distribution.
Mulcher
Teagle is launching the Berti TSB Flail Mulcher range to the UK. The machines are capable of very high discharge rates and forward speeds whether mulching grass, bracken or brassicas and are available in widths from 1.6m to 6m.
Fertiliser spreader
Cereals 2014 sees the appearance of Amazone's smaller ZA-TS Super. It has a hopper sizes of 2700 or 3200 litres and a maximum spreading width of 36m. A weigh-cell system and tilt sensor are standard.